There are so many things to do in Tbilisi – from exploring interesting architecture to Soviet time sights, without forgetting delicious Georgian cuisine! Make sure you visit the awesome capital city of Georgia, the country, and check out all its amazing quirky tourist attractions!
Tbilisi is a city unlike any other. Georgia's capital is a place where you can enjoy sulphur baths 24 hours a day, explore crumbling courtyards and churches full of cats, or travel to the botanical gardens via zip line.
We visited Tbilisi for the first time in 2011, at the end of a 6 weeks overland journey from Italy, across the Balkans, all the way to the Caucasus. We had planned to go hiking for a few weeks, before continuing onwards to Armenia, Azerbaijan and – maybe – Iran.
When we visited Tbilisi for the first time, the city was undergoing a huge facelift – the Peace Bridge and other new Tbilisi attractions hadn't yet been built, and not many tourists were to be seen around the Old City, with its crooked, colourful houses and quaint courtyards.
Over a decade and nine trips to Tbilisi later, the city is still full of charm. Yes, it's no longer Europe's best-kept secret – one-year visas on arrival and low-cost flights made sure of that. However, Tbilisi is still a super fun (and budget-friendly!) place to visit, for a weekend, one month, or anything in between.
Here is my guide to the best things to do in Tbilisi, divided in four sections – the basics, quirky tourist attractions, the best Tbilisi restaurants and wine bars (oh, Georgian cuisine is SO AMAZING), and day trips from Tbilisi.
Gaumarjos! (That is 'cheers' in Georgian – something you'll no doubt hear several times while in Tbilisi!)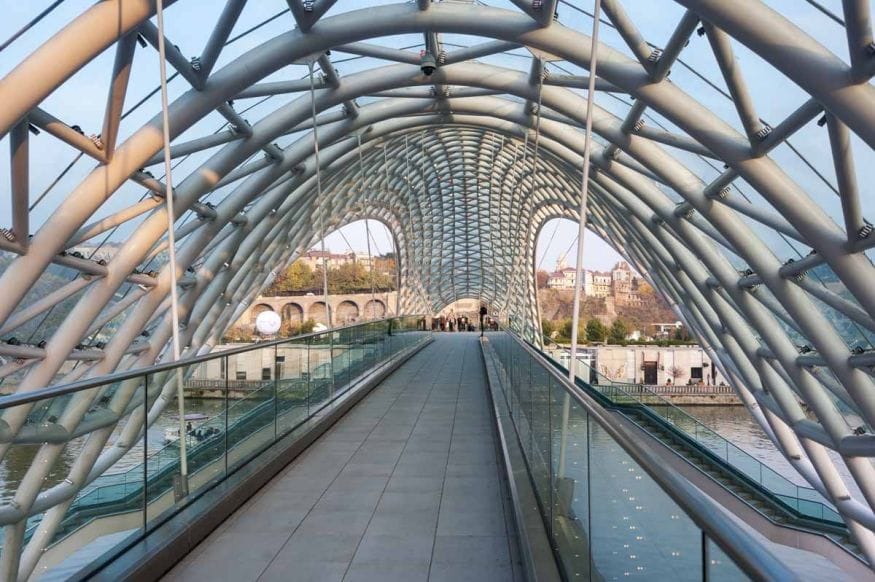 Click below to jump to the relevant section!
What to See in Tbilisi – The Basics
Quirky & Weird Things to Do in Tbilisi
What to Do in Tbilisi at Night
Heading to Georgia? Have a look at our post about the top 12 best hotels in Tbilisi!
What to See in Tbilisi – The Basics
1) Explore Tbilisi Old Town
Wondering what to see in Tbilisi? Let's start with the Old Town, the most obvious place to begin exploring the city.
The Old Town is Tbilisi's picture-perfect image, a maze of little streets with colourful houses, wandering cats and courtyards with trellised vineyards and cascading grapes – yes, you heard that right, grapes grow right into the city centre, revealing Georgia's millenary love affair with wine. But more on this later!
I know it sounds like a terrible cliche, but the best way to explore the Old Town is just wandering around – its rough boundaries are Liberty Square, the sulphur baths and Narikala Fortress, and it is built on the side of the hill leading up to the fortress, with steep rises and stairs leading up to spectacular views.
There are churches, vintage shops, recently-restored houses fresh with colourful paint right besides crumbling facades with rickety spiral staircases and rusting cars in the courtyard.
Check out some of the best Tbilisi tours with local guides!
2) Abanotubani – The Sulphur Baths of Old Tbilisi
This is definitely Tbilisi's not-to-be-missed tourist attraction! After all, the name of the city itself derives from the word t'bili in Ancient Georgian, meaning 'warm', because of the many sulphur springs found in the area.
As you approach the Old City, the sulphur bath district is easy to find – just look for the brick domes you see in the picture below, and follow your nose!
There are various bathhouses to choose from, and most offer a choice of public baths with male and female sections (with entrance costing about 5-10 GEL) or private rooms, costing 40-90 GEL per hour, depending on the room.
A pretty thorough scrub and massage (known locally as kisi) is charged 20 GEL extra – I went for it and found it really pleasant.
I followed our guide's advice and went to Royal Bath House, where a private room and massage cost me 80 GEL – about €25. Royal is open until midnight but some other bathhouses are open 24 hours, making a sulphur bath an unusual way to spend a night out in Tbilisi!
Two other bathhouses that are really worth visiting are Orbeliani (the one with the mosque-style exterior) and Gulo's Thermal Spa. Orbeliani (also known as Chreli-Abano) is very lavish both inside and outside, and has more of a Western-style spa setup, with a range of massages on offer. It's also the only Tbilisi sulfur bath that can easily be booked online – but be sure to turn up on time.
Gulo's Thermal Spa has a choice of 8 private rooms. The smallest are for 1-4 people, and the largest fit up to 12. All rooms are beautifully decorated with mosaics and vaulted ceilings, and come with hot and cold water pools, and even a sauna in some cases. You can book ahead via phone or Facebook.
3) Betlemi Church & Holy Trinity Cathedral
Next up on our list of best Tbilisi tourist attractions are two churches! There are several Orthodox churches to visit all around Tbilisi – the two I liked best were the Betlemi Church in the Old Town, with a courtyard full of cats and beautiful views over the city, and Holy Trinity Cathedral, one of the largest Orthodox churches in the world that can be seen from all over Tbilisi.
The Holy Trinity Cathedral was built fairly recently, having been completed in 2004 to celebrate the 1500 years of the Georgian Orthodox Church and two millennia since the birth of Jesus.
It's a fair distance from the city centre but it's worth the hike, to marvel at the sheer size of the building and views over the city.
Looking for a truly off the beaten path Tbilisi tour? Here are some options!
4) Tbilisi Botanical Garden
Another not to be missed sight in Tbilisi! The Botanical Garden is located between the Old Town and Narikala Fortress, and it only costs 2 GEL to enter.
There's a really nice cafe, a Japanese garden and lots of paths lined by beautiful secular trees – I visited in November and the autumn colours were in full swing.
I really want to visit Tbilisi again in summer to swim in the waterfall located in the Botanical Gardens – sadly, the path leading to it was closed at the time of my visit.
If you are travelling with your significant other, this is one of the most romantic things to do in Tbilisi!
5) Cable Car to Narikala Fortress
Taking the cable car to Narikala Fortress is definitely one of Tbilisi's top things to do! You can catch the cable car at Rike Park, just opposite the Old Town across the Kura River, or walk up to the fortress through the city, following pretty Betlemi Street and then heading up until the summit of the hill.
The fortress was first built in the 4th century AD, when it enclosed a Persian citadel, and it was extended over the century before being damaged by an explosion in the mid-19th century.
Nowadays, two fortified sections remain and it it possible to hike to the top of both, but please pay attention as it's extremely steep and slippery.
6) Mother Georgia Statue
One of the few things I remember from my first visit to Tbilisi was visiting the giant Mother of Georgia statue, located right next to Narikala Fortress welcoming visitors since 1958.
The statue is a great example of Soviet art, a 20 meter-high aluminium image of a lady crowned with ivy, holding a cup of wine in one hand (for friends) and a sword in another (for enemies). Another great addition to your list of places to visit in Tbilisi!
7) Peace Bridge
When we visited Tbilisi the first time, the whole Rike Park area was a big construction site – the reason was Peace Bridge, a bow-shaped steel and glass bridge spanning the Kura River, connecting the old and the new parts of town.
It's worth crossing the bridge around sunset, to see the sun disappearing behind the Mother of Georgia hill, or at night, when the bridge is all lit up in the colours of the Georgian flag.
8) Rustaveli Avenue & Liberty Square
Busy Liberty Square marks the boundary between Old and New Town, and also the beginning of Rustaveli Avenue, the city's most trafficked street, which also happen to be lined with some incredible early 20th century buildings, like the Biltmore Hotel, the Georgian National Museum and Rustaveli Cinema.
Another place you'll no doubt notice is the former Georgian Parliament, an impressive colonnaded building that was also the location of the April 9th tragedy, when 21 people were killed by Soviet troops during an anti-Soviet demonstration.
9) The 'Tbilisi Sea'
Batumi is Georgia's favourite tourist destination on the Black Sea, but it's a bit far from Tbilisi for a day trip or afternoon getaway in summer.
As a result, most city-dwellers head to the Tbilisi Sea or Turtle Lake, two reservoirs located on the edge of the city where swimming and sunbathing are allowed. If you're visiting in summer, take note of this Tbilisi point of interest!
10) Jumah Mosque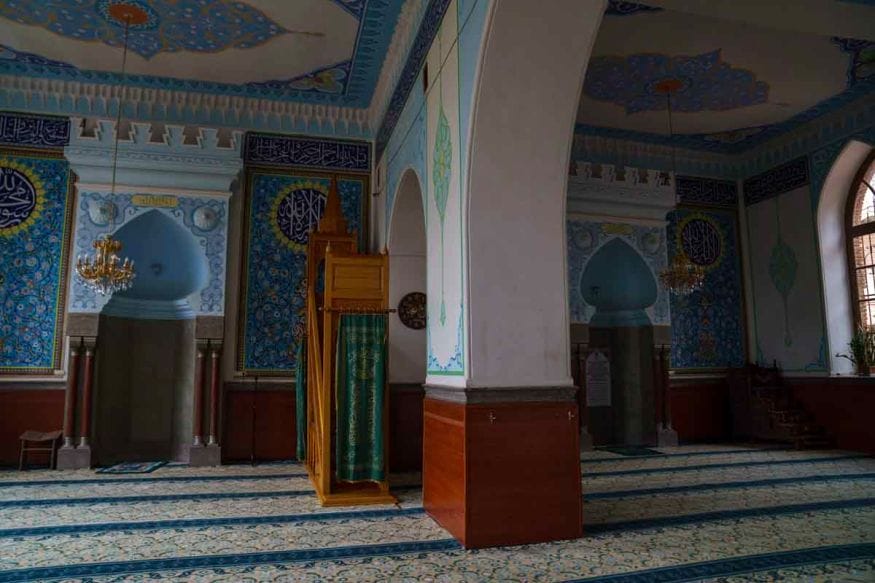 There are several sights to see in the historic town – but as I mentioned, walking around is half the fun. However, I recommend trying to find two unique Tbilisi attractions – first and foremost Jumah Mosque, the only one in the world where Sunni and Shia Muslims pray beside one another.
The mosque was first built in the 18th century, during Ottoman times, but it was destroyed and rebuilt another three times up to the present day. It was originally a Sunni mosque, and the Shia community in Tbilisi used to worship somewhere else.
In 1951, the Shia mosque was demolished to make way for a bridge, leaving the community with nowhere to pray. As a result, Tbilisi's Sunni decided to open Jumah Mosque to Shias as well – and now, the two communities pray side by side. The main room is divided into two parts by a colonnade running down the centre – a black curtain used to divide the space, but it was removed in 1996 and the space is now open to everyone.
11) Atashgah
Wondering what to see in Tbilisi to escape the crowds? Well, the next Tbilisi attraction may be in the heart of the Old City, but it's so offbeat you're likely to be alone.
I am talking about the Atashgah, a Zoroastrian fire temple built before the 5th century AD. According to the Zoroastrian faith, fire is sacred, and in Zoroastrian temples there's a fire brazier burning 24/7.
The Atashgah is crumbling now, and the fire is no longer burning, but it's still a really unique place to visit in Tbilisi, testimony of an ancient faith that is almost disappeared.
12) Mtatsminda Park
Are you looking for the best views in Tbilisi? Mother Georgia is a good one, otherwise Mtatsminda Park is also a good bet – it's located near the Tbilisi TV tower, the highest point in the city clearly visible from the Old Town.
You can easily reach Mtatsminda Park by funicular railway, leaving just beside Rustaveli Avenue, zipping you up to the top in no time. You can also hike there, and we were told it's especially beautiful in summer!
Another reason to head to Mtatsminda Park is the vintage fairground that also includes a Ferris wheel – which leads nicely into the next sections, all dedicated to quirky and weird things to see in Tbilisi!
Quirky & Weird Things to Do in Tbilisi
13) Bank of Georgia Headquarters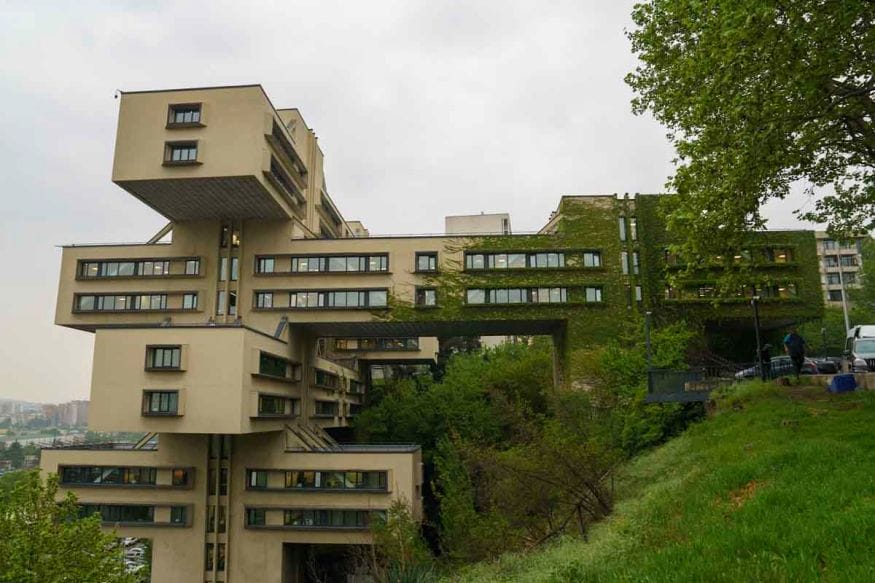 As a fan of Soviet architecture, I'm really glad I got to see the Bank of Georgia Headquarters, one of the weirdest things to see in Tbilisi! The building is located south of the city centre, on the way to Mtskheta, and it is made with 5 separate cube-shaped modules layered on top of each other.
It looks like… a Transformer? A crazy Lego jumble? A failed game of Jenga? You tell me.
The bank was designed by Georgian architect George Chakhava, and it's made out of five interlocking concrete blocks with two vertical cores. The design is inspired by nature – the vertical cores are meant to be the trunks, and the horizontal blocks are the crowns of the trees. The building was planned to rest on the sloping mountainside just behind, leaving space underneath and around the structure for nature.
14) Gallery 27
This Old City house definitely wins the prize of most romantic (and Instagrammable) place in Tbilisi – the stained glass and wooden staircase combo are reason enough to visit.
However, please find time to browse the shops located on top of the stairs, selling a range of arts and crafts made by young Georgian artists, some of which make great souvenirs. If you're looking for a place to go shopping in Tbilisi, make note of this!
Also, please bear in mind that locals live in this place, so don't wander into their houses (stick to the staircase and terrace in front of the shop) and keep noise and chatter to a minimum. 2023 update – if the front door is closed, just ring the bell and somebody will let you in.
15) Bank of Georgia on Liberty Square
Wait… what? The Bank of Georgia is mentioned not once, but TWICE as Tbilisi point of interest?
Well, the headquarters I mentioned above are all about the outside, whereas the Bank of Georgia Branch on Liberty Square is worth a visit because of its beautiful early 20th century interiors – but here's a catch. Photography is not allowed, so I have no pic to share with you. Just trust me – and don't try to take pictures, or you'll be kicked out.
The main hall is reminiscent of a theatre, with a gallery running all around the room, and if you walk through it there's another spectacular room with a staircase, stained glass skylight and bright green walls.
16) Lado Gudiashvili Square
This Art Nouveau square was one of my favourite weird things to do in Tbilisi! It's roughly halfway between Liberty Square and the Old Town, surrounded by crumbling but beautifully decorated buildings.
It is a real local favourite – a sit-in was organised a few years ago to save the area from redevelopment, and the square is now popular with children, grandparents and anyone who wants to sit down and enjoy a moment of peace.
17) Fabrika Hostel
I'm a fan of unusual hostels from all over the world, and even though I didn't stay at Fabrika Hostel I spent an entire day there, as it was the venue of the Touch Digital conference.
The hostel is located in a reconverted textile factory, including a coworking space, a cafe, many independent shops and some cool street art. The hostel bar is one of the best in town!
18) The 'Italian Courtyards'
Tbilisi's 'Italian Courtyards' are everywhere, especially in the Old City – they come in various shapes and sizes, but usually include an opening enclosed on three sides by one or more houses two or more floors with open wooden balconies, and may or may not include a spiral staircase leading up to the various floors.
Sometimes there's a tree, or vines, laundry on a line, a child's bike or a Lada in the middle of the courtyard – sometimes they're immaculately kept, other times the courtyards are littered with weeds and old discarded objects.
In case you were curious, there's nothing 'Italian' about these courtyards – they're actually believed to originate from Persian caravanserai. In any case, they're one of the most unique things to see in Tbilisi!
19) Leaning Clock Tower and Puppet Show
The leaning clock tower and nearby puppet show are a great option if you're wondering what to do in Tbilisi with kids! It's located right next to the theatre of famous Georgian puppetteer Rezo Gabriadze, with shows being held regularly.
20) Dry Bridge Flea Market
Are you planning to go shopping in Tbilisi? The Dry Bridge Flea Market should be your first stop if you're looking for Soviet memorabilia, random knick knacks, prints, vintage cameras, coins, traditional jewellery, drinking horns, carpets… you name is.
You can also find a similar array of antiques on Rustaveli Avenue, in the vicinity of the Rustaveli Metro Station, but the Dry Bridge Flea Market is definitely the go-to place for a unique souvenir!
21) Vera District
Are you looking for an alternative to the Old Town? The Vera District is my favourite place to stay in Tbilisi, home to the wonderful Rooms Hotel!
The neighbourhood is located at the northern end of Rustaveli Avenue, and it's worth a visit because of its park, 'local' atmosphere and beautiful 19th century architecture, including many examples of 'Italian Courtyards' and some great street art.
Exploring Vera is one of the most romantic things to do in Tbilisi!
22) The Mysterious Colourful Door
I spent an entire morning walking around Vera – this colourful door was one of my favourite finds. I can't remember exactly where it is located – I think it's in the vicinity of Simon Janashia Street, but I'm not quite sure. So, here's a challenge for you – can you find it?
23) Zipline to the Botanical Gardens
Remember Narikala fortress, mentioned above as one of the best places to visit in Tbilisi for views?
Zipin Tbilisi is the first urban zipline in the Caucasus, open since July 2017. You can use it to travel between Narikala fortress and the Botanical Gardens – definitely a top weird thing to do in Tbilisi!
The zip line departs right next to the Kartlis Deda view point, and ends 270 meters below, in the heart of the Botanical gardens. The ride only lasts about 30 seconds, until you 'land' right in the heart of the botanical gardens. It operates until 9 PM but daylight hours are best to enjoy the views, especially around sunset.
24) Stalin's Printing Press
Looking for more weird places to see in Tbilisi? This one is a real treat. Underneath a nondescript house in the Avlabari district, you can see a printing press that was used to distribute Bolshevik material by none other than Joseph Stalin.
Visiting the printing press is possible, but guided tours are only in Georgian or Russian. Read this post to see how it looks and know more!
25) Eat Churchkhela (Georgian Snickers)
Wandering around Tbilisi, you're bound to see market stalls with weird-looking colourful objects all lined up, looking like sausages covered in candle wax. I am talking about churchkhela, aka 'Georgian Snickers', the country's most favourite snack!
Churchkhela is made with nuts on a string, covered with condensed grape juice. The texture is like hard jelly, and the flavour is a little acidic – but tasty. It's also high in calories, making it the perfect snack while exploring Tbilisi!
26) Chronicles of Georgia
Also known as 'Georgia's Stonehenge', this monument was built by Georgian architect Zurav Tsereteli in 1985, and it's located about 10 km from downtown Tbilisi, on a hill overlooking the Tbilisi Sea.
The monument includes 16 pillars about 30 meters tall, the top half of which is decorated with statues of Georgian kings and queens, and the bottom part features scenes from the life of Jesus. Notable figures like King Tamar (who is actually a woman) are located in prominent positions, and weirdly enough, the monument is still incomplete.
We recommend using Bolt (a local taxi app) to get there from the centre of Tbilisi, the journey should take approximately half an hour and cost approx 15/20 GEL.
27) Nutsubidze Plato
Are you a fan of khrushchevkas, those Brutalist-style apartment blocks found in many post-Soviet countries? Some of the coolest examples in Tbilisi can be found in the neighbourhood known as Nutsubidze Plato, not far from the State University metro station.
Some of the coolest buildings are the ones marked on Google Maps as Tbilisi Skybridge. These are three high-rise apartment blocks close to the mountainside, connected by pedestrian bridges. Each of the buildings has lifts, used not only by residents but also by people living in surrounding buildings to get up and down the mountain with ease, at a cost of just 20 lari cents.
The buildings have become a popular tourist destination for architecture photographers and Brutalism lovers. Everyone is welcome to ride on the lifts and photograph the sky bridges, but don't forget these are also local homes!
28) Expo Georgia
Expo Georgia is Tbilisi's largest trade fair and conference centre, with a varied calendar of events and some permanent exhibitions, including one dedicated to wine. However, the real reason to visit are the super cool Soviet-time monumental sculptures and mosaics located around the grounds!
The place is supposedly free to enter and photograph, but during our last visit (April 2023) we were chased away by a security guard. We recommend being cautious and avoiding visits with large groups.
29)Museum of Georgian Folk Songs and Musical Instruments
This quirky little museum in the historic centre of Tbilisi is really worth supporting. Entrance costs only 5 GEL, and 10 with a guided tour – Russian and Georgian only.
It includes and exhibition of musical instruments from all over the South Caucasus, like the panduri, a string instrument common in Eastern Georgia, and changi, an angular harp with some beautiful designs. There are also instruments from Russia and beyond, like the balalaika and accordion, as well as mechanical organs and gramophones from the 19th century.
It's worth paying extra for a guided tour, especially is somebody in your party speaks Russian or Georgian, but also because the guides will demonstrate some instruments and organs – and if you're lucky, they might even sing!
30) Tbilisi Metro
Have you ever been in a Soviet-built metro? Trust me, it's an experience.
Tbilisi Metro may not be as spectacular as Moscow, with its decorated stations, but it's still fun to ride. You can buy a rechargeable card for 2 GEL from the ticket office, and load as many trips as you need for 1 GEL each, alternatively, you can also pay with your contactless credit card.
Then, jump on the escalators. You'll probably notice they are very fast and very deep! Then, you'll find yourself on the platform, with trains running on either side. These platforms are sometimes decorated with bas-reliefs, mosaics, or intricate ceilings – in Tbilisi, the coolest station is Technical University.
The trains are very fast and frequent, making Tbilisi metro a fun and convenient way to get around the city. There are two lines in total – one running north/south, and one east/west.
Best Restaurants in Tbilisi
31) Bina 37
The restaurant scene in Tbilisi is AMAZING to say the least! Bina 37 is one of the most unique restaurants I've been to – a 'secret restaurant' located on the 7th floor of a nondescript block of flats also conceals another surprise – it's also Georgia's only rooftop winery!
The Georgian style of winemaking makes use of amphorae rather than oak barrels, following the 'original' winemaking style that was perfected in Georgia itself in the 7th millennia BC, and reached as far as Ancient Greece and Rome.
The wine amphorae are located on the rooftop balcony, and the restaurant serves a tasty array of Georgian favourites including walnut salads, khinkhali (oversized soup dumplings) and khachapuri (the Georgian staple, bread with melted cheese).
32) Old City Wall
Guess where this restaurant is located? That's right – its location right into the city walls give it a cozy, cave-like atmosphere, ideal for a long, lazy lunch on a rainy day.
Make sure you order their delicious beef stew, garlic chicken and – naturally – khachapuri and khinkhali, washed down by copious amounts of amber wine!
33) Sormoni
This restaurant is the kind of place you'd choose for a family dinner, or to entertain large groups of friends. The Georgian fare is on point, with uber-cheesy khachapuri, tasty stews and walnut salads, and there's also an outdoor garden with a shashlik (kebab) grill.
Food is great indeed, but the atmosphere is what makes this place special – there's live music and lots of toasts led by the tamada, the 'appointed toastmaster' on each table.
34) Puris Sakhli (Bread House)
Located right next to the sulphur baths, this restaurant is easy to find thanks to its huge bread oven on the ground floor, welcoming diners with the sent of freshly-baked bread.
The restaurant is in a nice period building, with wooden balconies overlooking old Tbilisi and entertainment provided by the staff, who will sing Georgian classics between one round of khachapuri and another.
35) Sakhachapure n.1
The name kind of gives it away – this relaxed joint on Rustaveli Avenue is one of the best places in town for khachapuri, which comes in all sorts of different shapes and size.
Make sure you try Imeruli khachapuri, the most common kind, a circular 'pizza' topped with cheese, Megruli khachapuri, like Imeruli but with more cheese added on the top, Achma khachapuri, a cheesy lasagna with many layers, and my very own favourite – Acharuli khachapuri, a boat-shaped bread topped with cheese, butter and a raw egg to be stirred into the cheesy mixture.
36) Klike's Khinkali
Are you more of a khinkali lover? Klike's is a little underground spot not far from Liberty Square, specializing in Georgia's famous soup dumplings, all made fresh and available in a variety of flavours.
We tried a combination of several flavours – pork and beef, mushrooms, cheese and potatoes. They were all good, but the best of the bunch was definitely mushrooms, with a delicious peppery broth. All khinkali are made to order so you may have to wait a little after you sit. Remember the dumplings are pretty big – 4-6 per person are enough, depending on how hungry you are.
37) Shavi Lomi
This is another wonderful Tbilisi restaurant, with both indoor and outdoor seating in an old Georgian home in the Marjanishvili neighbourhood.
You won't find a sign, but a black lion painted on the side of a brick building – Shavi Lomi means 'black lion' in Georgian. On the menu, you'll find a selection of Georgian favourites, including the ubiquitous khachapuri (also available with beans instead of cheese), a sharing platter with pkhali (walnut dips) and pickled vegetables, and a delicious shkmeruli, chicken in garlic and cream sauce.
Make sure you book ahead, especially if it's summer and you want to sit outside.
What to Do in Tbilisi at Night
38) g.vino
Located on the buzzing Erekle II street, this is the place to head to for all those who want to get to know Georgian wine and its peculiarities.
The wine list is extensive and it includes several kinds of amber wine, a traditionally Georgian variety obtained by fermenting grapes with their skins. The waiters are friendly and knowledgeable and will be glad to help you choose a bottle based on your preferences.
Book your Georgian wine-tasting tour here!
39) Dive X Fabrika
This self-proclaimed 'dive bar' is anything but – it was opened in 2013 as the bar of Fabrika hostel, but it has since become one of the most popular venues in town for live music. The quirky decor, excellent beer and cocktail list combined with party atmosphere make it one of the best places for nightlife in Tbilisi.
40) Bassiani
I am not a club person, but next time I visit Tbilisi, I definitely want to head to Bassiani, the city's first techno club located in a Soviet swimming pool beneath Tbilisi's Dynamo stadium.
Clubbing is huge in Georgia and most people I spoke to seemed to really be into techno music, and mentioned Bassiani as the best club in town. It was called the Georgian version of Berghain, after the famous Berlin mega-club – minus the aggressive door policy. If you've been, please let me know!
41) Chacha Corner
Ok, Georgian wine is amazing, but have you ever heard of chacha? It's Georgia's version of grappa, made with grape skin, stems and other byproducts of the winemaking process.
If you are ever invited in a Georgian home, no doubt you'll have lots of chacha and you'll experience the Georgian toasting tradition. Those with no Georgian friends can head to Chacha Corner instead, a bar completely dedicated to chacha, with over 200 labels.
Day Trips from Tbilisi
42) Mtskheta
Visiting Mtskheta, Georgia's ancient capital, is an easy day trip (or even half day trip) from Tbilisi, as the town is located only half an hour away from the centre. Mtskheta was built the confluence of the Aragvi river, and it served as capital of the ancient Georgian kingdom from the 5th century BC to the 5th century AD, and it's now a UNESCO heritage site.
We recommend starting your Mtskheta visit from Jvari monastery – you can visit the church inside, but the real draw of this place is the hilltop location, with great views over Mtskhketa and the river confluence. After Jvari, the real star in Mtskheta is Svetitskhoveli Cathedral, one of the most important churches in Georgian Orthodoxy, famous for its spectacular frescoes and for being the burial place of what is believed to be Christ's mantle.
Don't forget to spend some time wandering around Mtskheta and maybe do some souvenir shopping – you'll definitely notice stalls selling bundles of Churchkhela, a candle-shaped sweet made with grape must or fruit juice, nuts and flour.
Get the best prices for Mtskheta tours here!
43) Gori
Have you ever heard of a man called Ioseb Jughashvili? If the name doesn't ring a bell, perhaps you know him as Joseph Stalin? Not many are aware that Stalin was actually Georgian, born in Gori, a town not far from Tbilisi. Nowadays, Gori houses the Stalin Museum, where you can visit Stalin's birthplace and get a 'Soviet-style' account of the dictator's life, leaving out all the deaths and purges but emphasising instead on his leader qualities.
Book your Gori tour here at the best price!
Where to stay in Tbilisi
Rooms Hotel
Since I started reviewing hotels in Milan, I've visited lots of amazing properties – and I can say without the shadow of a doubt that Rooms Hotel, in the Vera district of Tbilisi, is one of the best hotels I've ever stayed at. First, there's the quirky, hipster-ish decor, with vintage wallpapers and furniture pieces, dark wooden floors and even lion-footed bathtubs in some of the rooms, and an atmosphere that combines the vibe of 1930s New York speakeasies with the charm of a decadent, aristocratic mansion.
There's also a lovely inner garden with a greenhouse, a great onsite restaurant and breakfast is literally to die for – a huge buffet with anything you can think of including eggs benedict, delicious mini-eclairs and homemade granola.
Get the best prices for Rooms Hotel here!
Rooms Hotels also has a location in Kazbegi if you're travelling further around Georgia! In case Rooms Hotel is full, other great place to stay in Tbilisi are:
Getting to Tbilisi
From Europe or beyond, flying is definitely the best way to reach Tbilisi – several airlines reach the Georgian capital, including Lufthansa, Turkish Airlines, AirBaltic, AirFrance and more.
Many flights land in the early hours of the morning – if this is your case, we warmly recommend booking a transfer from Tbilisi airport to your hotel, to make your arrival hassle-free!
Budget airline Wizzair flies to Kutaisi airport from several locations in Europe – Tbilisi and Kutaisi are just a quick marshrutka (minibus) ride away, and you can book your Tbilisi-Kutaisi ticket here!
Marshrutka actually connect all Georgian cities to Tbilisi, and it's possible to book rides online.
Getting Around Tbilisi
Tbilisi has a good bus and metro system, with a flat 1 GEL fare.
The metro is efficient and super helpful to get around, especially to get to the most offbeat Tbilisi sights mentioned in this post, like the Nutsubidze Plato. You can get a Metromoney card from the ticket office located in each station for 2 GEL, and load it up with as many trips as you need. You can also use the same card for more than one person.
Contactless cards also work, but you'll be charged approx 1.5 GEL to account for international banking fees.
Another efficient way to get around Tbilisi is using Bolt taxis. The app works exactly like Uber – enter your destination and you'll get a choice of available vehicles with prices, before selecting the type of car you want. You can pay the driver or add your credit card info to pre-pay.
The service is really convenient and prices are super reasonable – i.e. 20 GEL approx to and from the airport, when regular taxis try charging 20 USD!
Pin it for later?