Finland is one of our favourite places in the world, and there's no best time to visit than winter. Here are 5 reasons to visit Oulu in winter, the gateway to Lapland and 2026 Capital of Culture!
Experiencing the beauty of the North in winter is something that should be on everyone's travel list. Yes, the Northern Lights are amazing indeed – if you are lucky enough to see them.
There are also plenty of fun outdoor experiences, from husky safaris to sauna followed by ice swimming, snowmobile, and the like – but if you ask me, admiring the Arctic light is the most unforgettable experience of them all.
The destination of our last Finnish trip was Oulu, a city in Northern Finland. Oulu is south of the Arctic Circle, so it doesn't experience complete darkness in winter.
At the time of our visit in late November, the sun rose around 10 AM and set by 2 PM – four hours of spectacular golden-peach light, as the sun never rises high above the horizon, making it appear as if sunrise and sunset happened one after the other.
The darkness and lack of sunlight of the Nordic winter are seen by many outsiders as depressing, but after having visited, I can guarantee that the atmosphere is truly magical – especially if you're lucky to get some sunny days.
Enjoying the winter light and atmosphere is reason enough to visit Oulu in winter. Yet, there's plenty more to see and do – and since the town is the gateway to Lapland, you can always use it as a base to extend your trip further north.
Let's have a look at some practical info, before moving on to 5 things to do in Oulu in winter!
Where is Oulu?
First things first, Oulu is located on the shores of the Gulf of Bothnia in Northern Finland, 200 km south of Rovaniemi and the Arctic Circle, and 600 km north of Helsinki.
It's about 100 km away from Kemi, home to the famous Kemi Snow Castle, and a perfect place to combine with Oulu for a Finnish winter break!
Looking for more Finnish winter destinations? Read our post about North Karelia in winter!
Oulu Winter Weather – What's it Like?
Ok, so we've established that Oulu is fairly up north, so I'm sure you'll be wondering one thing – how cold does it actually get in winter?
During our late November visit, we were lucky to have four nice and sunny days, with daytime highs around -5°C, dropping to -10/-15 at night. The climate was dry, which made the cold easier to handle.
You'll quickly notice that Oulu locals enjoy the outdoors in all seasons – riding bikes, hiking, and running even when the temperature drops to -20. An Oulu local told us that -5 is considered 'nice winter weather', so be warned!
We were quite lucky to find sunny and considerably mild winter weather in Oulu, but it can indeed get chilly – in January/February, temperatures of -25/30 are not uncommon.
Naturally, you'll also find plenty of snow when visiting Oulu in winter. The first snow may fall as early as late September, and by November/December it will be a true winter wonderland. Make sure you take some sturdy winter boots, possibly with spikes to avoid slipping on the icy footpaths!
Oulu in Winter – Things to Do
1) Lumo Light Festival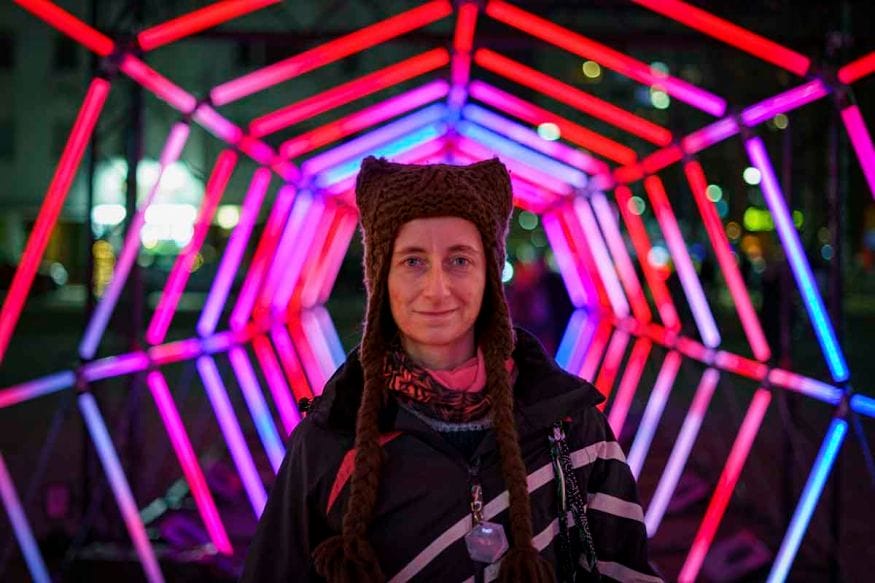 The main reason of our winter visit to Oulu was Lumo Light Festival, taking place every year in mid-November. The festival features all sorts of light installations by Finnish and international artists, in various locations around the city – from the former water tower to public parks, city streets, and even the ground floor of a shopping centre.
The idea behind Lumo Light Festival is to bring light through art in people's life, during one of the darkest months of the year. In the words of Henry, an Oulu local who guided us around on our first day, 'November is a really difficult month. It's dark and cold, but there's not yet much snow – normally we just stay in. We need something to cheer us up!'
The 2021 edition of Lumo Light Festival featured 18 light installations all over the city, all numbered and linked together by a 3 km itinerary. Many of them are inspired by the environment – such as Gaia, a 7-meter replica of Planet Earth, or The Well, with rows of dangling CDs reminiscent of cascading water.
The most striking installation of all was probably The Traveler, a space-themed video mapping projection on the façade of Oulu Cathedral.
Lumo Light Festival has proven to be very successful – in 2021, despite travel restrictions and very low tourist numbers, the festival was visited by approximately 50,000 people. The streets were buzzing from 4 to 10 PM, the time the installations were operating.
For information on the 2021 installations of Lumo Light Festival and for future editions, visit the official website!
2) Enjoy Nature in the City
Lumo Light Festival was the main reason for us to visit Oulu in winter, but there's plenty more to see and do! Like Helsinki, Oulu has some amazing parks and is set close to protected nature areas where it's possible to go hiking and birdwatching.
In the vicinity of Oulu, you can explore different habitats – coastal nature in Letonniemi, bogs at Pilpasuo, and forests along the Sanginjoki outdoor routes. Kempeleenlahti is also known to be a great birdwatching location.
If you don't have much time to get away from Oulu but still want to enjoy some urban nature, head to Pikisaari, an island right opposite the city centre, connected by a bridge. There's a forest in the top of the island, and some traditional wooden houses. You can follow the loop trail circling the entire perimeter, perfect for a morning walk or run!
3) Visit a Fishermen's Village
Another fun thing to do when visiting Oulu in winter is a day trip to Hailuoto, an island about 50 km from the city. Hailuoto is easy to reach with a combo of car and free ferry connecting the island to the mainland, or else you can arrange transportation with Saaga Travel.
One unmissable spot in Hailuoto is Marjaniemi, a sleepy fishermen's village with traditional red wooden houses – most of which are rented out in the summer. There's also a lighthouse you can climb to see the village from above.
In winter, Marjaniemi will be extremely quiet, but the pretty Arctic light and the red houses make for some good photo opportunities. In summer, Marjaniemi hosts the Bättre Folk music festival, and thousands of revellers descend upon the village – I'd be really curious to see it!
4) Meet Artists in Hailuoto
There's also another reason to visit Hailuoto during your time in Oulu in winter. The island has long been popular with artists, attracted to its nature, peace, community, and unique light.
We visited on a sunny winter day, and saw the sunrise from the ferry, shining a powdery pink light made more vibrant by the slate-blue sea. Once again, the day was brief but intense – we walked under mottled light filtering through snow-covered trees, under a candy-floss sunset in Marjaniemi, and surrounded by a starry sky as we made our way back.
Artists, writers, and photographers have the option of spending time in Hailuoto on residencies. Programs last between one week and one month – artists get a private room and shared workspace in the Hailuoto Culture House, a renovated 1930s heritage house with a sauna and recording studio.
Hailuoto also has a resident artist community – we got to meet Eija Ranta, a movement artist who runs workshops encouraging people to use their own bodies as a creative medium.
In summer, the Hailuoto Culture House organizes workshops and performances, but winter is a little quieter. Even if there's not much going on, you can still experience a piece of Hailuoto's creative soul by heading to Organum, three interconnected concrete domes by acoustic artist Lukas Kuhne.
Organum is surrounded by trees, on the edge of a small cove. It's always open and everyone is allowed to enter at any time, and do whatever they want – sing, dance, meditate, play an instrument, or just use their voice to see how sound changes while moving around the structure.
5) Go on a Northern Lights Safari
There's only one way to close your Oulu winter experience with a bang – seeing the Northern Lights.
Now, let me tell you a couple of things about the Northern Lights. Yes, Oulu is far north enough, but don't forget that to see them you need three elements – a clear sky, absence of artificial light, and magnetic activity on the surface of the sun.
As a result, the Northern Lights are never 'guaranteed' – to give you an idea, in 2016 we spent 2 weeks in Northern Finland, including a week-long stay in Salla, and never saw them.
You need to be lucky to get the right conditions, and joining a tour will definitely help find locations where the Lights might appear.
On top of that, the Northern Lights are often not visible to the naked eye. You may see them through your camera, so don't be disappointed if you only see faint lights. They're still amazing!
On our last night in Oulu, we joined a Northern Lights tour with Oulu Safaris. We were taken to two different locations – a snow-covered golf course and a little harbour just outside Oulu.
The Northern Lights made a brief appearance, arches of flickering green light rising from the horizon, and dissolving into the night sky.
It was a magical moment, yet it was so brief and fleeting, that we all looked and one another wondering if we had indeed seen the Northern Lights. Then, night descended again. I thought it was a kind of metaphor for life, especially in these troubled times.
You need a dark night to truly appreciate the beauty of light.
Our visit to Oulu was part of the TraCEs – CultourIsCapital project, in collaboration with Visit Oulu and iAmbassador.