When in Texas, you can't miss visiting Big Bend! This national park is one of the largest, least visited and most diverse national parks in the US, offering plenty of activities. Just keep reading to find out all the best things to do in Big Bend National Park, TX!
After having spent 7 weeks driving across the US, I can tell you this – if you're looking for the Wild West, head to Big Bend National Park.
Those who have watched the TV series Westworld will know what I mean. Imagine miles and miles of open desert, with spiny cacti covered in flaming blooms. Think of mountains covered in forests, where bears still roam; of a river flowing through a canyon, of dinosaur fossils and vast, open skies.
This, and a lot more, is Big Bend National Park. It's a popular destination for Texans, especially during Spring Break, but it's virtually unknown outside the Lone Star State – with under 300,000 visitors a year, it's one of America's least visited national parks.
Yet, after visiting Big Bend National Park for the first time, and see it all it has to offer, I'm sure you'll be wondering why this park sees such few visitors.
For adventure and hiking lovers, it's absolute paradise. Big Bend is one of the few national parks in the world with three distinct ecosystems – desert, mountains, and riverine, lending itself to a variety of outdoor activities.
Would you like to know more about Texas? Here is our 2 weeks Texas road trip itinerary!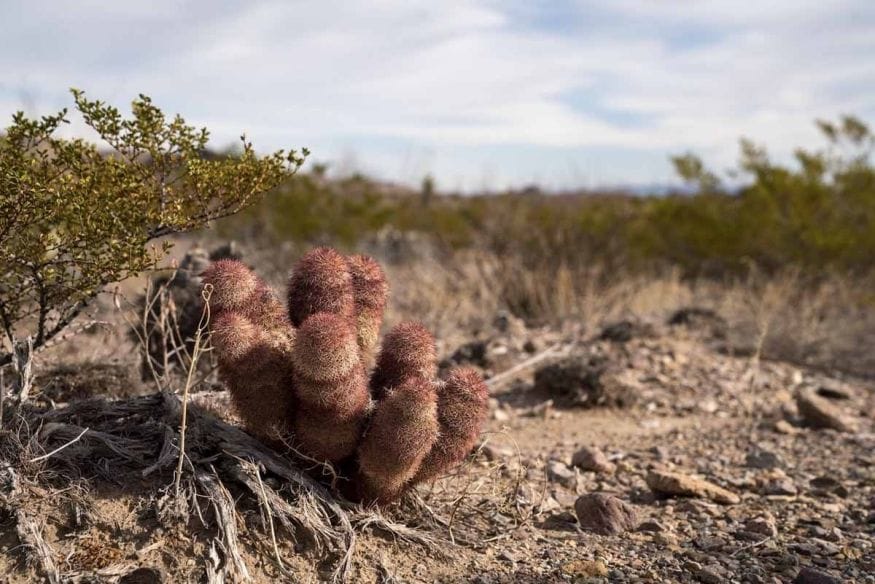 Where is Big Bend National Park?
Big Bend National Park is located in Far Western Texas, where the Rio Grande river marking the border with Mexico makes a U-shaped turn – the 'Big Bend'.
It's the largest national park in Texas, and in the top 15 largest national parks in the US, with a surface area of over 800,000 acres. Big Bend includes the largest protected expanse of Chihuahuan desert in the US, with more than 1,200 species of plants, 450 species of birds, 56 species of reptiles, and 75 species of mammals.
One of the reasons why Big Bend National Park sees relatively few visitors is its remote location. It's about 6 and a half hours drive from Austin, almost 8 hours from Dallas, and 5 hours from El Paso. The closest airport to Big Bend is Midland-Odessa, located 190 miles away, about 3 hour drive.
Yes, getting to Big Bend National Park and away is a bit of a drive, but it's totally worth it. It's a place where you can really get away from it all, and feel immersed in nature. You can spend several days exploring – the park is huge,
From mountain and desert hikes, to backcountry drives, river trips and more, let's have a closer look at the best things to do in Big Bend National Park!
Looking for more US national parks itineraries? Check these out!
Things to Do in Big Bend National Park
1) Head to the Chisos Mountains
On our first day, I asked our guide what was the best thing to do in Big Bend National Park, if you only had time for one. He replied, without hesitation, 'head to the Chisos Mountains'.
Big Bend is the only park in the US, and one of the few in the world, to include one entire mountain range within its borders – the Chisos Mountains.
The Chisos Mountains are in the centre of the national park, dominated by the Emory and Lost Mine peaks, the tallest in the park 7,835 feet and 7,535 feet respectively. They extend for 20 miles, surrounding the Chisos Basin, a valley where you'll find a visitor centre, campground, and various hiking trails.
Heading to the Chisos Mountains after a day spent in the desert of Big Bend feels like getting into another world. You just need to drive up a 7-mile paved road, to switch ocotillo, creosote and cholla for fir trees and Ponderosa pines. The temperature is also much cooler, perfect in summer when the park is boiling hot!
Big Bend is home to some really cool hikes – to know more, check our post about the 9 best off the beaten path USA hikes!
2) Hike the Window Trail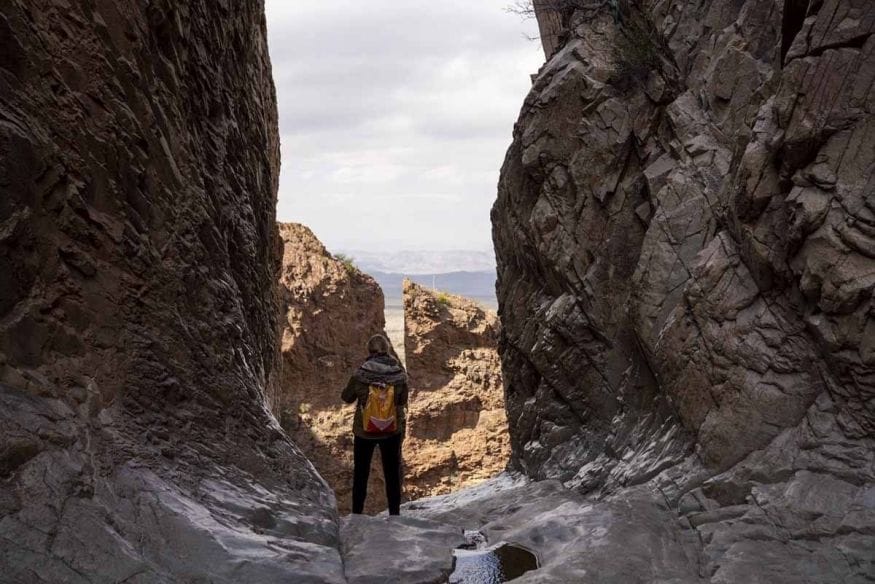 Hiking is one of the best things to do in the Chisos Basin, and in Big Bend National Park as a whole – and if you only have time to do one hike, make sure you choose the Window Trail!
I couldn't find exact info on length – trail signs said 1.8 miles each way, while on websites it ranged from 3 to 6 miles. Hiking Window Trail took us about an hour each way, slightly longer for the way back since there's a slight elevation gain.
The hike is fairly easy, starting from the Chisos Basin trailhead and descending to a canyon. The trail follows Oak Creek Canyon, along a comfortable path first, and then runs right next to the creek, crossing it a few times – be very, very careful while the creek is flowing.
The hike ends at the Window, an opening in the rock framing a stunning desert view. Be very very careful as you approach, as the rocks underfoot are often wet and there's a 500-ft drop on the other side, with no railings.
Window Trail is a popular sunset hike. If you do decide to hike it for sunset, don't forget to take a torch/flashlight for the way back!
3) Drive the Ross Maxwell Scenic Drive
Do you have a very limited time to spend at Big Bend National Park? We recommend driving the 30-mile Ross Maxwell Scenic Drive, a scenic road taking in some of the best locations within the park.
The drive is all paved, and travels around the Chisos Mountains, passing by Sotol Vista, one of the most scenic points in the park. Then, it continues down to the Rio Grande, travelling past Castolon Historic District, until the Santa Elena Canyon trailhead.
You can stop along the Ross Maxwell Scenic Drive for numerous short hikes to points of interest around Big Bend National Park – like Old Sam Nail Ranch, taking you to an abandones building, or the Burro Mesa Pour-Off, a half mile trail to a canyon including a dramatic pour-off.
If you only have one day to spend at Big Bend, we recommend driving down Ross Maxwell Scenic Drive, taking in all the sights and doing a couple of the hikes. However, if possible, we recommend spending a minimum of 3 days in Big Bend National Park!
4) Backcountry Jeep Tour in the Desert
This was my favourite thing to do at Big Bend National Park, and one of my favourite days on our entire trip to the US.
There is only a handful of paved roads crossing Big Bend National Park, including the Ross Maxwell Drive, and the road heading to Chisos Basin. The vast majority of the park is crossed by unpaved roads, often little more than tracks, and a high-clearance 4×4 is essential to reach its remotest corners.
Even if you do have a 4×4 or ATV, driving these remote sandy tracks can be treacherous, and lack of signage and phone signal mean it's hard to find your way around. We highly recommend opting for a guided tour – we chose the Camino del Rio/River Road tour with Far Flung, a local outfitter leading tours all around Big Bend National Park.
This tour is a full day outing – it starts at 8 am, and we got back by 6.30 pm. The tour mainly covered the southern part of the park, close to the Rio Grande and the US-Mexico border.
We drove down remote roads, saw dozens of different types of cacti and had lunch by an abandoned cinnabar mine, before making our way back via a scenic road with stunning views over the Mariscal Mountains.
Our guide Randy was a local Texan and lifelong desert lover, and he gave us lots of tips on the best things to do around Big Bend National Park!
5) Visit the Fossil Discovery Exhibit
If you're visiting Big Bend National Park with children, or you're just a dinosaur lover like us, don't miss the Fossil Discovery Exhibit, located 8 miles north of Panther Junction on Highway 385, heading to Marathon.
The Fossil Discovery Exhibit is a small outdoor exhibition area, with a covered section with illustrated information signs, fossil and dinosaur bone replicas, including a T-Rex skull and the skeleton of a giant flying dinosaur!
This is the place to visit you want to know about the geological evolution of the Big Bend area, and learn about plants and animals who inhabited the area throughout the ages.
You can also follow the short trail to the top of a hill, with panoramic views over Big Bend National Park.
6) Hike the Grapevine Hills Trail
Hiking in Big Bend National Park isn't just around the Chisos Mountains – you can also go on some stunning desert and river hikes!
Let's start with desert. If you have time for a fun, short hike, we recommend the Grapevine Hills trail. The trailhead is at the end of a 6-mile unpaved road – it is passable with regular cars, but please pay attention, especially in the last couple of miles.
The trail is only 2.2 miles return, meaning you can easily do it in a couple of hours. The first part of the hike is through Big Bend's iconic Chihuahuan desert scenery, with sparse vegetation, and the ubiquitous cacti and creosote bushes.
If you hike in the early morning you may be lucky and spot some birds. After the first flat section, the trail climbs over a series of boulders, making its way to Balanced Rock, a boulder precariously stacked on top of another.
You may be tempted to keep going and make your way past and down in the valley, but there's no trail to follow and the dangers of getting lost and dehydrated is just too high. Make your way back – there are plenty more things to see around Big Bend National Park!
7) Hike to the Santa Elena Canyon
If you can fit one more hike, we recommend opting for the 1.7 miles return hike to the Santa Elena Canyon, the most famous tourist attraction in Big Bend National Park.
The Santa Elena Canyon is formed by the Rio Grande, and it's an impressive sight with its 1500 ft-high walls. If you don't have time to hike, you can easily reach the Santa Elena Canyon Overlook by driving the Ross Maxwell Scenic Drive all the way to the end.
You can also get there by taking Old Maverick Road from Terlingua, a scenic 14-mile dirt road through the desert.
The hike to Santa Elena Canyon follows Terlingua Creek for a bit, then descends to the edge of the Rio Grande, continuing along the canyon until the walls meet the river. If you want to travel deeper into the canyon, you may consider a canoeing or rafting trip – contact local outfitters like Far Flung for more info.
8) Soak in Hot Springs
Can you think of anything better than soaking in hot springs after a hike? Among all the many things to do in Big Bend National Park, you can also find the remains of a historic bathhouse, dating back to the early 20th century!
You can reach the Big Bend Hot Springs by driving down a two-mile gravel road, not far from Rio Grande village. Then, you'll have to walk a quarter mile until you get to the foundation of the former bathhouse, where you can soak at your own leisure in 105°F (42°C) water.
There's also a mile-long loop trail nearby, allowing you to see the hot springs and the Rio Grande from above.
9) Go Stargazing
If you have the opportunity to spend one night inside Big Bend National Park, do it! The national park is recognised as a dark sky preserve, and the views of the night sky are truly a sight to remember, especially on moonless nights.
The National Park Service organises ranger-led stargazing programs aimed at both adults and children – otherwise, just head to the visitor centre, get a backcountry camping permit, wait for darkness… and look up!
Big Bend National Park Practical Info
Entrance fees are $30 per vehicle, valid for a week. If you're planning to visit several national parks, consider purchasing the America The Beautiful pass for $80, valid for a year in all US national parks.
Beware of dangerous wildlife. There are bears and mountain lions in the Chisos Basin, and rattlesnakes and scorpions are found in the desert.
Also be very careful not to step on a cactus while hiking in the desert! Some of them have long, hard spikes, that might pierce the soles of your shoes. Wear hiking boots or sturdy shoes to prevent this.
There is little to no phone signal throughout the park.
The best places to get fuel in and around the park are Terlingua, Lajitas, Rio Grande Village and Panther Junction visitor centre.
Don't forget that Big Bend National Park is mostly desert. Make sure you have enough water with you (1 gallon per person/per day is recommended) and try to hike in the morning or late afternoon, especially in summer!
Things to Do Near Big Bend National Park
10) Visit Prada Marfa
The name 'Big Bend' doesn't just refer to the national park, it's also used for the surrounding region, also offering lots of interesting things to do and places to see.
One of them is Prada Marfa, an art installation resembling a Prada shop right in the middle of nowhere, on the side of US Highway 90, 1.6 miles northwest of Valentine and 26 miles from Marfa.
If you are driving to Big Bend National Park from El Paso or New Mexico, you'll drive by Prada Marfa, so we recommend stopping for a picture and to have a look at the installation.
If you have extra time, we recommend spending a day or two in Marfa, to learn more about its innovative role in the art world and to visit some art galleries.
11) Zip Lining in Lajitas
We spend the first of our three nights in Big Bend at Lajitas, a golf resort with a Wild West vibe.
You don't need to be a golfer to stay at Lajitas – it's actually the only upscale accommodation option within a short drive from Big Bend National Park, and you'll also find Candelilla Café, an excellent restaurant offering a combination of Mexican and American dishes.
The resort also organises a variety of activities for guests, including horseback riding, river sports, hiking, mountain biking and bird watching.
We opted for zip lining, a fun and thrilling way to admire the desert while zipping from one cliff to another. There are four zip line tours on offer – we went for the Quicksilver, including four zip lines reaching a speed of 50 miles per hour. Highly recommended for an afternoon of pure adrenaline!
12) Visit the Big Bend Ranch State Park
What would you say if I told you there's not just one, but TWO parks called Big Bend? Besides the national park, you can also visit Big Bend Ranch State Park, extending over 300,000 acres of former ranching land.
The State Park sees far fewer visitors compared to the National Park, and it's ideal for those who really want to get away from the crowds and into nature. Two of the most popular activities are the 1.4 mile hike to Closed Canyon, a narrow slot canyon, and driving the River Road, a scenic 30-mile road along the Rio Grande.
13) Explore the Abandoned Town of Terlingua
Another not-to-be missed point of interest near Big Bend National Park is Terlingua, a former ghost town experiencing a second 'rebirth'.
Terlingua was first established by the Chisos Mining Company, as a base for its cinnabar mining operations. In the early 20th century, global demand for quicksilver fell, and the town was gradually abandoned.
Artists and other wayward souls started returning to Terlingua in the 1960s, making their home between ramshackle buildings and empty mine shafts. Nowadays, the town has a few dozen year-round residents, some shops, a restaurant and some places to stay.
You can wander around Terlingua at will, but be careful and watch where you go – you don't want to be stepping on a cholla cactus or rattlesnake! You can visit the cemetery, and don't forget to head to Starlight Theater for dinner with live music or a sunset drink.
14) Visit Marathon
Marathon is another interesting town in West Texas, about an hour away from Big Bend National Park.
If you have a few hours or an extra day to kill, Marathon is home to two wonderful gardens, one at the Gage Hotel and Post Park just a short walk away. Make sure you also visit the gallery of artist Dan Klepper.
Where to Stay in Big Bend National Park
Lodges
For those who want to stay inside the park, but don't fancy camping, there is only one option – Chisos Mountain Lodge, offering a variety of accommodation options in Chisos Basin.
You can stay in hotel or motel rooms, or in stunning freestanding stone cottages with views. Don't forget to book ahead, especially during the high season (spring and autumn).
If the Chisos Mountain Lodge is full, you can try contacting their sister property, Big Bend Resort and Adventures in Terlingua!
Campsites
There are three campgrounds located within Big Bend National Park, all suitable for tents and trailers below 24 ft.
Chisos Basin Campground (60 sites)
Cottonwood Campground (24 sites)
Rio Grande Village Campground (100 sites)
Two thirds of sites in the Chisos Basin and Rio Grande Village campsites can be reserved in advance, from 6 months to 2 days ahead of your stay. Contact this website for more info on how to book your Big Bend campsites.
It's also possible to go backcountry camping in Big Bend, definitely the best way if you want to get away from it all. There are several primitive backcountry campsites throughout the park, all requiring a backcountry use permit issued at the visitor centres around the park on a first come, first served basis.
Visit this site for more info on backcountry camping.
Where to Stay Outside Big Bend National Park
We spent three days in Big Bend National Park, and each of the three nights we stayed in a different place – all different, and all amazing in their own way!
Lajitas Golf Resort
Lajitas Golf Resort is not just a place to stay, it's also a destination in its own right! The resort spans over 27,000 acres, offering a range of services and activities including a spa, gym, horseback riding, zip lining, and naturally a golf course.
If you're after upscale accommodation, this is probably the best choice in the Big Bend area. You can choose between a range of rooms, suites and villas, with options for couples and families.
We stayed in one of the Officer's Quarters suites, located in a secluded section of the property, with mountain views and a garden just in front.
La Posada Milagro – Terlingua
Terlingua is the closest town to Big Bend National Park, and a great choice as a place to stay outside the park. If you're planning to stay in Terlingua, make sure you dedicate a few hours to exploring this unique ghost town!
In terms of accommodation, we loved staying at La Posada Milagro, a boutique hotel in a renovated historic building, with 6 different rooms. Decor is Mexican-inspired, with antique pieces and some furniture made with reclaimed wood.
The night sky from our patio was really a sight to remember, and the hotel was only a quick walk away from Starlight Theater, Terlingua's best restaurant located in a former theatre!
Eve's Garden – Marathon
Marathon is a little further than Terlingua from the national park, but it's worth choosing as a place to stay for at least one night because it's home to Eve's Garden, one of the most amazing hotels where we've had the privilege to stay in our travelling lives.
The B&B is built with a combination of adobe and papercrete, a unique ecological, lightweight material made of shredded paper, clay, recycled Styrofoam, Portland cement, and perlite.
From the outside, it's really cool – at first, it looks like a brightly-painted traditional adobe house, but as you get closer you'll see all the additions, with domes and a rooftop terrace, and a central organic garden topped by a glass ceiling.
To appreciate it fully, you need to walk in and star exploring. It feel as if you are wandering into the home of a creative, eco-conscious artist – every inch is tastefully decorated, the common areas are full of secluded corners where you can sit down and relax in beautiful surroundings, and there's also a covered pool!
Eve's Garden also serves delicious organic breakfasts – I still dream of their delicious blueberry pancakes!
Our stay in Big Bend National Park and surroundings was sponsored by Big Bend Tourism. We would like to thank Robert, Madison and Randy from Far Flung for this unforgettable experience!