Welcome to the coolest city in the US, Austin! The capital of Texas is also the food truck, craft beer and street art capital of the state, and it's full of fun and unusual things to do. Here is our itinerary for 3 days in Austin, perfect for a long weekend!
You know the saying 'Keep Austin Weird'? Well, it's totally true. Austin is weird – and the even weirder thing, is that this liberal and quirky city is the capital of Texas, a deeply conservative, stereotypically Republican state.
Austin is completely different. It's a place where street art outnumbers Lone Star flags, and where you can listen to all kinds of live music, and not just country and western.
It's a multicultural, colourful city, where civil rights seem to actually matter, and they're not just a whim for 'radical left-wingers' (something we actually heard as we were driving across West Texas).
Austin is a big city, home to about a million people. It's surrounded by wonderful nature, and home to sights and museums, but in my opinion, Austin is all about the atmosphere – it's a place you discover by wandering around, walking into shops, visiting bars or food trucks.
3 days in Austin are just the right time to sample a bit of everything the city has to offer. Here is our Austin itinerary – as always, if you're a local or know Austin well, feel free to get in touch with your tips!
Austin Itinerary – Day 1
Morning – Franklin Barbecue
Is there anything that screams 'Texas' more than Texas barbecue? Imagine a metal tray, lined with baking paper, with piles of melt in your mouth brisket, charred ribs, and hot links, to enjoy with the three usual sides – beans, potato salad, and coleslaw.
There are plenty of places to try Texas barbecue in Austin, but one place rules over them all – Franklin Barbecue, only open at lunchtime Tue/Sun, famous for their legendary brisket, and legendary queues.
At Franklin's, only a limited amount of meat is barbecued each day, and they ALWAYS run out. The queues are something that defies imagination – the absolute minimum is 1 hour/1 hour and a half, stretching up to 5/6 hours at the weekend. No, I'm not joking.
Is it worth it? Oh yes. We had barbecue about 5 times during out 2 weeks in Texas, and Franklin's was by far and away the best. The brisket was so, so good – can you think of a better way to kick off your 3 days long weekend in Austin?
If you're travelling with a group of friends, waiting for a few hours may even be fun – Franklin's provides camping chairs, and you can buy beer and drinks from the shop while you wait.
Otherwise, if you want to avoid lining up, visit Franklin's on a Tuesday or Wednesday and get there AFTER the 11 am opening time – the only flip side is that by the time you get to the front of the line, they may have run out of some meat.
Would you like to know more about Texas? Here is our 2 weeks Texas road trip itinerary!
Afternoon – Blanton Museum of Arts
This was actually my number 1 place to see in Austin. I've been a big fan of the Blanton Museum for a long time – my friend Lizabel runs their social media, and I love their focus on Latin American art and QTPOC artists, always underrepresented in the all-white contemporary art scene.
The Blanton Museum is part of the University of Texas, and it's located downtown, just a quick walk from the Texas Capitol building. Most of the exhibits are located in the main building, but also don't miss Ellsworth Kelly's 'Austin', a small separate building just opposite.
In the museum, you'll probably have to choose on what sections to focus, unless you want to spend the entire day there. The three main collections are dedicated to European Art, with artworks from about 1350 to 1850; Latin American Art, and American & Contemporary Art.
We spent most of our time around the Latin American and American & Contemporary Art collections. I especially loved artworks by South African artist Zanele Muholi, and an entire section dedicated to themes like 'Death' and 'Loss'.
Evening – Rainey Street
If you stay at the Blanton until closing time at 5 pm, you'll probably be up for a drink or something to eat by that time!
One of the most famous places to visit in Austin at night is 6th Street, also known as 'Dirty 6th', but we weren't big fans of the Spring Break-ish, party-hard vibe – so we recommend walking a little further to Rainey Street, a little more hidden away, with beer garden and food truck parks rather than fast food places and sport bars.
There are so many choices for places to drink and eat on Rainey Street, you'll definitely find one that appeals to you. We loved Craft Pride, a craft beer bar all dedicated to Texan brews, and Javelina, a Mexican-inspired bar with some really good food until 1.30 am.
In terms of food, the best place to eat on Rainey Street is definitely Emmer & Rye, an upscale joint with a contemporary menu featuring locally-sourced ingredients. For something a little more easy going, opt for food trucks – Via 313 serves great Detroit-style pizza, and Happy Lobster (weekends only) is the best place in town for lobster rolls.
Looking for more US itineraries? Take your pick below!
Austin Itinerary – Day 2
Morning – Barton Springs Pool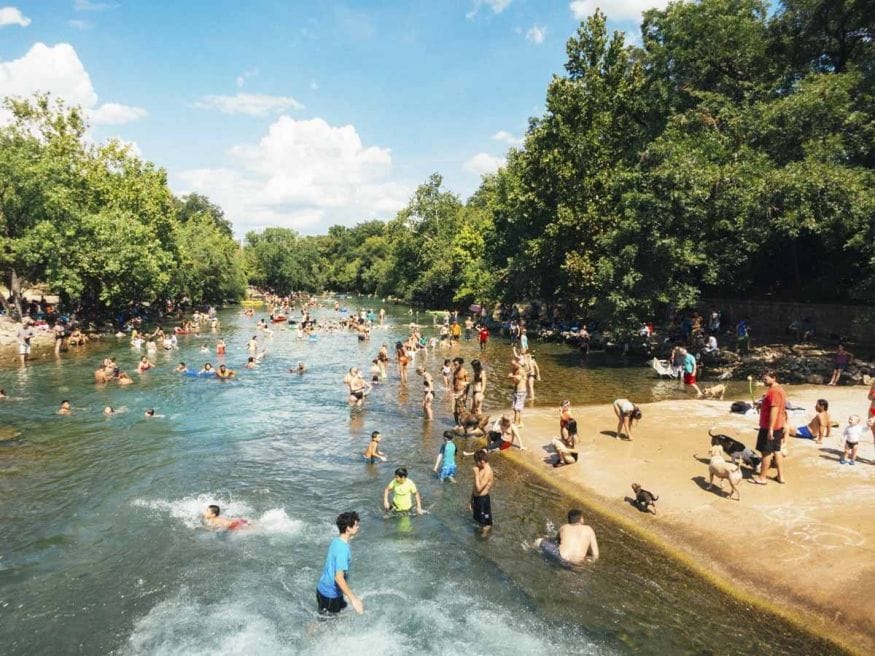 Start the second of your 3 days in Austin with a swim right in the middle of the city! Barton Springs Pool is located in Zilker Park, Austin's most loved urban park, and it's fed by an underground spring, with a constant temperature around 20°C (68-70°F).
The pool is three acres wide, and it's true local favourite – meaning that crowds are not uncommon. To avoid other people, visit in the early morning, between 5 and 8 am, or in the evening, and avoid weekends. Also, please don't forget that Barton Springs Pool is closed every Thursday between 9 am and 7 pm for cleaning.
Another option for a swim in Austin, with fewer people and a more 'natural' feel is Hamilton Pool – it's about 30 miles out of town, so it's probably better for a day trip than just a morning swim!
Afternoon – South Congress
After swimming at Barton Springs pool, we recommend making your way to South Congress Avenue, the best place to appreciate all of the 'weird' that Austin has to offer.
In just a few blocks you'll find stores selling vintage cowboy boots, embroidered shirts with feminist messages, street performers, art galleries, colourful murals, toy shops, candy stores and so much more.
Two unmissable stops are Monkey See, Monkey Do, with vintage toys and curios from the 80s and 90s, and Lucy in Disguise with Diamonds, the craziest fancy dress store ever.
If you want a quick bite to eat, we recommend More Home Slice, a New York-style pizza joint. Don't eat too much though, as dinner tonight is truly special!
Dinner – Uchiko
This dinner suggestion is a homage to my friend Fraintesa, who dreams of visiting this restaurant ever since having listened to 'Multi Love' by Unknown Mortal Orchestra, which goes 'She wants to bury me in Austin under Uchiko'.
Uchiko is the second outpost of Uchi, a famous sushi restaurant. Located in the Rosedale neighbourhood in northern Austin, Uchiko (meaning 'son of Uchi') follows a farm-to-table philosophy, focusing on fresh, local ingredients.
The menu has an extensive sushi section, with creative nigiri, sashimi and the famous makimono roll, including the signature 'shag' with tempura salmon, avocado and sundried tomato, and 'ham&eggs', with katsu pork belly and yolk custard.
If sushi is not your thing, these are many more choices, served small-plate style. We can't wait to go back and try the omakase, with 10 surprise courses!
Post-Dinner Drinks – Midnight Cowboy
After the special dinner at Uchiko, there's one more stop before the end of the second day of your long weekend in Austin. The town is also famous for its speakeasy-style secret bars, found in basements, attics or concealed behind secret doors.
Behind a nondescript door on 6th Street, in a former massage parlour where happy endings were commonplace, you'll find Midnight Cowboy, one of Austin's finest (secret) cocktail bars.
There are only 10 or so booths, and advance reservation is essential – visit the website to find out how. Then, you'll find out the proper address, and the doorbell you need to ring to be allowed to enter.
The menu changes regularly – at the time of our visit, cocktails were inspired by dark folk tales from around the world. I don't want to reveal too much, I'll just recommend to order one of the cocktails made table side, to admire the skill of the resident bartenders.
This was one of our top experiences during our 3 days in Austin, and we highly recommend trying to get a reservation at Midnight Cowboy!
Austin Itinerary – Day 3
Morning – Mount Bonnell
Let's start your day 3 in Austin with a nice, not too difficult hike. Mount Bonnell is probably Austin's most famous lookout, very well known (and quite crowded) as a sunset viewing spot.
Visit during the day, and you'll have to share this spot with very few others. Mount Bonnell is a short drive from downtown Austin, overlooking a scenic spot right next to the Colorado river.
At 775 feet, it's the highest point in Austin – but don't expect a strenuous hike. You can drive (or ask to be dropped off) a short walk from the bottom of a limestone staircase, taking you to the top in just 10/15 minutes.
Just take some time to admire the view, and then it's time to keep exploring Austin and its sights!
Lunch – Odd Duck
If your budget can stretch a little further, after dinner at Uchiko you could also head to Odd Duck on South Lamar Boulevard for a very special lunch.
Odd Duck started out as a food truck, then graduated to a brick and mortar location in 2014. The dinner menu focuses on small plate dining, and can be pricey, but come at lunch and you'll have the chance to try full-size servings at affordable prices.
It's hard to define the cuisine at Odd Duck – adjectives like 'locavore', 'modern American' and 'Southern X Ethnic' come to mind. We loved their creative take on iconic American comfort dishes or street food specialties, like the corn dog and baloney sandwich.
Afternoon – More Street Art and East 6th Street
After lunch, you'll have a few more hours to kill before it's time for another iconic Austin experience. So, why not go and look for some more street art?
If you're after 'instagrammable' street art, there are two iconic Austin murals – the 'Greetings from Austin' at 1702 S. 1st Street, and the 'Welcome to 6th Street', at the intersection of 6th Street and I-35.
If you opt for the Greetings from Austin mural, you'll be right between South Lamar and South Congress, so you can spend the rest of your afternoon wandering around, perhaps heading to Joe's Coffee on South Congress to have your picture taken in front of the 'I love you so much' mural.
Another cool place to head to is East 6th Street, on the other side of the I-35. East 6th is the place for you if you find Rainey Street 'too commercial' – we recommend heading to Wright Bros Brew & Brew (meaning they have coffee AND beer!) or Lazarus Brewing company if you're after some craft beer.
Evening – Bats on Congress Bridge
Our Airbnb hosts in Tucson recommended watching the bats as one of the coolest things to do in Austin. The city has the urban largest population of bats in the world, with over a million Mexican free-tailed bats.
From March to November, the bats take flight at sunset to feed on the mosquitoes gathering under Congress Bridge. There are several ways to witness this stunning show – you can stand on the bridge itself, sit in the park right next to the bridge, or take a boat or kayak tour to see the bats from the water.
Sadly, we visited in early February, too early in the year to see the bats. This is reason enough for us to plan another trip to Texas – seeing the bats on Congress Bridge is the perfect way to end your 3 days in Austin!
When to Visit Austin
Similarly to many other places in Texas and the American Southwest, spring and autumn are the best times to visit Austin. Temperatures are perfect for sightseeing, with daytime highs in the 70s-80s°F (about 20-30°C), dropping to the 60s at night (10-15°C).
The only issue is that both spring and autumn are a very busy time to visit Austin, with popular festivals such as SXSW taking place in March, and Austin City Limits Music Festival in October. If you're planning to visit in occasion of these festivals, make sure you book your accommodation a few months in advance.
Summers in Austin are very hot, with temperatures around 95°F (35°C) during the day. It's the perfect time to cool off at outdoor springs, and hotel rates are lower. Winter can be surprisingly good – we visited in early February and the days were sunny and warm, the only issue is that we missed out on the bats.
How to Get Around Austin Without a Car
In case you were wondering, you can indeed get around Austin without a car! During our long weekend in Austin, we got around using a mix of buses and Uber/Lyft. Ride share apps work very well – we used both Uber and Lyft and drivers were always quick and courteous. It's especially worth using at night, when buses are not very frequent.
We also uses Austin's Capital Metro buses to get around during the day. Single fares range from $1.25 and $3.50, depending on whether you ride a Local or Express bus, and day passes vary between $2.50 and $7.
You can pay cash to the driver upon boarding, but don't forget you need exact change. Otherwise, just download the Capital Metro app on your phone, and use it to purchase and store tickets.
Electric scooters are also a popular way to get around Austin – as of early 2020, you could rent Lyft, Lime and Bird scooters, and there are also bike share services.
Where to Stay in Austin
To make the most out of your 3 days in Austin, we recommend staying close to downtown. We stayed in a lovely Airbnb in South Austin, and we did love the area, but it was a 20-30 minute trip each way to reach downtown and the majority of points of interest in Austin.
Here are 6 hotels, in line with the famous catchphrase 'Keep Austin Weird' – after all, you don't want to spend your 3 days in Austin in a seedy motel or chain hotel, right?