Heading to Lake Como for a day or longer? I'm sure you'll be wondering what the best things to do in Bellagio are – keep reading, we'll share them with you!
Blame George, or just the incredible beauty of the lake, and its ease of visiting as a day trip from Milan, but it sounds like more and more people are visiting Lake Como. Summer 2023 saw record visitor numbers, with close to 100% occupancy in the busiest months.
Peak season is winding down now, but if you ask me (and I'm a local!) there's no better time to visit Lake Como!
Out of the many towns and villages around the lake, Bellagio is definitely one of the most popular because of its picturesque streets, luxurious villas, and great position at the junction of the three branches of the lake. Or maybe because it has the same name as a popular Las Vegas hotel?
In any case, Bellagio is really worth visiting. It's actually a very small village, perfect to visit as part of a day trip, combined with other locations in the northern part of the lake.
You can also choose to spend a few days in Bellagio, and use it as a base to explore the rest of Lake Como and surrounding mountains either on foot or by bike.
We visited Bellagio several times in different seasons, so we are ready to share with you the best things to do in Bellagio, as well as some practical info to help you plan your visit.
No time to read? Check out the best Bellagio tours here!
Bellagio, Lake Como – Practical Info
Where is Bellagio?
Looking at a map of Lake Como, you'll notice it's shaped like an inverted Y. Como sits on the tip of the westernmost branch, whereas Lecco (the second largest town) is at the end of the eastern branch.
Bellagio sits right in the middle, where the two branches meet, roughly halfway up the lake.
The triangle-shaped area comprised between the two southern lake branches is known as Triangolo Lariano, and it's a mountainous area of great beauty. It's also a very popular cycling destination, where you'll find the famous Madonna del Ghisallo Sanctuary and the Muro di Sormano.
More on these iconic climbs later, but if you're a cyclist definitely add them to your list of things to do in Bellagio!
Best Time to Visit Bellagio
Please, do me a favour and avoid visiting Bellagio in summer – unless you want to feel as if you're in Bellagio Las Vegas, that is. In June, July and August Bellagio is busy and often extremely hot, accommodation prices are through the roof, and boat tickets are booked out early in the day.
Shoulder season (April/May and September/October) is the best time to visit Bellagio. The weather is mild with good chances of sunshine, prices are more affordable and yes, it will be busy, but not crazy.
Winter is also a good time to visit Bellagio – the place will probably have an 'off season' kind of vibe, and some restaurants and businesses will probably be closed. The good thing is that tourists will be few and far between, especially midweek, and on a clear day the views are even better than in summer.
If you're heading to Bellagio on a day trip, I recommend checking the weather and choosing to visit on a sunny day. Bellagio is not really a 'bad weather' kind of place, with lots of museums and indoor activities. Things to do in Bellagio include lakeside walks, gardens, villas – so try and visit on a nice day!
Getting to Bellagio, Lake Como
We highly recommend getting to Bellagio using public transport, which usually means a train and boat or train and bus combo. Avoid going to Bellagio by car, unless you're visiting at a really quiet time (i.e. midweek in the middle of winter). Parking is very scarce and fills up very quickly.
From Milan, there are two ways to get to Bellagio. You can either take a train to Varenna Esino station (about 50 minutes from Milano Centrale), visit Varenna, and then take a 20-minute boat to Bellagio.
Alternatively, you can head to Como by train (30/60 minutes travel time) and then take either a bus or boat to Bellagio. The bus and boat both take about an hour, but naturally, the boat is a lot more scenic – find more info on the Navigazione Laghi website, where you can also buy tickets.
If you're pressed for time, opt for the fast boat, the slow one takes over two hours stopping at every single village! Find more info here – how to get from Milan to Lake Como.
Getting Around Bellagio
Bellagio is small enough to wander around on foot. All locations mentioned in this article are a 15-minute walk max from the centre.
If you want to visit Varenna, Menaggio, Como or any other lake town, we recommend taking a boat. You can buy boat tickers on the website linked in the previous paragraph, or directly at the ticket office. In summer, we highly recommend buying tickets in advance as they do sell out.
For more info on what's there to see around the lake, check out our Lake Como complete guide!
Free Things to do in Bellagio, Lake Como
1) Wander the historic center
One of the best things to do in Bellagio is to wander around the old, cobblestoned streets. Discover the shops and cafés located in pastel-colored houses. The historical center is small and can easily be covered in an hour, making it a great excuse to sit down and have a coffee somewhere where you can people-watch and take in the tranquil vibes of this small town.
Steep steps lined with boutique shops where you can find clothes, leather goods, and local food, take you up to mesmerizing views of the town, with Lake Como glittering in the background.
2) Head to Punta Spartivento
Punta Spartivento is a small park on the northernmost tip of Bellagio, only a 10-minute walk from the town. It is located exactly on the tip of land that marks the Y-split of Lake Como, resulting in sweeping views of the lake. Among other towns, you can see Menaggio and Varenna.
There are several benches where you can sit down and take in the views and relaxing atmosphere. For a treat, you can grab some locally baked goods from one of the bakeries in Bellagio that you can enjoy while you are sitting there or stop by the restaurant on Punta Spartivento.
3) Walk Up and Down Salita Serbelloni
Salita Serbelloni is not only Bellagio's most famous street but also the most photographed. The steep, cobblestoned street is built on steps and winds through pastel-colored houses with splendid views as you ascend the hilltop. On the steps, restaurants and bars have set out their tables for the perfect meal with a view. If you get tired while walking up to the top, they make the perfect excuse for a break.
Once at the top, turn around to the most iconic views of Bellagio and Lake Como as deep green tree-covered mountains sit as a backdrop behind the calm lake with colorful houses in the foreground.
4) Walk to Pescallo
One of the best things to do in Bellagio is to go to the little fishing village of Pescallo, just a short walk from town. It is a steep 10-15-minute walk on narrow, uneven alleys and steps, but well worth it once you reach this peaceful corner of Lake Como.
During the summer months, you can rent a kayak or a paddle board for a relaxing paddle around the lake or go on a boat trip. But if you would rather sit down with a coffee or some food and soak in the stillness before returning to the bustling Bellagio, there are a couple of restaurants to sit down at.
5) Go swimming
In the summer months, you can go swimming in Lake Como. There are a few different swimming spots in Bellagio, both public and private. The beach at Punta Spartivento and San Giovanni Beach are both nice public beaches. But if you want to experience the Italian beach culture of a private beach, head to Lido di Bellagio Beach Club.
There, you can choose between the small sandy beach and the swimming pool overlooking Lake Como. If you would like to enjoy a nice cocktail when lounging at the pool, this is surely the place to be.
Things to do in Bellagio – Villas and Gardens
6) Visit Villa Melzi Gardens
The Neoclassical palatial villa sits elegantly on the lakefront with a backdrop of steep mountains. It was built at the beginning of the 1800s as a summer home for Francesco Melzi d'Eril. Unfortunately, it is not open to the public, but you can visit its impressive botanical garden. Take your time wandering around the many walking paths between perfectly groomed exotic and local plant species, enjoy the lakeside walks, and stroll through the Japanese Garden.
There is also a little museum there where you can learn more about Villa Melzi's history and see some old artifacts that are exhibited.
Book your Villa Melzi ticket and ferry here!
7) Don't Miss Villa Serbelloni Gardens
Villa Serbelloni dates back to the 15th century and passed hands to different owners until the Serbelloni Dukes took over in the late 18th century. They expanded the property and the idyllic garden came to life.
Also known as Parco di Villa Serbelloni, the manicured gardens were eventually donated to the Rockefeller Foundation. The gardens are located on top of the hill offering panoramic views of Bellagio and Lake Como. The only way to visit the Villa Serbelloni Gardens is by a guided tour that must be booked in advance. The villa itself is now a hotel, and not connected to the park.
8) Visit Villa Carlotta
Villa Carlotta is another splendid 17th-century villa worth visiting. It also boasts dreamy gardens decorated with fountains and sculptures. It is particularly attractive during spring when it is blooming, above all the rhododendrons and the azaleas. That said, no time is a bad time to visit this majestic place.
To reach the Villa Carlotta, you must take a ferry from Bellagio to Tremezzo/Villa Carlotta. The journey is about 15 minutes each way. It is open between March and November.
Book your Villa Carlotta tickets and ferry here!
9) Admire the Views at Villa del Balbianello
Villa del Balbianello is a beautiful 18th-century villa in Lake Como that you can reach by a 30-minute boat ride to Lenno village. From there, you can either venture out on a hilly 20-minute walk or take a taxi boat to get there. Villa del Balbianello was built on the site of a former convent and has been used as a filming location for several big Hollywood movies like Star Wars and James Bond's Casino Royale.
The terraced gardens and romantic loggia make for a lovely walk with unmatched views. Inside the villa, there are 17th-century and 18th-century furniture from both England and France as well as a collection of artwork like sculptures, glass paintings, and other artifacts.
Villa Balbianello is open for visits between March and January and the interior is only accessible on a guided tour. Book your tickets here – they sell out super quick!
Unique Things to do in Bellagio
10) Take the Boat to Varenna
Going on a boat trip to Varenna is a great way definitely a fun thing to do in Bellagio. The ferry only takes 20 minutes each way and runs every half an hour. Varenna is home to one of Lake Como's most majestic villas, Villa Monastero. Between March and November, you can visit the villa and the lakeside botanical gardens.
Walk between the pastel-colored houses through the narrow streets, alleyways, and quaint squares to soak in the village's atmosphere. On Piazza San Giorgio you will find the 14th-century Church of San Giorgio which is worth a visit. Further, walk up the hill to Castello di Vezio and stroll along the romantic lakeside Lover's Walk.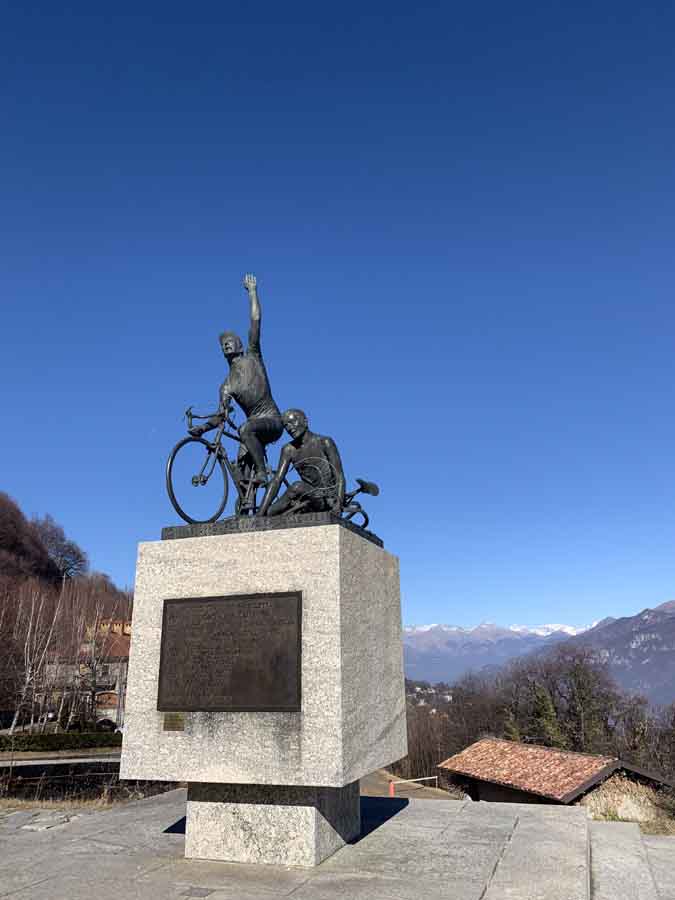 11) Pay Homage to Madonna del Ghisallo
Earlier on in this article, I mentioned that cycling is one of the main things to do in Bellagio, especially in spring and early autumn. Bellagio marks the start of one of Italy's legendary road cycle routes, the climb to Madonna del Ghisallo, patron saint and protectress of cyclists.
The climb is 9.4 km long, climbing 567 meters with an average gradient of 6% and 14% peaks. The route is entirely paved and it's quite strenuous, so unless you're an experienced cyclist we recommend attempting it with an eBike. At the top, you'll get a wonderful view over the lake, a monument dedicated to cyclists and two unmissable sights: the Madonna del Ghisallo church and the Ghisallo Cycling Museum (open April/October).
The Madonna del Ghisallo Church is tiny and overflowing with bikes, jerseys, trophies, and other cycling mementos. There are dozens of rainbow jerseys donated by former world champions, as well as road bikes from cycling's golden age.
The Museum is also worth visiting, especially if you're interested in cycling. You'll find the road bike used by Filippo Ganna to beat the hour record in 2022, as well as many other cycling memorabilia.
You can also drive to the top of Ghisallo (but please give way to the cyclists!) or take bus C36 from Bellagio. But if you ask me… you should really ride a bike to the top. It will truly be the most unforgettable thing to do in Bellagio!
12) Brave the Muro di Sormano
Are you a serious cyclist? Then for sure, you'll have heard of Muro di Sormano, a gruelling cycle path, climbing 279 meters over just 2 km.
This translates to an average gradient of 14.1% with peaks exceeding 25% – it's VERY, VERY STEEP. On the path, written on the road, you'll find quotes from legendary cyclists like Bartali, and marks highlighting each meter of altitude gained.
The climb starts not far from the top of Ghisallo, so you can do both climbs in one day. You'll need great legs though!
13) Sample Freshwater Fish
You'll notice I got up to #13 of the best things to do in Bellagio and I haven't mentioned food. That is because, in my opinion, restaurants in Bellagio are… not great, serving dishes like pasta carbonara and lasagna that really have nothing to do with Lake Como.
If you want to try something local, choose a restaurant specializing in freshwater fish. Risotto al pesce persico (perch) is a good local specialty to order, as is missoltini with polenta, small lake fish that are traditionally sun-dried.
Ittiturismo Ristorante Mella is a great destination for freshwater fish. They work with a fishermen's cooperative, sourcing their fish locally and offering lesser-known fish. It's a couple of kilometers from the centre of Bellagio, not far from Villa Melzi.
14) Sail all the Way to Como
Would you like to spend an afternoon sailing across Lake Como, past colourful villages, admiring the encounter of mountains and lake? Hop on a boat crossing the lake, alighting at all the little villages housing some of the villas we mentioned earlier in this article – you can choose to go 'village-hopping', or simply sit on the boat and enjoy the views.
Sailing along the southwestern branch of the lake to Como is a fun way to spend an afternoon – you'll have the chance to stop at Lenno to see Villa del Balbianello, Tremezzo for Villa Carlotta, and Cernobbio, also home to beautiful villas and a lovely promenade, before reaching Como.
You can opt for a private boat tour, or just hop on the public ferry – fast boats take about an hour to reach Como, whereas slow ones take about 2 hours 30. Tickets start from €10.40 one-way.
15) Go on a Kayaking Trip
There's also another exciting, eco-friendly way to explore Lake Como – a kayak tour at sunset!
Kayak tours start from Pescallo and last about 1.5 hours. You'll be paddling past the famous Rockefeller Cliffs and Grand Hotel Villa Serbelloni, while the sun sets behind the mountains and the magical golden hour unfolds all around you. This is a very quiet time, as most day-trippers have left – definitely one of the most unforgettable things to do in Bellagio!