If you're looking for things to do in Jersey (I mean the Channel Island, NOT New Jersey!), this post is for you! We've included all you need to know before travelling to Jersey, 20 different activities to enjoy during a weekend in Jersey (or longer, if you're lucky), as well as tips on where to stay!
First things first – this article is about Jersey, Channel Islands. Not New Jersey. Before our trip to this tiny but spectacular island in November, when we told our friends and family 'we're going to Jersey', most assumed we were heading Stateside, and started asking about bringing back Reese's Pieces and other stuff.
Jersey and New Jersey are two very different places – after all, many places with 'New' in the name have an 'Old World' counterpart. Think about York and New York, the French city of Orleans that became New Orleans, the Australian state of New South Wales, and even New Zealand – named after the westernmost Dutch province.
Click below to jump to the relevant section!
Interesting Things to Know Before Heading to Jersey
What to do in Jersey for Nature Lovers
Things to do in Jersey with kids
Other Places to Visit in Jersey
Interesting Things to Know Before Heading to Jersey
Before landing at Jersey airport, I realised I knew little or nothing about the island. I roughly knew its geographical location, and the fact that it was a tax haven – but that's it. It's an island, so it must have some beaches, and some nice nature, since it's quite remote. But I knew nothing about its political system, history, or even about the practicalities of travelling there.
So, before I move onto our massive guide of things to do in Jersey in a weekend or longer stay, here are the most common Jersey-related questions we were asked before and after our trip!
Where is Jersey? How Far is it from England?
Jersey is the largest and southernmost in the British Isles. It is located in the English Channel, but it is a lot closer to France than to Britain – it's located 22 km from the coast of Normandy, and 160 km from the southern coast of Great Britain.
Is Jersey a Country?
Jersey, or the Bailiwick of Jersey as it is formally known, is not an independent country but a Crown Dependency – meaning it's self-governing, with its own judicial and financial systems, but it is defended and represented internationally by the United Kingdom.
Jersey is also a separate entity from Guernsey, another Channel Island that forms the Bailiwick of Guernsey jurisdiction along with other smaller nearby islands – which is also a Crown Dependency, like Jersey.
Along with Guernsey and the Isle of Man, Jersey isn't part of the UK nor the EU, but it is part of the British Isles.
What Currency is Used in Jersey?
The Jersey Pound, which has the same value as the British Pound and is used interchangeably on the island. You may pay in British Pounds and receive Jersey Pounds (including 1 pound notes) as change – make sure you use those up on the island, as they're not widely accepted in the UK.
Is Jersey Expensive?
We didn't find Jersey to be expensive – prices are about the same as in the UK outside of London. Hotels can be had for as cheap as £40 a night, a quality pub meal would cost about £15-20 per person and sights and attractions are all very reasonably priced.
What is the Size of Jersey, Channel Islands?
It's tiny! Really, really tiny! Jersey's size is only 118.2 square kilometres (45.6 sq miles), including intertidal and reclaimed land. Jersey island is only 8 km (5 miles) long, and 15 km (9 miles) wide.
What Language is Spoken in Jersey?
The most widely spoken and official language is English. Some people also speak Jèrriais, the original language of Jersey island, with Norman roots. If you speak French, you'll be able to understand some Jèrriais – to give you an idea, good morning is Bouônjour and goodbye is À bêtôt.
Polish and Portuguese are also heard around Jersey, as sizeable communities from both countries inhabit the island of Jersey.
How do you Get to Jersey?
London Gatwick airport is the main gateway to Jersey, with British Airways and Easyjet flying daily year-round. FlyBe provides connections to other UK airports, and there is also a ferry service from Poole and Portsmouth in the UK and St.Malo and Granville in France.
If you're travelling from Europe to Jersey you'll probably have to connect at Gatwick. If you find yourself having to spend the night at the airport, make sure you check out YOTELAIR – this airport hotel offers accommodation in spacious pods with ensuite toilet and shower, which can also be rented by the hour!
What's the Best Way to Get Around Jersey?
We recommend hiring a car, especially if you're visiting off-season like we did. Jersey's bus service is called 'Liberty Bus' and it's affordable and reliable, but infrequent in winter.
Having your own car will give you complete freedom to roam the island at will, and it's quite cheap, with daily rent fees starting from £24 including half a tank of petrol (which will be plenty if you're planning to visit for 2-3 days).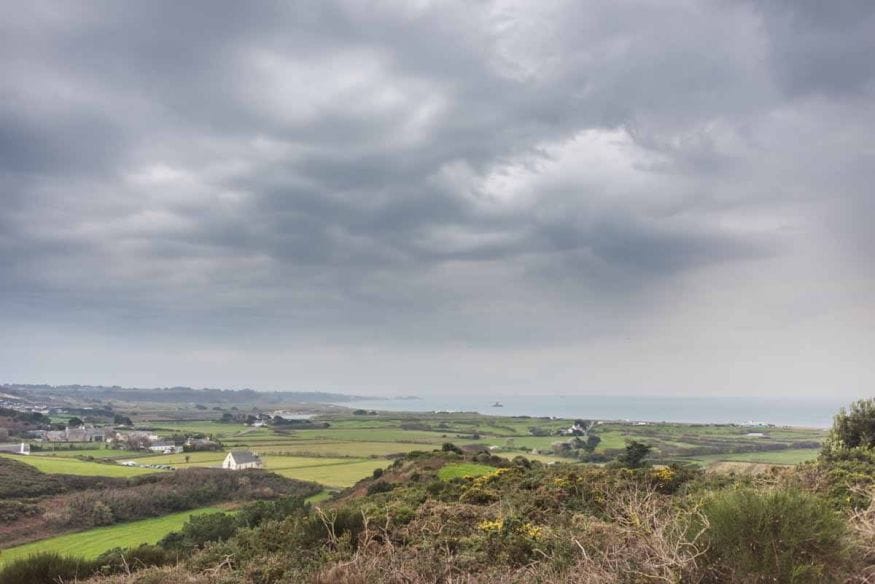 What is the best time to visit Jersey Island?
The island of Jersey can definitely be considered a year round destination. The climate is similar to that of the southern UK, cool and humid throughout the year. In winter, average highs are around 8°C, dropping slightly at night, whereas in summer high daytime temperatures reach 20/22°C.
Heatwaves exceeding 25°C are rare – the Atlantic Ocean has a cooling effect on the island climate. Rain is likely to be found throughout the year, with an average of rainy days per month between 7 and 15.
Summer is the driest season, and autumn/winter is the rainiest – don't forget to pack an umbrella or raincoat, and expect the weather to be variable throughout the day!
How's Jersey Weather in November?
In our experience, the best way to describe Jersey weather in November is 'variable'. Due to the island's remote location, you'll definitely get 4 seasons in one day, as the weather changes frequently from sunny to windy to cloudy and rainy – and also, don't take the weather forecast as gospel, as it's often wrong!
What is Jersey Famous For?
There is SO MUCH to see and do in Jersey. I knew that the island was famous for its delicious dairy and agricultural produce, and that a favourable taxation make it an international finance hotspot, but to be honest I was completely blown away by the sheer amount of stunning landscapes, great walks, beautiful nature and historical sights.
How Long to Visit Jersey?
One weekend is definitely not enough to visit Jersey – but it is enough to focus on what you like best.
This is why we divided this massive list of Jersey points of interest in six sections – best Jersey walks, historical sites, attractions for nature lovers. weird things to do in Jersey, tourist attractions for families and kids, and other places for those that want to enjoy an indulgent 'Island Break'.
If you have time, we recommend spending up to a week in Jersey. Trust me, the island is indeed small, but there is a lot to see and do. If a week is too long, 4/5 days will be enough to enjoy Jersey island without stressing. You can always return!
Can You Visit Jersey as a Day Trip from France?
You can indeed! Between April and September, there are daily ferries between St Malo in Normandy and St Helier in Jersey. Travel time is 1 hour 20 each way, and you can also board the ferry with your car.
Naturally, the opposite is also true – you can visit France as a day trip from Jersey! Besides St Malo, a popular destination is Carteret, a French seaside village just half an hour sailing from the island.
Are There any Other Islands near Jersey?
Oh yes! If you want to go 'island hopping' from Jersey, there are plenty of choices. The most obvious choice is Guernsey, the second-largest Channel Island, easy to reach as a day trip from Jersey.
Other great options are Sark, a nearby car-free island where the main type of transportation are horse carts; Herm, the smallest Channel Island only one and a half mile long, with a population of just 60; or Minquiers, a group of uninhabited islets that also includes Britain's most southerly point.
Would you like to discover the best hiking destination in the UK? Read our post about 11 amazing hikes in the Peak District!
Best Jersey Walks
1) The North Coast Cliff Paths
One of the main reasons to visit Jersey is exploring its wonderful, varied nature and landscapes, and a well-kept network of paths makes hiking a great way to explore. Plus, you know how much we love hiking! The North Coast is probably the most scenic part of Jersey, with cliffs plunging down to the wild, foamy sea, paths bordered by heather and bracken fern and wild beaches with caves and waterfalls.
You can hike the whole of the North Coast following the Cliff Paths – the stretch from Rozel to Greve de Lecq is about 12 miles (17 km) long and will take you most of the day. We had originally intended to hike the entirety of the path during one of our three days in Jersey, but we had to change plans due to the extreme wind.
A shorter alternative is leaving your car at the Priory Inn pub car park and walking until Devil's Hole, a crater formed when a cliffside cave collapsed, then joining the coastal path from there and walking as far as you wish – then turning back.
2) The South Coast Paths
The North and South Coast of Jersey could't be more different – the former is wild and dramatic, whereas the latter allows for gentle walks bordering sandy beaches and well-sheltered bays, where you can also appreciate the extent of Jersey's impressive tides.
The path between St.Helier and St.Aubin is one of the most popular on the island, bordering St.Aubin's Bay and offering great views over Elizabeth's Castle. If you still have some energy, you can keep going all the way to Corbiere Lighthouse, one of Jersey's iconic points of interest.
3) Val de La Mare Reservoir
This 3 mile (5 km) circular path starts not far from the airport, and it's ideal for a short afternoon stroll.
The path climbs over the reservoir dam wall, then loops around the Val de La Mare reservoir, offering views over Jersey's west coast and also the opportunity to explore the recently-restored Forgotten Forest Arboretum, with tree specimens from all over the world.
4) Walk on the Seabed to Icho or Seymour Tower
One of Jersey's best known features are its impressive tides – the difference between high and low tide is so vast that at low tide Jersey almost doubles in size, as the sea retreats as far as two miles off the shore.
One of the coolest things to do in Jersey is taking advantage of low tides to walk to Icho or Seymour Tower, two coastal defence towers erected in the 18th century following France's attempt to invade Jersey.
The two towers are located on islets about two miles off the coast, and can be reached only for a few hours every day, when the tide is low enough. Walking on the seabed is an eerie, unique experience – as divers, we found it really bizarre to be able to see above water living beings like anemones, that are normally under the waves.
Seymour Tower is accessible almost every day, but Icho Tower can be reached only a few days per month, as it's further away and you need specific tide conditions.
Tides are predictable but the Jersey intertidal environment is full of rocks, channelling the incoming and outgoing tide in different directions – for this reason, instead of walking independently to Icho or Seymour Tower we recommend joining guided tours with Jersey Walk Adventures.
Our guide Barry was a Jersey native and he was full of knowledge and anecdotes about Jersey nature – not to mention that tours are a steal at £18 for three hours (with welly rental!)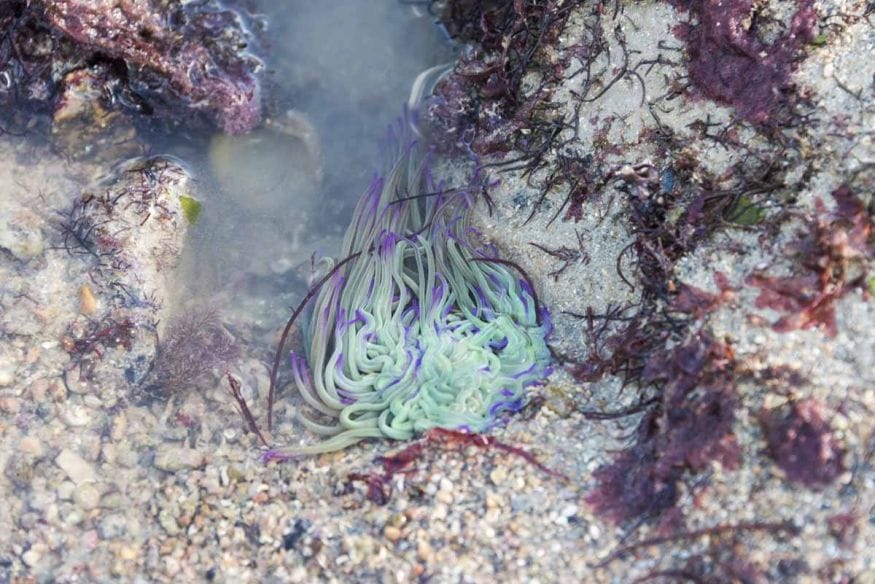 Historical Places in Jersey
5) Jersey War Tunnels
If you have time to visit one museum in Jersey, make sure you choose the Jersey War Tunnels, detailing the history of German occupation during WW2. The museum is located in a partially-built underground hospital complex, erected by the Germans as part of the wartime project to fortify the Channel Islands.
The Channel Islands were the only part of the British Isles to be occupied by the Nazi forces, and the Jersey War Tunnels present this period of wartime history with exhibits, testimonials and lots of individual stories, allowing visitors to get an understanding not only of the social and historical implications of German occupation, but also to learn about everyday life.
6) Channel Islands Military Museums
War and history junkies should then continue their exploration at the Channel Islands Military Museum, located in a German-built bunker on the West coast of Jersey.
There are lots of military and civilian exhibits and lots of info to take in – compared to the War Tunnels the exhibition is less experiential and interactive, but it's still worth a visit, and the seaside location makes it even more worthwhile.
7) Elizabeth Castle
This castle is a lot more recent that Mount Orgueil, having been built in the 16th century, but it is no less spectacular. It is located on an island just off St.Aubin's Bay, accessible on foot walking along a causeway at low tide, or with an amphibious ferry at low tide. If you're short of time, don't miss walking along St.Aubin's bay to snap a pic of the castle!
What to do in Jersey for Nature Lovers
8) The Best Beach in Jersey – Plemont Bay
For an island that is only 9 miles wide and 5 miles from north to south, making it only 45 square miles, Jersey boasts an enviable number of beaches. When we asked locals about the best beach in Jersey, most people seemed to mention Plemont Bay, located on the northwestern corner of the island. Everyone recommended visiting at low tide, to explore the numerous caves located along the cliffs.
We visited one overcast morning, with the rain coming and going, and yes, Plemont Bay was spectacular – a dramatic ensemble of cliffs with colours ranging from rust to green and steel grey, dotted with caves surrounded by pools and barnacle-topped rocks. One cave even has a waterfall running through it, but sadly it was barely a trickle because of lack of rain.
9) West Coast Sunset
If you're looking for the best place to watch the sunset in Jersey, head to the West Coast – the La Corbiere Lighthouse is one of the best sunset spots on the island, but if you want a sunset drink you should make your way to the Watersplash, a pub located in St.Ouen's Bay, one of Jersey's premier surf locations.
10) Jersey Wetland Centre
This tiny island is also a great birdwatching location! The Jersey Wetland Centre is located close to the west coast, overlooking St.Ouen's pond. The centre includes a tunnel that leads visitors to a viewpoint over the pond, and to makes things better, entrance is FREE!
Keen birdwatchers should check out the Jersey Birds site, where lists of bird species spotted on the island is published every day.
11) Botanic Gardens at Samares Manor
Garden lovers and those visiting Jersey in spring and summer should definitely pay a visit to Samares Manor, a stunning manor house on the southern coast of Jersey.
In 1920, the current owner created the Botanic Gardens, which can be visited to this day – there are various sections in the gardens, dedicated to herbs, heritage apples and pears, succulents and more, making Samares Manor one of the best places to visit in spring, when flowers are in bloom and the gardens are at their best.
Weird Things to do in Jersey
12) La Hougue Bie
Did you know that in Jersey you can find of the oldest buildings in the world, even older than the Pyramids? La Hougue Bie is a passage grave that dates back to Neolithic times – meaning about 6000 years ago! There's also a small archeological museum providing an insight into Neolithic life, and a chapel built on top of the burial mound in medieval times.
13) Mount Orgueil Castle
Mount Orgueil Castle overlooking the village of Gorey is another of Jersey's iconic images. Most visitors are happy walking down the Gorey Pier to snap the perfect picture of the castle, built over 800 years ago and one of the best examples of Medieval architecture on the island.
However, if you have time, we recommend touring the interiors of the castle as well, getting lost between turrets, passages and secret rooms, and exploring some of the quirky sights found throughout the castle like the Wheel of Urine, the replica of a medieval device that diagnosed illnesses from the colour of one's urine.
If you're up for a truly adventurous and unforgettable experience, you can go abseiling down the medieval walls of Mount Orgueil Castle!
14) Night-time Full Moon or Bioluminescence Walks
Jersey Walk Adventures also organises night time walks at low tide, typically heading to Seymour Tower. Depending on when you're visiting, you may have the chance to go on a full-moon walk, or on a bioluminescence walk, held on the darkest nights of the moon cycle, when shiny plankton is visible around the rocks.
We were originally scheduled to go on a full-moon walk, but we had to cancel due to heavy rain – giving us a reason to head back to Jersey!
15) Yoga on a Deserted Island
Ok, technically this is not on Jersey itself. Minquiers are a group of uninhabited islands, rocks and sandbanks south of the island of Jersey, marking the most southerly point in Great Britain.
You can join guided tours to Minquiers with Jersey Seafaris, including transport by boat to and from Jersey. Tours usually include time on Maitresse, the main island, as well as time spent enjoying the outer sandbanks, where the water is so blue and clear you'll feel as if you're in the Maldives!
Another amazing, unique experience is enjoying a yoga class on the beach in Minquiers. You may see dolphins swim past, and the sunshine and stunning scenery are sure to make your practice unforgettable!
Things to do in Jersey with kids
16) Jersey Zoo (formerly Durrell Wildlife Park)
Before you all go 'I don't go to zoos', please read this. Jersey Zoo, formerly known as Durrell Wildlife Park, is the world's first zoo dedicated to conservation projects, opened by naturalist Gerald Durrell in 1959.
The zoo is just part of larger conservation projects, and profits are invested back into the field – some of the species that the Durrell Conservation Trust work with include the aye aye, a mysterious nocturnal animal from Madagascar famous for its large eyes and oversized middle finger, but also less 'flashy' animals like the orange-tailed skink, surviving on a single island off the coast of Mauritius.
You can also stay at Jersey Zoo in flashy glamping tents, recreating the feel of a luxury safari – perfect for those visiting Jersey with kids!
17) Pallot Steam and Motor Museum
Are your kids into trains, locomotives and fire engines? The Pallot Steam and Motor Museum in Trinity is a great way to spend a rainy day in Jersey, something that you're likely to have in all seasons!
In the museum you'll find a vast collection of all kinds of vehicles, including trains, vintage bicycles and tractors, agricultural machinery and more. There's also station dating back to Victorian times, and on Thursdays you can take guided tours on vintage steam trains!
18) aMaizin! Adventure Park
This place is one of the best Jersey tourist attractions for families! You can easily spend an entire day enjoying aMaizin Adventure Park, with lots of family-friendly attractions available with a single entry fee.
You'll found toboggan, bouncy castles, tractor rides and an indoor play area for those rainy Jersey days. There's also a farm with plenty of miniature animals for your kids to meet and play with!
19) Valley Adventure Centre
Another great option for adventurous families and kids visiting Jersey. At Valley Adventure Centre you can get your thrills up on a variety of tree roped courses, go climbing, zip-lining and swing from trees.
If you prefer to remain with your feet on the ground, you can have archery lessons, do paintball or laser combat. Perfect for a fun family day out in Jersey!
Other Places to Visit in Jersey
20) Mansell Car Collection
Remember Nigel Mansell, the mustachioed F1 driver famous in the 1980s and 90s? After the end of his motoring career he settled in Jersey and opened the Mansell Collection, including a museum about his career and life and some spectacular F1 cars on display.
The museum is located in an Art Deco building and Nigel himself often visits – if you're an F1 fan, don't miss it! Definitely one of the most unusual Jersey points of interest!
21) Shopping in St.Helier
To be honest, we only spent a short amount of time in St.Helier, as we wanted to visit natural points of interest in Jersey instead.
Jersey's capital still feels like a small village, but it has plenty of shopping opportunities – from iconic department stores like Voisins and De Gruchy to independent retailers and food markets, St.Helier is the perfect place to get your Jersey souvenirs!
22) Sea Foraging and Oyster Tour
Jersey Walk Adventures also offer a delicious sea foraging and oyster tour, where visitors are taken around the oyster beds at low tide and shown the best examples of edible seaweed, before ending the tour with an oyster tasting with a glass of bubbly.
23) Jersey Lavender Farm
You don't need to head to Provence to take pictures of lavender fields in bloom – you can do that in Jersey too! The Jersey Lavender Farm is located in St.Brelade in the southwest of the island, and it is open yearly from October to April, with late May as the best time to visit to see the fields.
Visitors can walk around the fields, follow the Discovery Trail to various points of interest around the farm, and visit the distillery to learn more about the making of essential oils.
24) La Mare Wine Estate
Jersey's mild climate makes the island ideal to grow potatoes, tomatoes, grapes… do you know what that means, right? WINE! La Mare Wine Estate was established in 1972 and produces a range of red, whites and rose wines, but not only!
There's also La Mare cider, ale, gin and brandy, as well as a range of branded food products. If you're looking for Jersey foodie treats and souvenirs, this is the place to head to!
Where to Stay in Jersey
In Jersey, we had the chance to stay in a truly unique place – the Hamptonne Country Life Museum, a heritage 15th century homestead turned into a museum of country life on the island, with an orchard, demonstrations of ancient crafts and even piglets and calves. In summer, that is!
When we visited in November the Museum was closed, and there were no animals save for free-range chickens in a nearby farm, but we still got the chance to stay in the beautiful apartment attached to the museum in complete peace and quiet. Check out this site for info on the Stable Apartment, where we stayed – and FYI, the Jersey heritage site also offers a range of unique holiday rentals across the island, including towers, forts, Elizabeth Castle and 'Barge Aground', a 1930s cottage resembling an overturned boat.
If you're looking for more 'conventional' places to stay in Jersey, check out the following:
Where to Eat in Jersey
Eating out is one of the main reasons to visit Jersey! Great quality produce plus a cuisine that borrows from the French and British tradition mean that you're likely to have great meals pretty much anywhere.
Here are some of Jersey's best cafés, pubs, restaurants and other places to dine!
Le Hocq Inn – this is the most southerly pub in the British Isles, which is reason enough to visit! It's a very lively place with unusual dishes like delicious espetadas (a Portuguese specialty of giant meat or seafood kebabs) and a very friendly owner.
The Farm House – here the atmosphere is more restaurant than pub, and the food is truly outstanding! The fish and chips was one of the best we've ever had. Jersey crab is also often found on the menu.
The Seymour Inn – if you wish to dine in a 'proper' local pub, this is one of the best places to try Jersey oysters!
Bohemia Bar & Restaurant – the only Michelin star restaurant in Jersey, in a wonderful location not far from St. Helier harbour. The menu includes great Jersey seafood and crab, and the price is a steal considering the Michelin star – a three-course lunch menu can be had for just £39!
The Shipyard – this café/pub is perfect if you want to dine near the water in St. Helier's harbour. You'll find breakfast dishes, pub grub and some great seafood!
Ocean Restaurant – wonderful luxury restaurant in the Atlantic Hotel, with creative cuisine making use of Jersey seafood and produce. If you don't know what dish to order, go for the pickled Jersey crab salad!
The Gunsite Café – this café is in a truly unique location, a repurposed WW2 bunker near St. Aubin's Bay. The must-order dish here is definitely the all-day breakfast!
Many thanks to Visit Jersey for welcoming us on the island and showing us the best things to do in Jersey!
Pin it for later?