Would you like to visit Grand Canyon, but without the crowds? We have the perfect solution – just head to Grand Canyon in winter!
If you're debating the idea of visiting the Grand Canyon in winter, listen to me – just do it!
Forget the summer crowds, queues and heat – visiting Grand Canyon in winter is a relaxing, utterly pleasant experience. Yes, it's cold, and many hiking trails into the canyon are covered in snow well into spring, but besides this, the benefits of visiting in December, January and February far outweigh drawbacks.
When we planned our American Southwest road trip, knowing we could only go between January and February, I won't deny we were a little worried. Would we be able to explore the vast desert landscapes? What about enjoying back country hikes and scenic drives without having to worry about winter storms?
Guess what – there was no need to worry. The weather throughout our trip was fantastic – sunny, dry and cool throughout, perfect to hike in Sedona and visit national parks like Zion and Joshua Tree. And when we did find snow, like in Bryce Canyon for example, it just made the place even more magical.
Grand Canyon was no exception. We found winter a perfect time to visit – the weather was sunny and clear, hotel prices were way down compared to summer, and there weren't many people around.
We spent two wonderful days visiting Grand Canyon in mid-February, and we urge you to plan a winter visit if possible – just keep reading the post to find out everything you need to know!
No time to read? Check out this tour of Grand Canyon and other nearby national parks!
Things to Know About Grand Canyon in Winter
Grand Canyon Winter Closures
Grand Canyon National Park is divided in two sections, the North and the South Rim. The South Rim is open year round, whereas the North closes every year between October and May – meaning it's closed all winter.
This Grand Canyon in winter guide will focus on the South Rim – the most visited of the two, where you'll find most accommodation options and facilities
Grand Canyon Winter Weather
I'll repeat it probably a million times throughout this post – winter is a great time to visit Grand Canyon.
It does get cold, but not as much as you may think. In December and January, average daytime temperatures reach 45°F (7°C), and drop to 18°F (-8°C) at night. February is slightly warmer, with an average of 48°F (8°C) during the day, and 20°F (-6°C) at night.
Don't forget that Grand Canyon is at approximately 7000 ft (2100 meters) above sea level. Finding snow is a possibility – there are a few snowstorms each year, usually followed by sunny days, so the snow may have melted by the time you visit.
We visited in mid-February and found no snow. To be honest, we were a little disappointed – Grand Canyon in winter, covered in snow, would have been magical!
Driving in Winter at Grand Canyon
As we said above, snowstorms do occur from time to time. Roads are cleared regularly after heavy snowfall, but they may be closed for a time while snow is cleared.
Try to avoid driving if a snowstorm is forecast. In case you get caught by one, please be very, very careful, proceeding with caution if visibility is impaired.
Otherwise, stop somewhere until conditions improve. Not many people visit Grand Canyon in winter anyway, so you can keep your travel plans flexible!
Getting Around Grand Canyon in Winter
There are four shuttle bus routes around the Grand Canyon South Rim, two of which run year-round – the Kaibab/Rim Route (orange), connecting the visitor centre to the South Kaibab trailhead, and the Village Route (blue), from the visitor centre to locations around Grand Canyon Village.
The other two routes, to Tusayan Village (purple) and the Hermits Rest Route (red), don't operate in winter.
The Hermits Rest Route is accessible by shuttle bus only between March 1st and November 30th – but if you're at Grand Canyon in December, January or February, you'll have to drive yourself to access viewpoints along that route. This was actually a huge advantage in our opinion, allowing us to explore at our own pace!
Crowds at Grand Canyon in Winter
Small crowds are probably the main benefit to visiting Grand Canyon during the winter months! Less than 10% of yearly visitors to Grand Canyon head to the site during the winter months, so crowds are usually not an issue.
Having said that, if you visit during the Christmas/New Year holidays, or during public holidays like Martin Luther King's Day (third Monday in January) or President's Day (third Monday in February), expect to find significantly more visitors.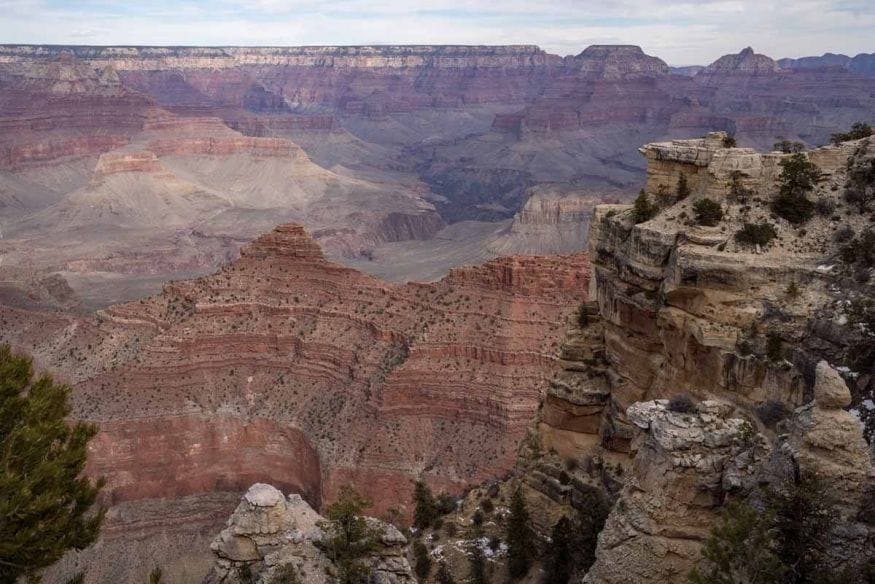 Grand Canyon Winter Hiking
Winter is a great time to hike into Grand Canyon. You don't have to worry about the extreme heat found in the region during most of the year, take gallons of water with you and wake up at the crack of dawn to hit the trail.
However, there's another dangerous enemy to contend with – hypothermia. Make sure you check for weather and trail conditions before setting off, and bring suitable footwear and clothing for cold weather.
Please be aware that hiking into Grand Canyon is a serious endeavour, only to be undertaken by experienced hikers. Remember you'll be hiking down first, and then up – Grand Canyon is basically an inverted mile-high mountain, so the hardest part of the hike will be the return trip.
Please check this page on the NPS website for more info about safe hiking in Grand Canyon.
If you're planning to hike into the canyon and stay overnight, don't forget you need to apply for a Backcountry Permit. Find all info about it here!
Alternatively, this winter tour includes hiking in safe parts of Grand Canyon and Zion National Parks.
Rim Trail
Distance 13 miles / Elevation 200 ft / Time 5/6 hours
If you're visiting the Grand Canyon in winter and planning to do a little hiking, this is definitely the easiest option! The Rim Trail runs all along the edge of the Grand Canyon, from South Kaibab Trailhead all the way to Hermits Rest on the western side.
The entire length of the trail is 13 miles, but you can hike just part of it and catch the shuttle bus back. Just don't forget that in winter, shuttle buses don't run west of Grand Canyon Village. If you are planning to go further, you'll have to arrange for someone to pick you up.
The Rim Trail is flat and a good part of it is paved, making it accessible to wheelchairs. The most visited section is the one between the visitor centre and Yavapai Point, approximately 1.5 miles, where you'll also find interpretive signs along the way. This section feels more like a walk to a tourist attraction than a hike, but it's also the easiest and most accessible option.
The first part of the trail, from South Kaibab Trailhead to the visitor centre, and the last part past the Village to Hermits Rest, are far less busy and a good option if you want to feel surrounded by nature and the vastness of Grand Canyon. We found the section between Hopi Point and the Abyss to be particularly scenic!
Check out this tour of the South Rim from Las Vegas, including a short hike and scenic locations!
Bright Angel Trail
Distance 12 miles / Elevation 2900 ft / Time all day
The Bright Angel Trail is one of the two most popular hiking trails into Grand Canyon, and in winter it's a possible option for a very strenuous day trip.
NPS recommend NOT hiking from the Rim to the Colorado River and back in one day, so the day trip version of the Bright Angel Trail stops in a location called Plateau Point, where you can get a view of the river.
Hiking to Plateau Point and back covers a distance of 12 miles, but due to the elevation it will take you the whole day. In case that's too long, you can turn around at the 1.5 Mile or at the 3 Mile Resthouse, depending on your how long you want your hike to be.
The Bright Angel Trail is well maintained and popular for a reason – it offers great views of the canyon throughout. The main challenge about hiking it in winter is the steep and north-facing initial part, often icy and slippery until early spring. Hiking poles and traction devices are highly recommended!
This 2-day tour from Las Vegas includes views from Bright Angel Point at the start of the trail, as well as a guided tour of
South Kaibab Trail
Distance 6 miles / Elevation 1500 ft / Time 4/5 hours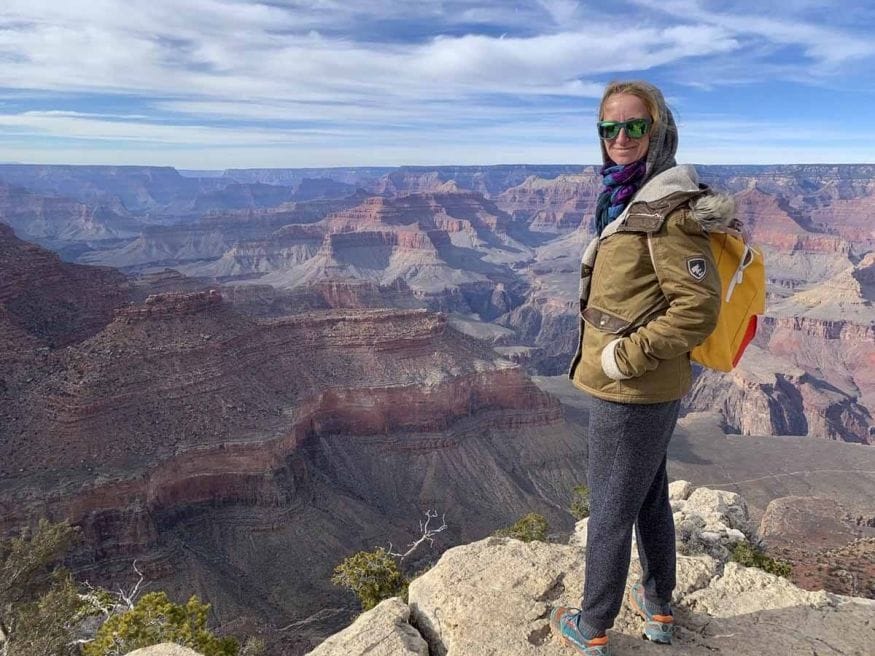 Along with Bright Angel, South Kaibab Trail is the second most popular trail into the canyon. To hike it all the way to the river and back, you'll need a minimum of two days – make sure you apply for a Backcountry Permit following the link posted above if that's the case.
Otherwise, if camping in winter is not your idea of fun, you can also hike part of the South Kaibab Trail as a day trip. In that case, the NPS recommend NOT going past Skeleton Point, a distance of 6 miles return, from where you get a view of the Colorado River.
The benefit of hiking the South Kaibab Trail compared to Bright Angel is that it's considerably sunnier, so ice is less of a problem. The only part that stays icy all winter is the first 1/4 mile, known as the Chimney.
A shorter option along the South Kaibab Trail is hiking 1.8 miles return to the scenic spot known as Ooh Aah Point – I guess the name gives it away!
Would you like to know more about hiking in the US? Here's our 9 best offbeat hikes in the US post!
Other Things to Do at the Grand Canyon in Winter
Drive to Scenic Spots
If you're not planning to hike, you'll probably spend most of your time at Grand Canyon driving to all the various viewpoints located along the rim.
Remember, Grand Canyon is grand indeed – there's a whopping 32 miles between Desert View, the easternmost viewpoint, to Hermits Rest, all the way to the west. In between, there are more than a dozen scenic spots where you can stop and take pictures, so make sure you allow at least half a day to exploring, more if you want to hike along sections of the Rim Trail.
Viewpoints on the eastern part of the canyon, along Desert View Drive, tend to be less busy – but the most spectacular ones are the ones in the west, between the visitor centre and Hermits Rest.
Our favourite Grand Canyon scenic spots were Grandview Point in the east and Mohave Point in the west – but really, they are all worth checking out!
Watch the Sunrise and Sunset
Another benefit of visiting Grand Canyon in winter is that you don't need to wake up super early for sunrise, and wait around until late evening for sunset!
During our Grand Canyon visit in February, sunrise was at 7 AM (yes, that's still early, but better than 4 AM!) and sunset was around 6 PM. Both are really, really worth sticking around for – but make sure you go to the right viewpoints!
We watched the sunset from Powell and Hopi Points, which are actually right next to one another – but to be honest, we liked Hopi Point the best. Mather and Yavapai Point are also good sunset options.
For sunrise, we headed to Mather Point, as it was the closest to where we were staying. It's also the nearest viewpoint to the visitor centre, so expect it to be consistently busier than other locations.
You can also watch sunset from a secret location on this overnight tour of the Grand Canyon, also including a visit to the Hoover Dam!
Climb Desert View Watchtower
Desert View Watchtower is located right next to the East Entrance Station, so if you are getting into Grand Canyon National Park from that side, it will be your first view of the canyon!
Besides checking out the canyon, we also recommend climbing to the top of Desert View Watchtower, a 70 ft-high stone tower built in the 1930s in the style of Puebloans from the Four Corners region.
You can climb the tower to the top, and enjoy the view of Grand Canyon from various levels, but don't forget to have a look inside the tower as well. You'll find murals by a Hopi artist, and cultural demonstrations are also held.
Join a Ranger Program
Similarly to most other US national parks, Grand Canyon also offers a series of free ranger-led programs.
There is a daily geology talk in the morning, and a wildlife talk in the afternoon, plus a calendar of special programs and exhibitions – check this page to know more!
How Many Days to Spend at Grand Canyon in Winter?
If you are not planning to go hiking into the canyon, two days are enough to explore Grand Canyon in winter, driving to all scenic spots along Desert View Drive and on the way to Hermits Rest, walking the interpretive trail around Mather Point and hiking some short sections of the Rim Trail.
If you want to hike either Angel's Landing or the South Kaibab Trail as a day trip, you'll need a full extra day for that – bringing the total to three days to visit Grand Canyon in winter.
Where to Stay In Grand Canyon
-In the National Park
Another advantage of visiting Grand Canyon in winter is that you can easily get a room at one of the lodges located inside the National Park.
It may well cost a pretty penny, but this will give you the advantage of being right next to the majestic canyon – perfect if you want to watch the sunrise without having to wake up too early.
We stayed at Yavapai Lodge, and for $160 we got a spacious double room with ensuite, in a quiet spot surrounded by the forest about 15 minutes walk from the main visitor centre at Mather Point. The only downside is that there was no Wi-Fi – phone signal is very spotty all through Grand Canyon.
Here are some of the best accommodation options inside the park, all in the vicinity of Grand Canyon Village.
El Tovar Hotel – the best upmarket option in the park
Bright Angel Lodge and Cabins – accommodation in rustic lodges from the 1930s with views of the South Rim
Kachina Lodge – a more contemporary option in the heart of the village, with great views
Thunderbird Lodge – similar to Kachina Lodge, also in the village
Maswik Lodge – a 280-room lodge surrounded by forest, a quarter-mile walk from the Rim
-Outside the Park
If you don't want to stay inside the park, the closest town is Tusayan, 8 miles south of the visitor centre. There are several accommodation options there, usually a bit cheaper than park lodges.
In winter, you are more than likely to find good offers if you book in advance. Here are some great Tusayan hotel options!