Looking for the best food in Finland? You found it! It's been a very long time since we published a guest post… today's guest author is Evan Kristine from Pretty Wild World, who's been a Helsinki resident for many years. We visited the country so many times, and we just noticed we've never written anything about food from Finland! Luckily Evan Kristine came to our rescue and put together this wonderful (and delicious) post.
If you're visiting Helsinki in winter, make sure you try these 5 specialties!
Finland is a country in Northern Europe that is often overlooked, perhaps because it is an expensive country to visit that it scares people away. However, I'm not here to talk how expensive Finland is. I could blabber on for ages about how awesome Finland is and how you're missing out for not visiting – especially when it comes to food. Not to mention there are so many free things to do in Helsinki, and many of Helsinki's best design hotels are not so expensive. This means that your visit will not necessarily be expensive!
Do you know that Helsinki, the capital city of Finland, is dubbed as Scandinavia's new food capital? Yes, you read right and believe it or not, they are totally nailing it. Trust me; I was surprised too, but it is one thing a lot of Finns get surprised once you tell them because truthfully, it almost sounds like a joke, only it is indeed true. This is because the restaurant scene of Finland is outgrowing everyone's expectations! It is just getting better every year, and more talented chefs are becoming innovative and transforming traditional Finnish cuisine into something marvellous.
What about traditional cuisine? Nothing beats old school, am I right? Some may say it may be dull, tasteless, and boring, but for me traditional cuisine is still the best of them all. I'm an advocate for traditional home cooked meals because I'm a firm believer that no one cooks better than your grandma. Even Anthony Bourdain will agree on that.
So, the real question is, what's the traditional Finnish food you'll have to try when you visit this Nordic country? Well, here is the best food in Finland – five awesome dishes you should not miss. I mean it, you should hunt for these.
 Korvapuusti (Cinnamon Rolls)
It will be easy to find these – most cafés in Helsinki, for instance, have korvapuusti on offer all the time. Why, may you ask? Because Finns themselves love them! I'm not even joking; you'll find Finnish people snacking on them with a cup of freshly brewed coffee pretty much anytime of the day. In English, we have similar sweets called cinnamon rolls – but the similarities end here, as korvapuusti is totally a Finnish or Scandinavian thing.
Leipäjuusto ja lakkahilloa (Bread cheese with Cloudberry Jam)
This is probably the odd one on this list but trust me, you'll have to try it! It is usually hit or miss, hate it or love it kind of thing. I love it, and I know tons of people who rather pass on eating this. So what is this bread cheese with cloudberry jam, anyway?
Leipäjuusto is a squeaky kind of cheese, baked over an open fire that makes it look as if it was fried or something. The taste is similar to a firmer cottage cheese and is typically served slightly warmed and topped with cloudberry jam – preferably homemade but the commercial ones are easier to find from the shops. You can get leipäjuusto from grocery stores as well; they aren't that expensive (about 3€ for the cheese), and you don't need to eat it with cloudberry jam, it could be vanilla ice cream too!
Lihapiirakka (Meat Pie)
Ah, perhaps the only iconic street food you'll find in the streets of Finland! Only, there are not many street vendors in here, but rather small kiosks that sell typical naughty grill foods such as burgers and in most cases, lihapiirakka! Lihapiirakka or meat pie is a well-known after party meal for party goers because after the clock hits half past three, the club lights flicker and that pretty much signals the last call – or better yet, kiosk time! At least that's what I have in mind whenever I go out.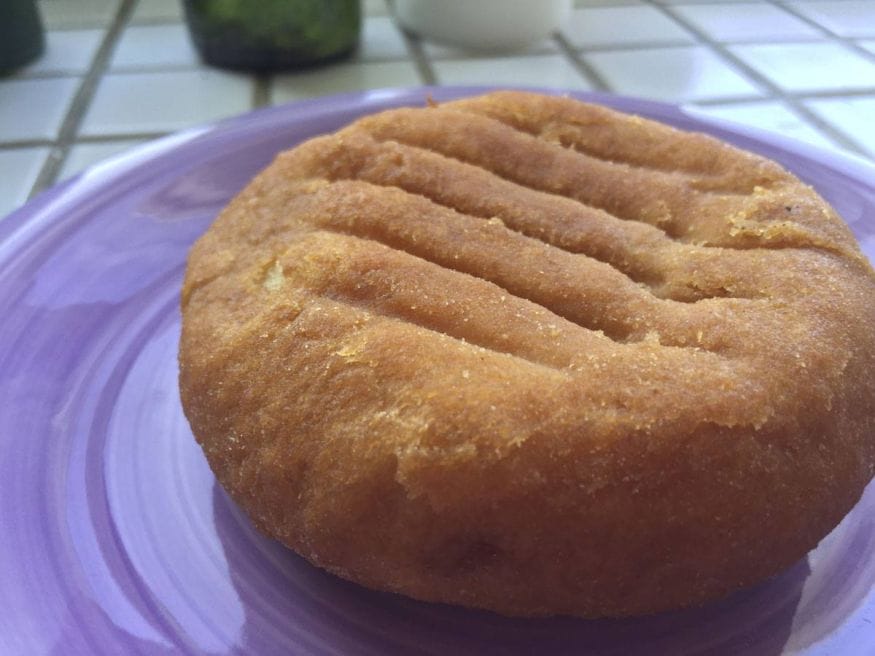 Lihapiirakka is if I put it this way, a savory doughnut filled with minced meat and rice. No, it doesn't taste disgusting as it sounds! In fact, it is delicious especially if you stuff it with pickles, garlic sauce, ketchup, mayonnaise, and Finnish sausage. That, my friends, is called 'Porilainen', meaning 'from Pori', a city in Southern Finland. 
Paistettu Muikku (Fried Vendace)
This dish, or snack, is often only available during summer time, unfortunately. However, that means there's one reason for you to visit Finland in summer! Not only it is beautiful but also, at least in Helsinki, you'll find several outdoor markets by the pier or by the square where you'll find locals selling paistettu muikku or fried vendace!
The way they make it is by covering the fish with rye flour and frying them in butter until golden and crispy, often served with aioli. Simple, but really good.
Karelianpiirakka (Carelian Pie)
A typical breakfast delicacy and also the most traditional in this list. Karelainpiirakka or Karelian pie originates from East Finland, an area called Karelia, bordering to Russia.
This particular sort of pie is done with a thin layer of rye pastry and filled with rice porridge, mashed potatoes, or other root vegetables. Traditionally this is eaten with egg butter and often served as snack or breakfast.
You can find this pie from local food stores in Finland, and that's the easiest way you can get them. They're quite decent as well! Besides, I don't know that many people who make these at home, because they are usually labor intensive.
Photo Credits – Pretty Wild World. Follow Evan Kristine on Instagram!
Pin it for later?