Merry Christmas friends! We may be a long way from home, but we don't forget our home region! This Christmas post is all about winter Lombardy – from skiing in Livigno to other amazing resorts in the region and my very own favourite place for winter hiking in Lombardy!
Ok, let's play a game. I say 'Lombardy'. What comes to your mind? The boutiques and hip stores of Milan? Pretty Bergamo and its winding streets? Or Lake Garda, Lake Como and Lake Maggiore, the wonderful Italian lakes found in the region?
Whatever it is, I'm pretty sure not many of you will think of Lombardy as a winter wonderland, a place where snow, ski slopes and winter activities are around the corner from the main cities. But have you ever been on top of Milan's Duomo on a clear day, and noticed how close the mountains are?
With the Alps just an hour away from Milan, it's easy to combine a skiing holiday and a city break in the region. If you don't like skiing, fear not – winter in Lombardy also means wandering around the frozen mountains on snowshoes before relaxing in a spa.
Follow us as we take you on a tour of the best of Lombardy in winter, the best time to enjoy the stunning landscapes and activities on offer around the Alps.
If you're an urban type, remember there are plenty of free things to do in Milan and, if you're a foodie, you'll also find many cheap restaurants from all over the world!
Livigno Ski and Shopping
Getting to Livigno is an adventure in itself, with small, winding mountain roads and one stunning view after another. Once you get there, you'll feel kind of 'in the middle of nowhere' – as if you had landed in your very own winter wonderland.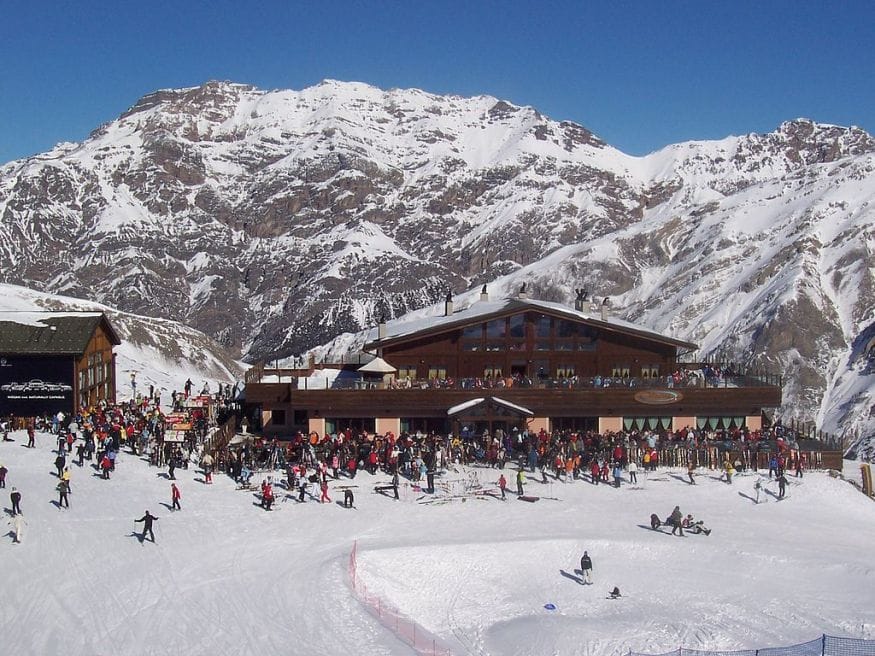 In terms of snow activities, Livigno is perhaps your best bet in the region – it has 115 km of slopes and 3 snow parks for your snowboarding tricks. Cross-country ski lovers will be able to enjoy beautiful landscapes on 30 km of tracks and if you like snowshoeing, you'll be spoilt for choice.
Sounds amazing, right? How about if I told you that Livigno is also a duty free shopping destination (especially good for sunglasses and electronics!) and the place where I've had the best pizzoccheri of my life? There you are – I've just revealed one of my favourite places!
Piani di Bobbio – Skiing Day Trip from Milan
Barely an hour drive from the city, Piani di Bobbio is your best bet if you want to go skiing as a day-trip from Milan. When the slopes are open (from December to April) there are direct bus connections from Milan every weekend – a return trip by bus plus unlimited access to the slopes is only 35 euro.
The Piani di Bobbio area includes 35 km of slopes, and one cross-country track. There are several sections that are ideal for children and beginners and plenty of ski rental shops and skiing schools – and even a slope just for sleds and bobs.
If you get hungry, there are plenty of choices for a quick snack or meal right on the slopes – we especially liked 'Rifugio Gran Baita'.
Bormio – Skiing & Relax
In Bormio, the slopes are indeed world class. Near this cute town you'll find 50 km of them, the best of which is undoubtedly 'Stelvio', where a famous downhill Ski World Cup race is held.
After skiing, there's nothing better than relaxing at one of Bormio's thermal baths. The most famous are undoubtedly Bagni Vecchi and Bagni Nuovi, the former of which dates back to Roman times. Otherwise, opt for Terme di Bormio, closer to the town center and more family friendly than the other two.
Madesimo – Best for Night ski
Madesimo's 60 km of slopes are always great – especially the hair-rising 'Canalone', one of the most challenging pistes in Lombardy. What makes this ski resort really special is the opportunity of skiing at night – one slope is open every Saturday from January to mid-March.
Madesimo is also a great base to explore charming Val Chiavenna and its unique culinary traditions.
Valmalenco – Best for Cross-Country Ski
Alpine ski is definitely Lombardy's favourite winter sport, but if you're a lover of cross country ski you'll find plenty of choices.
Most ski resorts, including Bobbio and Livigno, also have cross country tracks – yet, if you're looking for a place that's all about cross country, we recommend San Giuseppe in Valmalenco. This is a remote, little known valley in the Sondrio province, with nothing but silence and trees all around the 30 km cross country track.
The track can be challenging in sections, so the full circuit is best recommended if you're familiar with the sport – otherwise, make sure you spend some time practicing at the beginners ring or get some lessons beforehand.
Chiavenna – Best Winter Food in Lombardy
After all that skiing you need some delicious food, right? On most pistes you'll find 'Baite' or 'Rifugi', mountain restaurants serving tasty and filling meals – with also lots of vegetarian options!
My fave food in Lombardy comes from Chiavenna, the largest town in the valley of the same name. The valley is known for its 'crotti', natural limestone caves that have traditionally been used to cure meats and age cheeses. A menu at any 'crotti' restaurant in Chiavenna is likely to be a protein and carb heavy feast, with lots of melted cheese, grilled meats and delicious butter cookies. Just forget the diet for one day!
Rifugio Brioschi -Best Winter Hiking
If you're after a real winter paradise, just Google 'Rifugio Brioschi in winter' and start dreaming. Just one catch – you need to hike up, and it's no walk in the park. Brioschi is one of few mountain huts open year round, and it's set in a stunning location near the top of the Grigna Settentrionale (Grignone for friends!), overlooking Lake Como.
It's amazing year round, but it offers its best in winter, when the snow and wind turn the small building into an ice sculpture.
The climb can be quite challenging, so if you're not used to winter trekking you'd better hire a guide and, in any case, make sure you've got crampons and an ice axe as the last section of the climb is very steep and exposed. Spend the night at Rifugio Brioschi for a real once in a lifetime experience – and for a sunrise to remember.
This post was brought to you in collaboration with In Lombardia
Feature Picture Credit Archivio Pietro Pensa/Wikimedia Commons
Pin it for later?