I can't believe it's taken us so long to write about what to do in Berlin in winter – and when it rains! After all, we've been visiting the city every year at least twice for the last five years, and 90% of our visits took place in winter! ***UPDATED 2023
There are so many reasons to love Berlin, but weather definitely isn't one of them. I have several friends living in Berlin and save for a few of them, most think of Berlin winters with dread – a dark, rainy, windy, freezing time, kind of like winter in New York.
We've been visiting Berlin in winter every year since 2014 to attend the popular ITB travel fair – our visit always takes place in the first half of March, and we've experienced all kinds of nasty weather, including snow.
Luckily, Berlin seems pretty well equipped with cool cafes, weird museums, historic sights and even outdoor places that look at their best in cold, grey weather.
No time to read? Book your Berlin in winter tour here!
Weather in Berlin in Winter
How bad is winter weather in Berlin, you may be wondering. Short answer – pretty bad. After all, Berlin is further north than London, about 200 km from the coast.
When talking about winter in Berlin, normally people refer to the period between November and March. January is the coldest month, with an average temperature of -1°C, riding to +1°C in December and February. November and March are positively balmy at 4-5°C.
In terms of rain, Berlin winters tend to be pretty dry – the wettest months are between May and August. The days are quite dark, especially in December and January – sunrise is around 8 am, the sun sets around 4 pm, and half an hour later it's basically night time.
If you are visiting Berlin in winter, we recommend starting your day early to take advantage of sunlight in the morning, and planning to visit a museum or café after sunset.
Here'a quick recap of average Berlin winter temperatures, divided month by month:
November Berlin Temperature: high 7°C (44°F), low 2°C (35°F)
December Berlin Temperature: high 4°C (39°F), low 0°C (32°F)
January Berlin Temperature: high 3°C (37°F), low -3°C (26°F)
February Berlin Temperature: high 4°C (39°F), low -2°C (28°F)
March Berlin Temperature: high 9°C (48°F), low 0°C (32°F)
Berlin is one of those places that the more we visit, the more we want to return to. Every year we find out about more unique things to do and weird tours – like the U-Bahn Cabrio Tour or the DDR Train Simulator – and we keep building list after list of what we plan to do when we return to Berlin the following winter.
We keep saying we should move to the city for a few months, but we haven't got around to it… yet.
Looking for more inspiration? Check our post with 12 UNMISSABLE day trips from Berlin!
In any case, here's our guide to 22 amazing things to do in Berlin in winter or when it rains… or any time, really!
Things to do in Berlin in December
1) Christmas Markets
Germany pretty much invented Christmas Markets, so if you happen to be visiting Berlin in December, you should definitely include one (or more) in your list of things to do.
Christmas Markets typically open the last weekend in November, and remain open up until Dec 23rd or 24th. In Berlin, you'll find lots of traditional Christmas Markets, with tons of sausages, gluhwein and festive atmosphere. However, this is Europe's alternative capital – so you may expect some alternative Christmas Markets as well!
Here are our favourite traditional Christmas Markets in Berlin:
Winterwelt am Potsdamer Platz – with fairy lights on linden trees, an ice skating rink and Europe's largest toboggan slide!
Weihnachtsmarkt auf dem Alexanderplatz – one of the largest (and busiest) in town, with over 1000 stalls
Weihnachtszauber at the Gendarmenmarkt – another large market, with exhibitors from all over the world
Weihnachtsmarkt Schloss Charlottenburg – ideal if you love fairytale atmospheres, in the grounds of magical Charlottenburg castle!
Berliner Weihnachtszeit vor dem Roten Rathaus – another favourite, for its huge Ferris wheel!
And here are 5 of the best alternative Christmas Markets in Berlin:
Weihnachtsmarkt fur Hunde – a Christmas Market all dedicated to dogs, with gifts for pets, treats, and a dog-friendly atmosphere
Naughty Xmas Market – an adult-only experience with X-rated gifts and assorted erotica, held at Urban Spree
The Green Market – a two-day vegan Christmas Market, held in mid-December. You'll find all sort of vegan street food, sustainable gifts, DIY workshops and talks about vegan lifestyle
Weihnachtsrodeo – one of Berlin's coolest and most stylish Christmas Markets, held at Kuhlhaus Berlin in Mitte. You'll find lots of up and coming designers, but the price tag may be a bit steep!
A Very British Christmas Market – this is just one of the many 'country-specific' Christmas Markets you'll find in Berlin, all dedicated to British goodies and Christmas treats
Book your Berlin Christmas Markets tour here!
2) Visit the Christmas Garden
When visiting a city in winter, finding the best Christmas decorations is always one of the most fun things to do – and Berlin is no exception!
A must-do Berlin winter activity if you are visiting in December is heading to the Botanical Gardens, all decorated with colourful Christmas decorations. The event was inspired by the famous Winter in Kew Gardens in London, and besides light displays, you'll find festive food and drinks, an ice skating rink and more!
You can visit every evening from Nov 15th to Jan 5th, from 4 pm to 10 pm – don't forget to book your tickets in advance!
3) Go Ice Skating
Some winters, Berlin gets cold enough to skate on lakes and canals, but let's face it – it doesn't really happen that often! Luckily, there are plenty of ice rinks to go to, many of them open from November to February.
The largest is the Horst-Dohm Ice Stadium in Charlottenburg, with a large outdoor rink and a smaller indoor one; other options are Erika Heß Eisstadion in Wedding and Eisstadion im Sportpark in Neukolln, the latter offering 'happy hour' reduced entry prices.
Alternatively, you can also find temporary ice rinks at the Christmas Garden, and in the larger Christmas Markets like the ones in Alexanderplatz and Potsdamer Platz. Don't miss spending an evening ice skating on your next Berlin winter visit!
Weird Museums
4) Computerspielemuseum
We just HAD to start with this one – our favourite weird museum in the whole world! The Computerspielemuseum is entirely dedicated to the wonderful world of video games, and includes not only info and exhibits dedicated to the history and development of video and computer games, but most importantly, you can PLAY GAMES as long as you want!
There are all sorts of video games you can test – from 'oldies' like Pac Man, Frogger, and Tetris in a replica arcade, to the famous 'dancing mats' of the late Nineties, virtual reality games and even a 'Pain Station' – a machine actually punishing you if you made mistakes!
Yet, my favourite was the original Super Mario game, all set up in a 'bedroom' that looked way too much mine when I was a teenager. I think I was in there playing for about one hour and a half, until I was kicked out!
5) DDR Museum
This museum is located close to Museuminsel, where you'll find all of Berlin's best museums and art galleries – the DDR Museum is a cool quirky counterpoint, recreating the atmosphere of East Germany through exhibits, that manage to be informative and entertaining at the same time.
There are info about DDR history, lots of hands-on exhibits, products and handicrafts dating back to the time, a replica DDR flat complete with clothes and furnishings and even a Trabant – you can just sit behind the wheel and experience the thrill of driving through East Berlin!
Where: Karl-Liebknecht-Str. 1
Opening Hours: 10 am-8 pm
How Much: € 8,50 online, € 9,80 at the desk
6) Currywurst Museum
Have you ever had a currywurst? If the answer is no, you should really visit this museum to learn more about Germany's favourite snack! The Currywurst Museum houses exhibits about the history of the currywurst, and its role in popular culture, cinema and TV.
You'll also find hands-on stations where you can experience making your own 'virtual currywurst', sniff spices used in secret sauces, listen to iconic songs about the currywurst and even pretend to run an original snack bar on wheels. And if you get tired, you can relax on a sausage-shaped sofa!
Before the end of your visit, make sure to pay a visit to the snack bar for a 'currywurst tasting' and taste the three varieties on offer – or you can just opt for 'currywurst in a cup', included in your entry ticket! Not a bad day to spend a rainy day in Berlin!
Where: Schützenstraße 70
Opening Hours: 10 am-6 pm
How Much: €11 including 'currywurst in a cup' – € 13,90 with three currywurst varieties
Book your DDR Museum tickets here and skip the line!
7) Asisi Panorama
Artist Yadegar Asisi is known for his stunning 360° panorama paintings, painted in large-scale locations like silos or gasometers, really giving you the feeling of travelling to the place or time portrayed. Nick first went to an Asisi Panorama exhibit in Dresden, where he saw a recreation of the Dresden firebombing – something that brought chills to his bones.
The Berlin installation is called DIE MAUER, and depicts an autumn day in Berlin, when the city was still divided. The view ranges from Mitte to Kreuzberg, showing life in the streets in the shade of the looming wall, with the ominous no man's land just behind. Changing lights and sound installations complete the atmosphere, making you feel as if you travel back in time. Definitely one of the best things to do in Berlin in winter!
Have you ever considered visiting the Berlin Dungeon? Find out the best ways to get Berlin Dungeon tickets here!
Historical Locations
8) Inside Tempelhof Airport
I've already talked about Tempelhof airport in my Alternative Berlin post – this former airport turned into municipal park is truly a great place to go running, bike riding or even kiteboarding.
However, you'd seriously be missing out if you didn't see the terminal building inside! Tempelhof Airport is one of only two Nazi-built buildings to survive in Berlin (the second is Olympiastadion) and only by walking through its gigantic halls, and up to the curved roof looking out onto the tarmac you'll realise the sheer size of the place.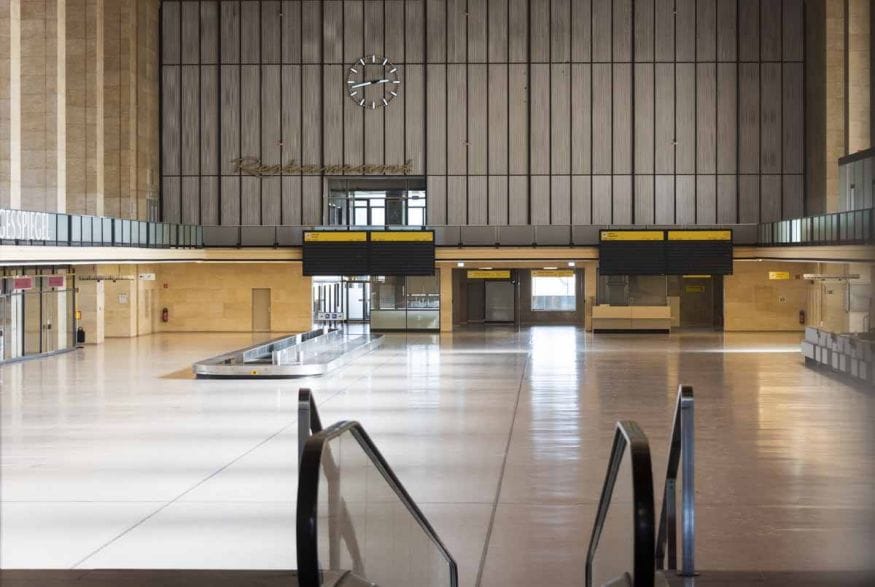 To visit Tempelhof, you'll need to join a tour. There are various tours in German focusing on different themes and sections of the airport, and only one 'best of' kind of tour available in English, covering the entrance and check-in hall, luggage delivery room, a visit to the roof and outdoor terrace, as well as access to wartime bunkers, and US Army base located within the airport.
It feel as if time stood still within the airport, and the three-hour tour feels like time-travelling through Berlin's 20th century history.
Where: Tempelhofer Damm
Tour Times: Wednesday, Friday, Saturday and Sunday at 1.30 pm
How Much: €15
9) Berlin-Hohenschönhausen Memorial
This former prison turned into a museum and memorial is one of the most bone-chilling places in the entire city of Berlin. It's located in Lichtenberg, far removed from most points of interest, but it's definitely one of the most interesting things to do in Berlin in winter and we highly recommend visiting if you're into 20th century history.
After the war, the area first housed a Soviet-run detainment and transit camp, which was then turned into a prison run by the Stasi, the East German secret service. Various buildings were added over time, most built by the prisoners themselves, who were subjected to unspeakable psychological torture. Hohenschönhausen became the symbol of Stasi oppression in East Germany, a living symbol of the all-powerful state, where anyone could end up if they said the wrong thing at the wrong time.
Hohenschönhausen wasn't stormed by demonstrators after the fall of the Wall, giving the authorities time to destroy evidence. It is only thanks to former inmates that we are now aware of the horrors that went on within those walls – and visiting ensures that these horrors will not be forgotten.
Where: Genslerstraße 66
Opening Hours: 10 am-6 pm – check the official site for English tour times
How Much: €6
Book your tickets and transfer to the Memorial here!
10) Berlin Wall Memorial
Most people head to the East Side Gallery to see the 'Wall', but we recommend heading to the Berlin Wall memorial instead, an open-air exhibition near Bernauer Strasse. We visited the site a few years ago as part of a tour, and wrote a complete article about it, titled Walking the Berlin Wall.
The memorial includes the Berlin Wall Documentation Centre, where you can learn about the history of divided Berlin, a 60-metre section of the former border complete with watchtower and no man's land, and a 1.5 km strip of land with a monument dedicated to the victims and a small chapel built on the side of a former church destroyed to make room for the Wall.
Where: Bernauer Str. 111
Opening Hours: 8 am-10 pm
How Much: Free
You can visit the Berlin Wall Memorial during this excellent walking tour of the Berlin Wall!
11) Topography of Terror
This museum is located on the former Gestapo and SS headquarters, destroyed by Allied bombings in the later stages of WW2. The visit starts from the Documentation Centre, where it's possible to see exhibitions focusing on the role of the Gestapo and SS before and during the war, and the crimes perpetrated by these institutions.
The museum also has an outdoor section where it's possible to see the longest surviving section of the inner Berlin wall, and excavations of the underground cells where Gestapo officers tortured prisoners.
Where: Niederkirchnerstraße 8
Opening Hours: 10 am-8 pm
How Much: Free
Bizarre Buildings and Landmarks
12) Freide sei mit Dir (aka Giant Penis)
One place I really dislike in Berlin, in winter or otherwise, is Checkpoint Charlie, which seems to be always full of school kids and tacky cold-war related memorabilia. If you find yourself near Kochstrasse, I would advise you to skip Checkpoint Charlie and head just around the corner to one of Berlin's most bizarre landmarks – a giant penis.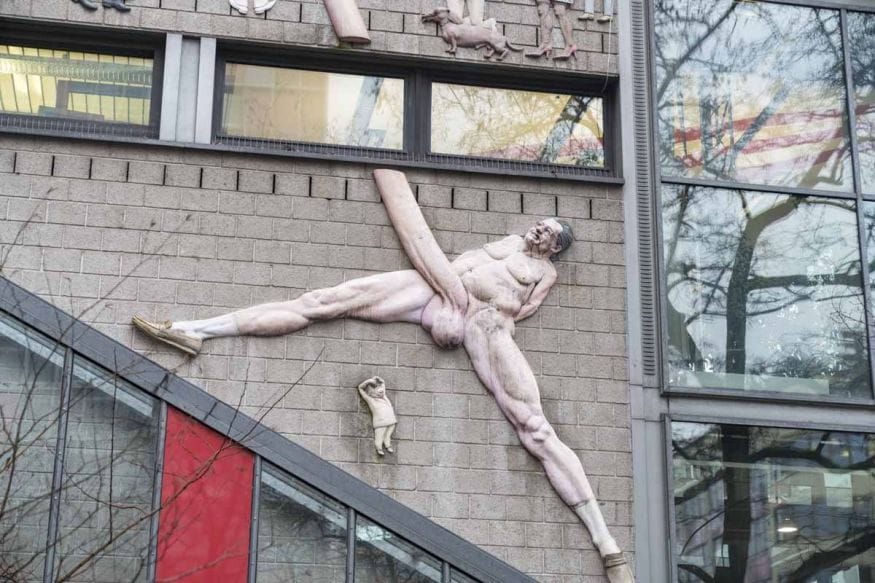 This work of art was completed in 2009 on the façade of a building on Rudi Dutschke Strasse, just opposite the headquarters of the Bild tabloid newspaper. The 'Giant Penis' artwork was a tongue-in-cheek reply to Kai Diekmann, Bild's editor-in-chief, after he sued a rival newspaper for running a story about his penis enlargement surgery.
13) Street Art in Tegel
There are LOADS of places to see street art in Berlin – one of the best is Urban Nation, a recently-opened street art museum. Urban Nation also run a variety of street art project around Berlin and beyond. During our last Berlin visit in winter we headed to Tegel, to see six large-scale murals part commissioned by Urban Nation.
The murals had been commissioned to six different artists, who had complete creative freedom to paint over a 13-storey surface. We loved this huge blue starling painted by Dutch artists Collin van der Sluijs & Mr. Super A, but the most powerful piece was the one by Borondo, depicting a crying girl in a stark, winter landscape – a reference to migration and displacement.
If you're in Berlin in winter and you like street art but want to experience something different from the usual tours, you can also take tours that end with a workshop, where you learn the basics of street art and even make your own piece. You can read more about it in our Art in Berlin article!
14) Bierpinsel
Berlin has some great examples of Brutalist architecture – one of the best is probably the Bierpinsel (translated as 'beer brush'), a unique-looking 47 meter structure located right next to the Schloßstrasse U-Bahn station.
The building was constructed in the late Seventies and over the years it has housed offices, restaurants, pubs and even a four-storey nightclub – but everything closed down eventually. The structure was repainted in vivid colours in 2010, and there were plans to reopen the panoramic restaurant and pub, but nothing materialised as of yet. In any case, it's a pretty cool place to visit in winter or on a rainy day in Berlin!
15) Flaktower Gesundbrunnen
During WW2, three large flak towers were built across Berlin, to protect the city against air strikes. Flak towers included a turret atop which heavy artillery was placed, and an air-raid shelter underneath. The three flak towers were located in Tiergarten, in the middle of Volkpark Friedrichshain and in Gesundbrunnen – nowadays, only the latter survives.
You can walk up to the top of the Gesundbrunnen flak tower by yourself, and check out the view over the S-Bahn tracks and roofs of Wedding. You can also visit the air-raid shelters, but for this you'll need to join a tour – definitely one of the things we'll do next time we're in Berlin in winter!
Unusual Foodie Hotspots
16) Australian Brunch
If you've been to Berlin, you'll know that restaurants serving traditional German food are few and far between – on the brighter side, you can have excellent food from anywhere else in the world!
Sunday Brunch is definitely a thing in Berlin – the city is full of great coffee shops so there are literally thousands of places to choose from. If you wake up one rainy or cold winter morning in Berlin and want to be transported to sunny Australia, head to Silo Cafe in Friedrichshain – it's one of those 'Third Wave' coffee places, with excellent flat whites and cold drips, and lovely poached egg and avocado breakfasts on toasted sourdough.
17) Syrian Patisserie
One of my favourite neighbourhoods in Berlin is Neukölln, which is also home to a sizeable Syrian community. There are excellent kebab and falafel joints, as well as lots of Levantine restaurants, especially along Sonnenallee. If, like me, you have a sweet tooth, don't miss Damascus Konditorei, opened by a family from Homs who fled the war leaving behind a shop opened 40 years ago.
I'm a big fan of sweets like baklava and kanafeh, and the ones I've had at Damascus Konditorei were far, far better than anywhere else in Europe – just meltingly sweet and super fresh and crumbly. Don't miss it to warm up a cold winter day in Berlin!
18) Cooking Class with Asylum Seekers
I haven't had time to do it yet, but the Cooking Across Borders experience run by Context Travel is high on my Berlin winter wish list.
This experience is led by a historian specialised in migration and refugee issues, and combines meeting recently-arrived refugees from Afghanistan or Syria, cooking together, and finally sharing a meal while sharing experiences.
19) Secret Brewery
I've long had a passion for 'secret' places like home restaurants or speakeasies, so when this place was recommended to me as 'a brewery in the cellar of a residential building', I knew I had to try it!
Eschenbräu, is located in Wedding, just around the corner from the S-Bahn station – and yes, it's quite hard to find! On a winter afternoon you can sit inside and enjoy a variety of beers brewed on site, accompanied excellent flammkuchen, while in summer everyone sits in the courtyard under the shade of an oak tree, and you can even BYO picnic!
To make it even more fun, there are often Bavarian bands playing on Sunday afternoon!
This is only one of many cool Berlin breweries perfect for a winter day – if you want to visit more, have a look at our Berlin craft beer guide!
Day Trips from Berlin in Winter
20) Potsdam
If you want to get out of the city for one day in winter, we recommend visiting Potsdam, the capital of the state of Brandenburg. Potsdam isn't a suburb of Berlin – it's a city in its own right, with a very different vibe and identity, as well as lots of places to see that you can enjoy in total peace and quiet if you're visiting in winter.
We visited Potsdam as a day trip, and it was barely enough to see the main sights – we highly recommend dedicating a couple of days, as there is really a lot to see. In any case, even in one day, you should have enough time to walk across the historic centre and the Dutch quarter with its brick red buildings, visit the Russian quarter with its log houses and naturally tour the small but exquisite Sans Souci palace with its terraced gardens.
Top tip – if you're visiting in winter and want to warm up, visit Cafe Guam in the Dutch Quarter for the best ever cheesecakes and hot chocolate with eggnog!
Book your Potsdam day trip here!
21) Looking for Locations from TV Series Dark
During our last Berlin visit in winter, our friends from Fotostrasse took us to Grünewald, a forest in southwest Berlin, to look for locations where the Dark TV series was filmed. If you haven't watched Dark, do it immediately! It has been compared to Stranger Things, and it's excellent indeed.
Fotostrasse have published a more complete article on their blog with three Dark locations located near Berlin – we only had the time to visit one, a stretch of abandoned railway in the forest, where one of the characters hides a stash of drugs. Visiting in winter this place really gives its best – can you imagine it in summer, full of day trippers and picnicking families?
Not far from the rail tracks you'll also find an abandoned overpass full of street art, and an abandoned border post between East and West Berlin. But good luck finding them, as the forest is large and there are no maps or signs!
22) Sachsenhausen
History lovers will probably have heard about Sachsenhausen, a Nazi-built concentration camp located in Oranienburg, a quick day trip from Berlin.
Sachsenhausen was opened in 1936 as a 'training camp' for officers that would be then sent to oversee other camps. It was built as an 'ideal prototype' for concentration camps, with a triangle-shaped layout including a watchtower at the centre and barracks all around. The camp was never built for extermination purposes, and lacks the mass-killing facilities found in places like Auschwitz – instead, medical experiments took place, and over 30,000 people lost their lives as a result of the horrendous conditions within the camp.
The killing at Sachsenhausen didn't stop with the end of WW2. The camp was taken over by the Soviets, who used it to detain political prisoners, and used for this purpose until 1950. It is estimated that up to 10,000 more people lost their lives in Sachsenhausen during this time. Sachsenhausen is best visited in winter, under a stark, grey sky and with few other visitors in sight, giving you the chance to reflect on this dark chapter of 20th-century history.
Book your Sachsenhausen day trip here!
Where to Stay in Berlin in Winter
When looking for the perfect hotel for your Berlin winter stay, make sure you are close to public transport (U-Bahn, S-Bahn or Trams) in case of bad weather!
Also, we recommend splashing a little for a hotel with wonderful interiors, a fireplace, SPA or swimming pool, so you have something to do if it's too cold to go out. We selected 6 stylish properties, each offering something unique!
–Provocateur Berlin – with flamboyant interiors (think lots of red velvet), and a top-rated Asian restaurant, also serving wonderful breakfasts
–Hotel am Steinplatz – this hotel has original Art Nouveau features and all the amenities you might need, from gym to spa, lobby with fireplace and inner courtyard
–Circus Hotel – the upmarket outpost of a popular hostel brand, this eco-friendly hotel near Rosenthaler Platz offers style and design without breaking the bank
–The Dude Berlin Mitte – historic meets quirky in this stunning hotel housed in a 19th century mansion. Don't miss the fantastic steak restaurant in the basement
–Monbijou Hotel – only steps away from Berlin's Museum Island, this hotel nails the 'home away from home' atmosphere. The fireplace in the lobby and library are a great place to spend a winter day in Berlin!
–Hotel Oderberger – located in a 19th century bathhouse with a renovated 20 meter pool. This alone is worth the stay!
Pin it for later?