Welcome to another post from our National Parks in Winter series! This guest post about Joshua Tree in Winter is by Mimi McFadden from The Atlas Heart, a California travel website that helps people explore the best of the Golden State through local insight, road trip itineraries, and bucket list guides. If you are planning to visit Joshua Tree in winter 2023, read on!
**Article updated on Nov 28th, 2022**
The first time I visited Joshua Tree National Park in my mid-20s, I was blown away by the unique landscape, dusty hikes, and stargazing opportunities on chilly nights in the desert. It wasn't like anywhere I'd been before and I knew it would end up being a special place to come back to time and again.
Today, Joshua Tree is one of my favourite places in California (of which, yes, there is an exhaustive list) – and definitely my favourite national park for a winter visit.
When you visit Joshua Tree for the first time, you'll notice its idiosyncratic trees that give the park its name. They seem alien and unfamiliar with their sharp spines and bulbous growths, twining up above your head, reaching for the sun.
They're foreign and yet somehow, surrounded by them in the cool, starlit sky, one can't help but feel connected to something deeper than what you might find in nearby Southern California cities.
And being located in the California desert, one of the best times to visit Joshua Tree is in the winter. The winter months are when daytime temperatures are at their mildest, which is perfect for long hiking days.
In general, the park is a popular winter destination since it's still warmer than most of the rest of the US during the middle of winter, at least during the day.
Come for the beautiful hikes, the unbeatable stargazing, and the temperate weather to experience the best parts of this unequaled national park in California. This is what you need to know to visit Joshua Tree in winter – in 2023 or beyond!
Things To Know About Joshua Tree in Winter
Joshua Tree Winter Weather
Winter is the perfect time to visit Joshua Tree. The daytime temperatures can fluctuate around 60°F-plus degrees (approx 15-20°C), which is ideal for hiking through unshaded trails. And the weather is generally sunny and clear.
The only thing to keep in mind is that the desert is all about extremes. So even though it might feel warm during the day, it gets very cold at night (and this is especially the case in winter).
To give you an idea, nighttime temperatures in the winter can get below freezing (32°F-0°C), so make sure you pack appropriately and dress warmly if you're camping at the park in winter.
On rare occasions, there can be some weather anomalies associated with Joshua Tree in winter. Because the park is located in the high desert, there's sometimes hail and even snow in the winter. This is rare but it's always good to check conditions before you head to the park since the weather in the desert can change quickly.
Does It Ever Snow in Joshua Tree?
This brings us to our next point. It's funny to talk about a desert's "wet season," but if Joshua Tree has one, it's in winter.
Average December precipitation measures at around half an inch (not bad for a desert), and this sometimes includes snow, but only at higher elevations.
How To Get To Joshua Tree
Palm Springs, California is host to the closest airport to Joshua Tree, but many cities are within driving distance, including Phoenix, Las Vegas, and, of course, San Diego and LA.
Relying on GPS navigation to get you into Joshua Tree National Park in winter is not always the smartest. It will sometimes take you through back roads that are covered in deep sand and impossible to navigate, even with 4WD.
To keep it simple, Interstate 10 and California State Highway 62 are the roads you'll need to remember to get to the park. These two roads lead to the park's three entrance stations.
The West Entrance is just south of Joshua Tree Village, on Highway 62. The South Entrance is near Cottonwood Spring. You can access it from Interstate 10 and it's about 25 miles east of Indio, CA. The North Entrance is just a couple of miles to the south, where Highway 62 meets the Utah trail.
Note: Paper maps are your friend when driving to Joshua Tree and around the California desert region in general. Not only are they always fully charged, but paper maps are also an extremely useful way to get around national parks because the roads shown on these maps are fully functional, unlike GPS that regularly goes unmonitored in terms of available routes.
If you don't want to do paper maps, you should at the very least pre-download your route via Google Maps (using the above highways).
Getting Around Joshua Tree in Winter
Public transport to Joshua Tree is limited and there are no public shuttles that take visitors around like some other national parks, so you'll need a car to get around.
Though it might snow in higher elevations in winter, the main access roads are pretty much always safe to drive on year-round.
Is Joshua Tree Busy in Winter?
Winter is one of the busiest seasons in Joshua Tree. This is because winter temperatures don't get very low at the park during the day. So everyone who wants to visit a national park in winter, but who doesn't want to deal with super cold daytime temperatures (ahem, I'm looking at you Bryce Canyon), will find themselves in Joshua Tree during the winter months.
Best Joshua Tree Winter Hikes
Because Joshua Tree gets so hot in the summertime, there are some excellent hikes that one should only attempt in spring, fall, and especially winter. These three hikes are some of the most gorgeous hikes in the park during the winter.
Panorama Loop
Difficulty: Challenging
Length: 6.6 miles
Elevation Gain: 1,000 ft
Estimated Time: 3.5 – 5 hours
The Panorama Loop is unrivaled in Joshua Tree. This hike takes you in the shape of a lollipop that starts and ends in a sandy wash but climbs to an overlook with, as the name implies, a breathtaking panoramic vision of the whole park.
The Panorama Loop also takes you to some of the densest Joshua Tree growth in the whole park. It's truly astounding to see the rich green vegetation stark against the rocky desert crags.
Lost Horse Mine
Difficulty: Moderate
Length: 4 miles
Elevation Gain: 400 ft
Estimated Time: 2-3 hours
The Lost Horse Mine trail is an excellent choice for history lovers. Before Joshua Tree was a national park, it acted as the source of many gold mines, whose dilapidated remains are still decaying at various points throughout Joshua Tree.
The Lost Horse Mine is one of these. Though you're not allowed to get very close to the old mill site and mine (to protect it and yourself), you can see it from a distance and marvel at the ruins.
For those interested in a longer historical trail, the Lost Horse Loop Trail is a more challenging hike that's also worth checking out. You can get to Long Horse Mine on this self-drive tour of Joshua Tree!
Discovery Trail
Difficulty: Easy
Length: Less than one mile
Elevation Gain: Less than 100 ft
Estimated Time: 30 minutes to an hour
The Discovery Trail certainly doesn't offer rigorous exercise for the pro hiker, but it's at the top of the list for easy hikes in Joshua Tree. The Discovery Trail is actually one of the newest hikes at Joshua Tree and it points out some of the most interesting geological features the park offers.
Climb under strange sandstone rocks, see the sprawling piles, and seemingly endless desert wash all in one short hike. This hike is also a good option if you're traveling with kids. Besides it being an easy hike, it also provides an interactive experience through informative placards that help kids learn more about the geological formations at the park.
And More!
For more Joshua Tree hikes make sure to check out this post.
Best Places To Visit in Joshua Tree National Park
These are my top spots to see in Joshua Tree in winter!
Wall Street Mine
The old Wall Street Mine was a highly successful gold mine in its day and is now some of the park's coolest ruins. Take the Wall Street Mine trail to find this hidden rustic beauty.
Hidden Valley Nature Trail & Day Use Area
In addition to offering a beautiful short hike through some of the best of what Joshua Tree has to offer, the picnic spot across the parking lot from this trailhead is an incredible spot to eat lunch. Look up at the iconic rock piles while you eat your peanut butter sandwich, then spend some time with the family climbing on these massive works of nature.
Hidden Valley is one of the spots included in this DIY tour of Joshua Tree, also perfect to enjoy in winter!
Keys View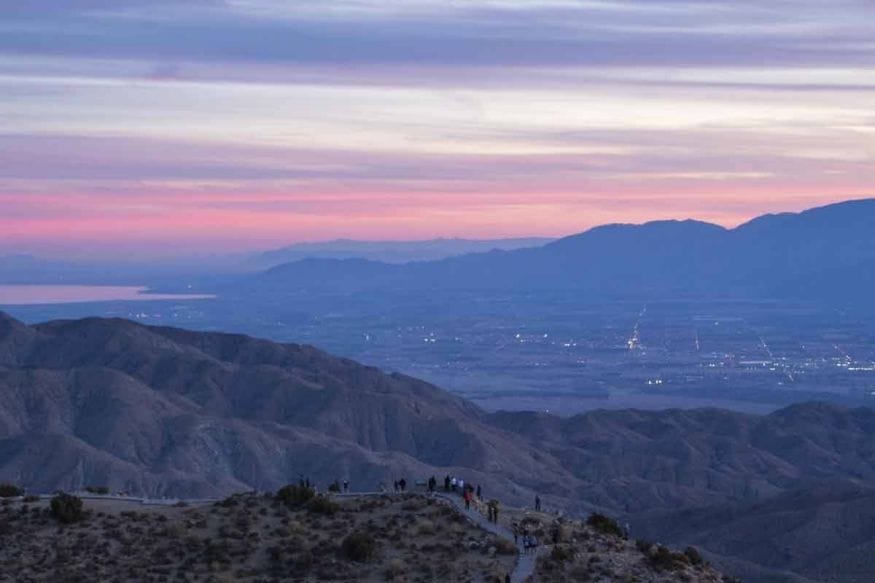 Especially if you aren't a big hiker, Keys View is a must-see for any first-time visitor to Joshua Tree National Park. This drive takes you up 5,000 feet over Joshua Tree, and the miles and miles of valley visible from the pinnacle make Keys View an easy favourite. If you're into stargazing, this can be a great spot to see a sky full of glittering stars at night as well.
Skull Rock
Skull Rock is a favourite place to explore and climb in Joshua Tree. This unique rock which, yes, looks just like a skull, is right off the roadside. You can stop for photos and lunch or you can park and take the 1.7-mile hike that's just across the road. This is another must-see and one of the park's most unique rock formations.
You can easily check out Skull Rock following this self-drive tour of Joshua Tree, including all the best spots in the park!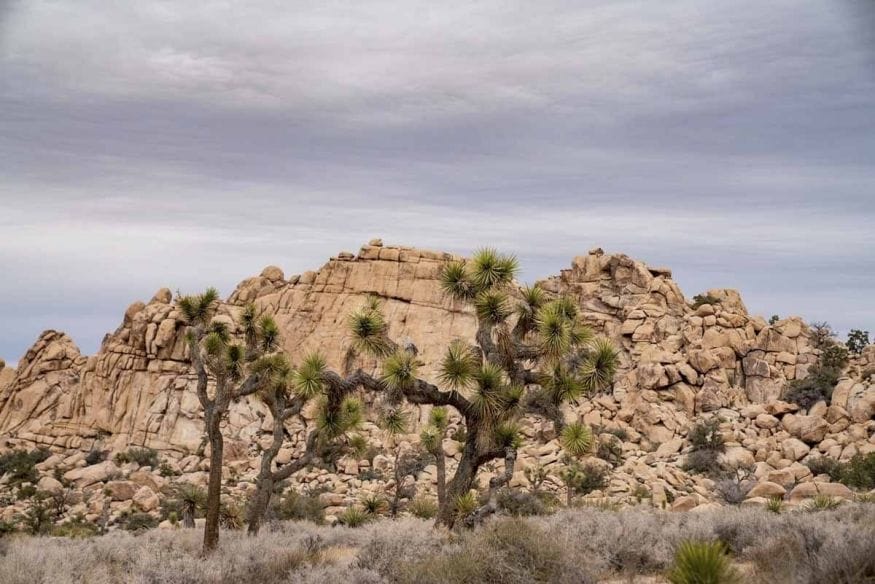 How Many Days Do You Need in Joshua Tree?
Day trips are totally fine for anyone in the California area, and it's not unheard of to get the family roused nice and early on a Sunday morning and spend the day hiking throughout the park.
However, for those looking for more than just a quick day trip, I'd recommend at least three or four days at the park. Any less, and you're having to pick and choose which hikes you want to do and which ones to skip.
Plus, part of the appeal to Joshua Tree is being able to camp. This allows you to take your time getting up, head out to the trails when they start to warm-up, around 10 or so, and then spend the night stargazing. And as I've mentioned above, the stargazing is phenomenal in Joshua Tree.
To give you an idea, seeing and hiking everything I've listed in this guide alone would take at least four days, and this is by no means everything there is to see at the park!
Where To Stay in Joshua Tree
There are plenty of places to stay in and near Joshua Tree, here are some of my top picks.
Inside the Park
There are a total of nine campgrounds at Joshua Tree. And besides having instant access to stargazing and good old-fashioned marshmallow roasting, you are directly supporting the National Park Service by camping at their campsites, which is a win-win.
For those who love camping, my top pick is Belle Campground. This is a small site and can fill up quickly, especially in the busier months. Be sure to get here early since it's first-come, first-served.
Cottonwood Campground is another nice stay. This one's much larger than Belle Campground, with over 60 spots available. During the winter, reservations are required and spots fill up quickly. Cottonwood Campground features great views of the distinctive geology that makes Joshua Tree so beloved.
Outside the Park
La Maison Hotel is one of the coolest spots to stay near Joshua Tree. It basically feels like you're living in a large residence while you're there. This hotel is nothing like the Marriott or something similar; at La Maison, you're transported back to the days of the California gentry.
Parker Palm Springs is another place to stay outside the park, so long as you have the cash to make it work. This place will run you a hefty bill, but in exchange, you'll get the highest-quality care and service, fit with hot tubs, spa days, oh, and maybe some hiking if you can get out of the comfort suite.
Andalusian Court is the most expensive place to stay on this list, but it's also the most unforgettable. You don't just get a room here – at Andalusian Court, you'll get a private villa. This place allows you to enjoy Joshua Tree with the comfort of true luxury as your home base.
There are also many wonderful Airbnb to stay at in the Joshua Tree area – we stayed in this wonderful cabin near Joshua Tree village, but there are many more places to choose from!
Planning to visit other national parks in winter? Here are our guides!