After visiting Porvoo for two days, we started our #EverymansFinland adventure and hiked to – and then across – Sipoonkorpi National Park, a stunning woodland just around the corner from the Finnish capital. Here's a recount of our (mis)adventures and some tips on hiking and camping in Sipoonkorpi National Park. 
'So, where are you heading next', asked Gustav, our host for the night.
'We're hiking to Sipoo National Park tomorrow, shouldn't be too difficult' we replied.
'Sipoo? Sipoonkorpi? Without a guide? You should have asked me, I would have found someone to take you' he added.
I really didn't think too much of Gustav's words at the moment. I was too tired and sore. It was the end of our first day hiking across Finland, and we had just walked close to 30 km from Porvoo to Box, a four-house village in the Finnish countryside.
Porvoo to Box – The Adventure Begins
The first day also ended up being much harder than we expected – the distance from Porvoo to Box in a straight line is 18 km along the 170 highway, but wanting to avoid the main road we found ourselves hopscotching around it, following unpaved roads and trails into the woods.
A couple of times trails faded away to nothing and we found ourselves clambering over the undergrowth, between brambles and nettles, following vague GPS tracks.
Box Bed & Breakfast appeared as a mirage, a bright pink house standing out in a sea of green. Gustav welcomed us with a smile, and offered us delicious homemade chicken soup, blueberry cake and fresh rhubarb juice. Our legs were so sore we could barely stand. My hips and back were bruised, and we were both woken by cramps at night.
How can we keep going for 40 days, I wondered as I tossed and turned in bed, stretching my legs trying to get rid of cramps. The sky never quite got dark through the 'night' – rather, it changed colour – from pink to mauve, then lavender, and finally a deep indigo, still too bright for the stars to shine.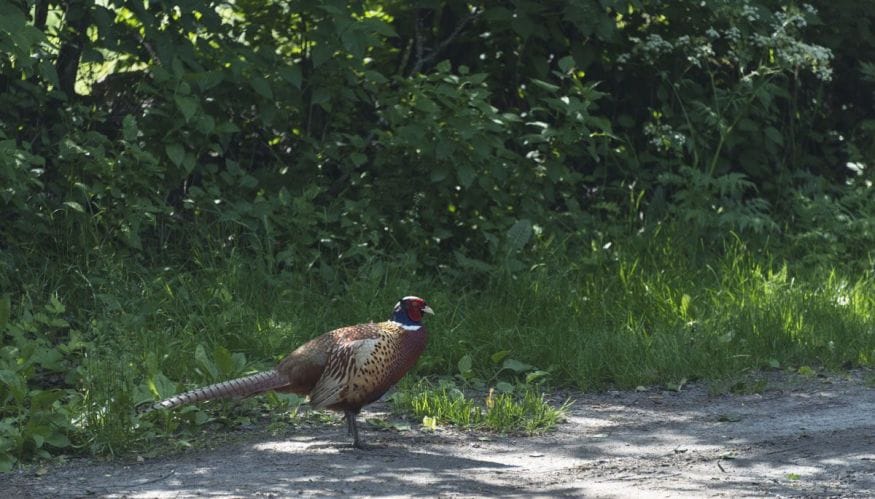 Camping at Sipoonkorpi National Park
The following day, we were off again – we quickly walked the 18 km that separated Box from Sipoonkorpi National Park, a large woodland area located barely 20 minutes away from Helsinki and Vantaa airport.
Despite being so close to the Finnish capital, Sipoonkorpi is virtually undiscovered. Gustav warned us that finding one's way around the park could be a challenge. We tried to find a map of the park before flying to Finland, but even the local tourist board didn't seem to have a good one.
The tourism board told us the best camping spot within the park is named Ängesböle, and it is located in the north of the park. We had no problems finding it – we hiked to Söderkulla, where we picked up some supplies, then to the village of Hindsby, and a few km out of it we entered the park area.
We got to Ängesböle in the early afternoon – and that's where we started sensing that our plan of camping then hiking across Sipoonkorpi National Park may end up being harder than we expected.
Ängesböle was a lovely little campsite set in a clearing in the woods. There was plenty of room to pitch our tent, two picnic tables next to a place where we could make a fire using the wood stored in a nearby hut, provided to campers for free by the Finnish government. There was even an eco toilet.
However, one thing was missing. Water.
Our GPS clearly showed a water source – but when we reached it we found a dry tap and a tank full of mouldy water, teeming with mosquitoes. Hindsby, the closest village, was over 2.5 km away.
We were lucky to be able to solve the water issue thanks to the Lifestraw, a bottle with a filtering system that allowed us to safely drink water collected from a small lake a short distance away. However, we had another issue. The temperature was dropping fast, as a thick blanket of clouds made its way across the sky. Sitting in the campsite, the tall pine trees sheltered some of the wind – but we still felt bitterly cold, as the wind bit through our clothes.
I don't know how cold it was by evening, probably something in the region of between 0 and 5 degrees. Sure, not really that much – if you're wearing winter clothes. We were equipped for a long distance summer hike, and only had a couple of sweaters and a Goretex jacket – no thermals, gloves, beanies, nothing.
Soon we were huddled inside our tent, trying to get warm in our summer sleeping bags, while our noses and cheeks felt as cold as they did when we slept in the Kemi Snowcastle.
I can't say 'when night fell', because it didn't. It was June, after all – the sky never really did become dark. And don't get me wrong – in some ways, it was a magical night. We were the only poor devils at the campsite. We drifted in and out of the dreamy state between sleep and wakefulness, with the sounds of the forest all around us. An owl hooting. Wind blowing through the canopy. Mysterious noises – chirps, squeaks, whirrs, booms.
After dawn, birdsong started – and little by little, the forest woke again.
Hiking Sipoonkorpi National Park
The plan for the following day sounded easy enough. We would hike across Sipoonkorpi, from north to south. Our destination was the Helsinki suburb Nissbacka, from where we would then walk into Central Helsinki where we were going to stay for 6 days as part of the Helsinki Secret project.
Google Maps showed an easy enough trail, cutting through the green expanse of the national park, ending a few kilometers from Nissbacka. 4G connection was quite good, so we headed towards the trail, and saw the little blue dot getting closer, closer… but there was no trail. It simply didn't exist.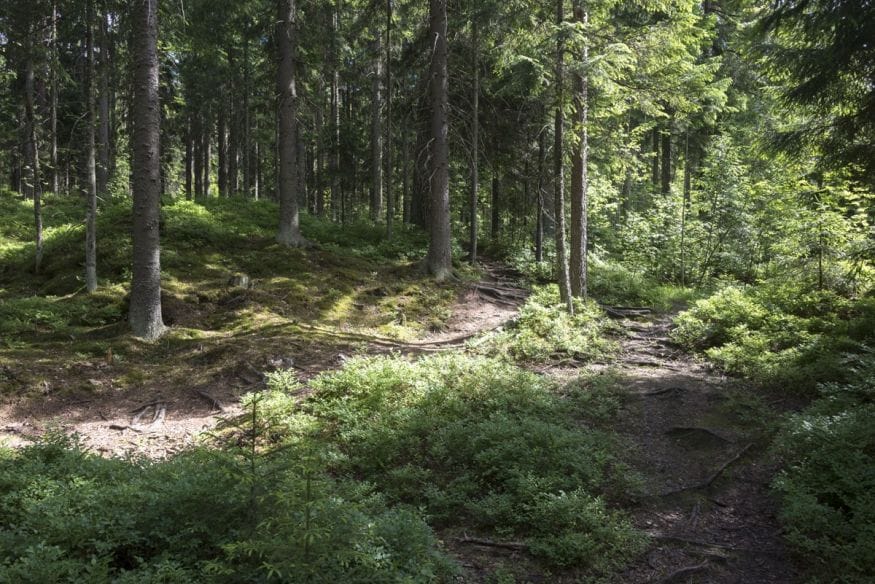 First rule – don't use Google Maps if you're going to Sipoonkorpi.
Instead, we decided to follow our trusty old GPS, showing a spaghetti-like tangle of trails. The one we decided to follow started just south of a small lake called Katronträsk, and travelled south. There was not a soul to be seen. There were no markers on the trail – it wasn't even an actual trail, but just a line through the trees with footsteps and bike tire marks.
As we got deeper into the woods, the GPS started spinning. Soon we lost the trail. We tried to proceed bearing south, while underfoot, the terrain changed – one minute it was muddy and full of roots, and then it turned a soft, spongy mossy cushion, soaked with water, and our feet were wet in no time.
We weren't at all scared – after all, it was no Taman Negara, but we were weary from the previous two days hike and the sleepless night, so the idea of heading off-track didn't particularly appeal. Beers on the terrace of our luxury Helsinki Secret apartment sounded a lot better than trampling through the mud with heavy packs on our back.
After some aimless wandering, we came upon a sign. It said Kuusijärvi, 4.8 km – a lake on the western edge of the park, near another Helsinki suburb. Not quite where we wanted to go, but it would do. We walked in that direction for half an hour or so, until Nick checked the GPS. We were going the wrong way – proceeding deeper into the park instead of away from it.
We saw several more signs pointing to Kuusijärvi or Bisajärvi, another small lake – except that once again, they were pointing the wrong way.
To this day, I still wonder. Why were all signs pointing the wrong way? As we finally decided to follow the GPS and make for Kuusijärvi, thoughts crossed our mind. Was it a mistake? Or had we by chance stumbled upon a 'rite of passage', to check whether or not we're worth of venturing into the Finnish outdoors?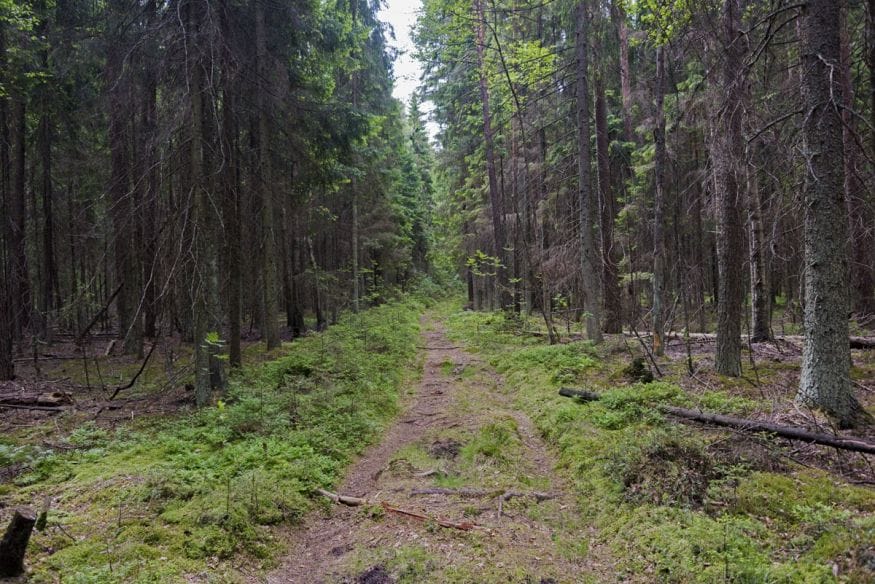 We reached Kuusijärvi after about an hour. There was an outdoors cafe, some people swimming (despite the fact that it was 12°) and a group of schoolkids sitting on a pontoon, laughing at the new Snapchat filters.
The wild had ended, the city was about to begin. 
One month after that day, the hike across Sipoonkorpi is one of the highlights of our adventure. It was one of the few places where we felt truly in the wild – where we felt that we had to 'earn' our way, making use of our outdoor skills and not just following coloured trail markers. We highly recommend visiting Sipoonkorpi National Park – but make sure you follow our tips!
Hiking Sipoonkorpi National Park Tips
If you don't have good map-reading skills, stick to the marked nature trails – more info here.
Make sure you have a GPS and a map and compass, and know how to use them. Double check all signs and follow the GPS and map
Make sure you have enough water or a water purifying system
Don't rely on phone signal – forget Google Maps, you NEED A GPS
Watch the weather forecast – it can be cold in summer in Finland!
If you can, ask Gustav to arrange a guide and save yourself a headache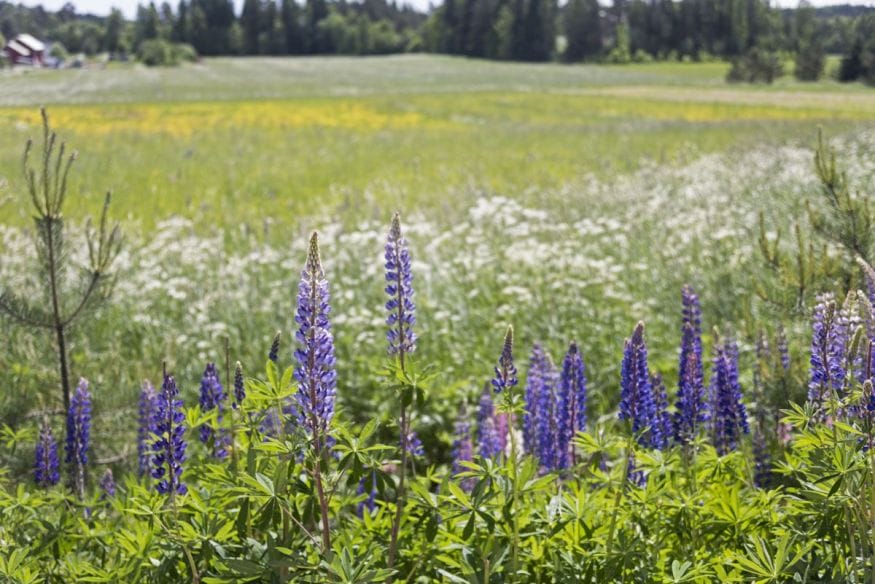 Where to stay near Sipoo National Park
Well, now you know all about Ängesböle! There's also a smaller campsite with firewood further south, along the Kalkirukki nature trail.
If you're not planning to hike in and out of Sipoo, Box Bed & Breakfast is a great base to explore the national park. It's located about 15 km away and it's a lovely place to relax after a day spent hiking – and testing your adventurer's skills trying to find your way around the park.
Gustav and his wife are keen gardeners and the B&B's garden definitely shows their skills. There's also a café serving local organic products, including delicious cakes (I'm still dreaming of the chocolate and blueberry one we had), quiches and soups.
Gustav is also very knowledgeable about the area and is able to give you tips about Porvoo, Sipoonkorpi and beyond. If you're not sure of how you'd fare in the park by yourself, contact Gustav in advance and ask him to arrange a guide for you.
Ah, I almost forgot. Here's a sunset as seen from the B&B!
We would like to thank Visit Porvoo, Visit Helsinki and Gustav from Box Bed & Breakfast for having hosted us. All opinions are our own. 
Pin it for later?