Welcome to the Philippines! The land of 7107 islands, one more beautiful than the other. The land of pork adobo, jeepneys and the friendliest people this side of Iran. Let's start our Filipino chronicles with a very special island – follow us as we show you our 15 favourite things to do in Bohol – eco adventures, what else?
The Philippines are not just about the beaches. I mean, beaches in the Philippines are gobsmackingly (does that word even exist?) amazing, and the sunsets are by far and away the best I've ever seen, but the Philippines offer a lot more than swimming, sunbathing and sunset-gazing.
There are jungles, mountains, crazy-looking wildlife, a peculiar cuisine, stunning sunken gardens, the craziest vehicles you'll ever see (jeepneys, tricycles anyone?) and – that's what made the trip for me – incredible people.
To all Filipinos… Thank you!
We visited Iran last year, and we were blown away by the friendliness and hospitality of locals. We can't possibly meet people as nice as the Iranians, we thought. Guess what? The Filipinos are a very close contender. Everywhere we went we encountered smiles, kindness and genuine hospitality.
We had heard stories of scams, robberies and people treated like walking ATMs – we didn't experience any of that.
The Filipinos struck us as friendly, honest and truly generous people. If we had an amazing time in the country, it was largely thanks to the people we met – the ones that took their time to guide us through confusing bus stations, hail us a taxi or help us with luggage on a jeepney.
To all of you, from the bottom of our heart before I start… Salamat!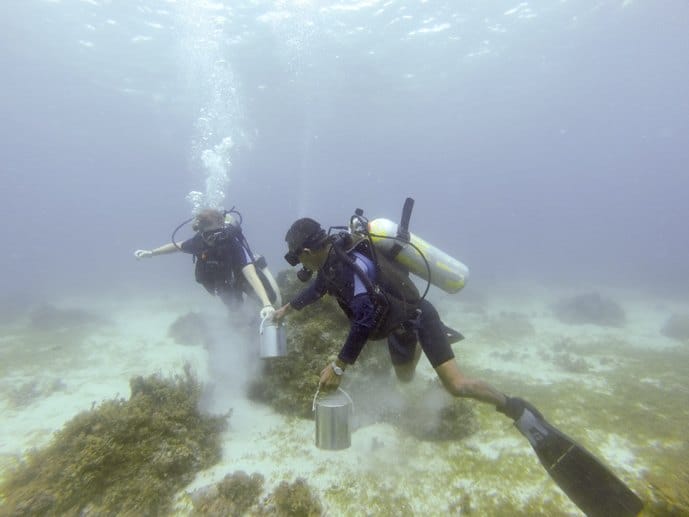 TL; DR? Enjoy the best things do do in Bohol on these fun day trips!
15 Things to do in Bohol and Panglao
Now, let's get to the point. Bohol.
Pull out a map of the Visayas – you'll notice a round-looking island, right between long Cebu and funny-shaped Leyte. Zoom in, and you'll see that Bohol is in fact two islands in one – there's also tiny Panglao, joined to larger Bohol island by two bridges just off Tagbilaran City, Bohol's main city.
Out of the five Philippine islands we visited, Bohol was the largest by far, and the one that offered the greatest variety of landscapes, adventures and activities. Panglao has stunning beaches, but the Bohol is more about the 'countryside'.
Away from the coast, the island has a lot to offer. Think of the cute-looking tarsiers with their big googly eyes. Bohol is the best (perhaps the only?) place to see them.
And how about the Chocolate Hills? Yep, they're in Bohol too. Do you want to go kayaking or stand-up paddle boarding, or learn about the history of the Philippines? Yep, head for Bohol.
Let's have a close look at our 15 favourite things to do in Bohol – that's what we could uncover after a week in the island. 15 eco-friendly adventures, all different from one another, and all (but one) away from the beach.
Another island we really loved during our month in the Philippines was Siquijor – but that's another story!
Get the best price for great hotels in Panglao!
1) Visit the Philippine Tarsier Sanctuary
Let's start with our favourite of all things to do in Bohol! Tarsiers are the unofficial symbol of the island. You'll see them everywhere around the island. On 'welcome to Bohol' signs, on t-shirts, fridge-magnets and any type of souvenir under the sun.
Nothing wrong with that – they are indeed one of the cutest animals on the planet, and Bohol is the place to go if you want to see and learn about them.
Tarsiers are not monkeys. They're prosimians, like lemurs, slow lorises and bush babies. They are small and very fragile – fully-grown adults are only about 10-15 cm long, the size of a human fist. They're also nocturnal animals – tarsiers have the largest eye to body ratio of all mammals, and have excellent night vision.
Sadly, they are endangered. The main threat to their survival is loss of habitat. They thrive in the rainforest, which is dwindling year after year. Once upon a time they were widespread around all of Southeast Asia; now they only survive in the Philippines, some Indonesian islands and Borneo.
Tarsiers are shy, solitary animals, who often commit suicide when kept captive. To give you an idea, they live up to 25 years in the wild, and only between 2 and 12 in captivity. They're also prey to several animals, including domestic cats and dogs.
If you want to learn about tarsiers and do your bit to protect them, the best you can do is head to the Philippine Tarsier Sanctuary foundation near Corella. This sanctuary was created by Carlito Pizarras, who is basically the Dian Fossey of tarsiers – so much so that the tarsier genus is named after him.
The sanctuary offers visitors the opportunity to see tarsiers in a large enclosure that houses eight animals. Within the enclosure, the tarsiers are able to move around and every morning the volunteers have to go and search them out – they usually manage to find just three or four, as there's plenty of space for them to hide.
During your visit, you're guided by a volunteer. Flash photography, selfie sticks and talking loudly are severely prohibited.
Just a quick warning!
Every other hotel and travel agency will offer you a 'countryside tour' including a visit to the tarsiers. Make sure you ask to be taken to the Corella sanctuary, not to one of the for-profit places near Loboc, where tarsiers snatched from the wild are kept in inhuman conditions and tourists are allowed to do as they please around them.
2) Explore the Chocolate Hills
After the tarsiers, the Chocolate Hills are the second place in the list of things to do in Bohol – a seemingly-endless expanse of dome-shaped hills, surrounded by forest and rice paddies. The moniker 'chocolate' comes from the fact that after the dry season the grass covering the hills dries out, making them resemble row upon row of Hershey's kisses.
The Chocolate Hills of Bohol cover an area of about 50 square km near the town of Carmen, in the central part of the island. They're limestone karst hills and formerly laid on the bottom of the ocean, before being raised by tectonic uplift.
There are several local legends that explain the origin of the Chocolate Hills. My favourite is that of an immortal giant named Arogo, who fell in love with a mortal woman. He was so stricken by grief at the death of his lover that he cried and cried, flooding the plain. When his tears dried, the Chocolate Hills were formed.
The best place to view the Chocolate Hills is near Carmen, on top of one of the hills themselves. Don't miss driving or riding a motorbike around the Chocolate Hills area to see the hills from ground level – you'll see locals at work in the rice paddies with buffalo-powered ploughs and trees creeping over the hillsides.
Get the best price for hotels near the Chocolate Hills!
3) Stand-up paddle boarding on the Loboc River
Number three in the things to do in Bohol list is a lunch cruise on the Loboc River, a beautiful turquoise-coloured river running across the island with rainforest all around.
Hundreds of tourists head to the town of Loboc every day at lunchtime to board open restaurant barges, with a buffet of Filipino specialties, bottomless iced tea and an easy-listening band carousing diners enroute.
We did the lunch cruise and loved it, but we also wanted to experience the river in a slower way. So, a few days later we travelled back to the Loboc area for an experience with Tinggly, a company offering vouchers for all kinds of experiences around the world. One of the activities on the Tinggly menu was a stand-up paddle boarding tour on the river, and after having experienced paddle boarding in Levanto last summer (and loving it) we thought that's it, let's have a go.
As soon as we jumped on the boards, we realised that paddle boarding on a river is much, much easier than doing so on the ocean. Everything just feels so much smoother, there are no waves so there are less chances to fall over and consequently, you don't have to work as hard.
We started paddling around 2 pm, when most of the lunch boats were already on their way back. We passed children playing on the riverbanks, throwing themselves into the river from makeshift Tarzan ropes and flying foxes.
Our guide pointed out the ruined church of Loboc, a 17th century limestone church destroyed by the 2013 Bohol earthquake, that was followed by typhoon Yolanda two weeks later.
We paddled upriver for a couple of hours – enough to make it worthwhile, not too long so we didn't get tired. On the way back the sun was setting – a tropical sunset, brief but intense. The sky lit up pink and purple and before we knew it, it was night.
We were still paddling on the river, while the fireflies danced in the trees, lighting our way.
Get the best price on great hotels near Loboc here!
4) Explore Hinagdanan Cave
This was an unexpected sight for us. On our last day in Bohol, we had planned to relax and do some work – but we felt it was a shame not to enjoy such a pretty natural paradise. So we rented some bicycles and decided to explore Panglao.
The bikes were kind of hard on our behinds, so we couldn't do the full 30 km loop we had planned, and we just got as far as Hinagdanan Cave, little more than a hole in the ground concealing a large cave chamber and an underground lake, where swimming is allowed.
The cave was deserted. All we could hear was the flutter of wings (was it swiftlets, or bats? We'll never know). Every sound was echoed – the whoosh of the water onto the rocks, our footsteps.
I almost didn't jump into the lake – it was too spooky.
Eventually, I did muster my courage and took a dip. The water was chilly – a good break from the steamy heat of the island. But it just felt odd. The pool was rather deep, and the whole place just has some kind of otherworldly aura, as if it was a portal into another world. So I just swam around for about ten minutes or so, and then I got out.
As we left, we were caught in a massive downpour, so we had a chat with a shop owner to pass the time. One of them told us that years ago, the cave was used as a freshwater well – but 'little people' lived in there too, and they weren't too pleased. They started stealing cooking utensils from locals, until they understood that the little people didn't want to be bothered, and the cave was sealed.
A shiver ran down my spine, and as soon as it stopped raining, I rode away as fast as I could. It was kind of spooky, but it's definitely an unusual thing to do in Bohol!
5) Diving in Bohol
Talking about things to do in Bohol, I just couldn't NOT mention something beach related. Bohol is also a great place for dives – perhaps not as well known as nearby Apo Island, Malapascua or Moalboal, but the island (or let's say, Panglao and nearby islands) still offer a variety of dive sites and excellent reef life.
Our Bohol dives were off the house reef at Bohol Beach Club, the hotel of our dreams, a stunning luxury resort located on the most beautiful beach in Panglao. But more on this later. We did two morning dives and explored the reef wall, with some small caves that we could swim through, and saw a variety of reef fish, including the ubiquitous lion fish, clownfish swimming in and out of anemones, moray eels and colorful nudibranch.
Snorkeling in the shallows was also fun, and we got to see three different types of starfish. A turquoise one, with long, twisty limbs, a chunky red and black one and a tiny one that moved around.
6) Dive or Snorkel Balicasag Island
The star in the diving crown in the Bohol area is Balicasag Island, a tiny island off the shore of Panglao that is generally visited as a day trip with two or three dives. We didn't get to visit Balicasag, but we hard rave reports – one diver sighted 28 turtles on a single dive.
If you're not certified, you can also visit Balicasag Island to go snorkeling. It's a popular stop on island-hopping tours from Panglao, and you'll have the chance to see wonderful corals and even sharks if you're lucky – plus lots of turtles. Definitely deserves a mention in this list of things to do in Bohol and Panglao!
7) Take a Day Trip to Virgin Island
Virgin Island is another popular stop on island-hopping cruises around Bohol. To be precise, it's not actually an island – it's a sandbar, home to some of the clearest water and finest sand you've ever seen.
Balicasag is all about diving and snorkeling, whereas Virgin Island is the kind of place to just swim, splash around and try to spot the most beautiful starfish – but please, don't pick them up for selfies or touch them.
If you can't decide whether to include Balicasag or Virgin Island on your list of things to do in Bohol, fear not – you don't have to choose! Most island-hopping tours from Bohol and Panglao actually include both.
8) The Mahogany Man-Made Forest
On the way to Loboc and the central part of the island, you'll find another unmissable thing to do in Bohol – the Mahogany Man-Made Forest. As the name suggests, this forest is not the work of nature – the trees were planted about 50 years ago during a reforestation project.
It's a wonderful place to wander around for a while, and it's really popular with locals, especially during the weekend.
9) The Blood Compact Shrine
Most of the Bohol tourist spots I've mentioned in this article are nature-related, but there are also a couple of historical sights – first and foremost, the Blood Compact Shrine.
This shrine is located on the southern coast of Bohol, and it's a popular stop on tours around the island. The monument was set in memory of the first sandungo between an indigenous chieftain named Sikatuna, and Spanish explorer Miguel Lopez de Legazpi.
Sandungo is a word in Visaya language that means 'one blood' and it refers to a friendship pact – the men cut their forearm and dripped blood in a cup of wine, from which they both took a sip. It's a cool place to stop and take a picture, and you can also buy some souvenirs.
10) Cross the Tigbao Hanging Bridge
Next up on the list of best things to do in Bohol is the stunning Tigbao Hanging Bridge! This twin bamboo bridge spanning the Loboc river was built for locals to cross safely between villages on opposite sides of the bridge. At first, it was made of rope and bamboo only, but later it was made more sturdy with the addition of steel wire.
It became popular with tourists after CNN included it in its list of most beautiful footbridges in the world. Tourists are charged a small fee of PHP 10, and only 10 people are allowed to be on at any time.
11) Wander the Cadapapdan Rice Terraces
Looking for Bali vibes in Bohol? It's worth taking the trip all the way to Candijay to check out one of the most incredible things to do in Bohol – the Cadapapdan Rice Terraces.
If you're driving a scooter or bike you'll probably notice that there are rice terraces everywhere in Bohol, but Cadapapdan is one of the few that welcomes visitors. You'll have to pay a PHP 30 fee to visit, which also cover entrance to other nearby sights located in the vicinity, like Can-Umantad Waterfall and Canawa Cold Spring.
Right in the middle of the Cadapapdan Rice Terraces you can find a restaurant, from where a number of paths weave through the terraces. There you'll be charged another small entrance fee, then you'll be free to explore at will!
12) Chase the Best Waterfalls in Bohol
Most people head look for waterfalls in Bali or other Philippine islands like Siquijor, but did you know that there are many waterfalls that deserve to be in this list of things to do in Bohol?
Let's start with Can-Umantad waterfalls – if you're visiting Cadapapdan, this stunning sight it's just a short walk away, where you'll be able to enjoy the sight of a 20 meter waterfall dropping into a blue hole where you can swim.
Other Bohol waterfalls worth visiting are Mag-Aso Falls just north of Tagbilaran City, Ingkumhan Falls just inland from the south coast, famous for cliff-jumping, which could easily be combined with the more famous Pahangog/Dimiao Twin Falls in a single visit.
13) Kick Back on Alona Beach
So much adrenaline and adventure – no fear, the next place on this things to do in Bohol list involves doing absolutely nothing! Alona Beach is on the southern coast on Panglao Island, and it's probably the most 'picture-perfect' beach in Bohol and Panglao, without considering the small offshore islands like Balicasag and Virgin Island.
Take a day to just rest from visiting all these Bohol tourist spots, and just enjoy a day on Alona Beach swimming, snorkelling, drinking fresh coconut juice and taking a dolphin-watching cruise if you wish. Does it get any better? Actually, it does – sunsets from Alona beach are just amazing!
14) Visit Bohol Bee Farm
This restaurant and organic farm are worth a visit for lunch or an afternoon snack if you find yourself in Panglao. You can also join a 'bee tour' to find out more about beekeeping while you wait for your meal, made with organic fruit and vegetables grown onsite.
Bohol Bee Farm is built on cliffs right on the coast, so you can also go for a swim or rent paddle boards if you wish to stay longer.
15) What to Do in Bohol at Night? KARAOKE!
Most people will head to a beach bar on Alona Beach or elsewhere in Panglao, but if you're looking for a fun thing to do in Bohol at night, we recommend heading to a karaoke bar.
You can find them everywhere in Bohol, and all you have to do is buy a drink and join in the fun. We spent one of our best nights in Bohol in a random karaoke bar along the main road in Panglao, singing our personal version of Me And My Bobby McGee.
Locals will definitely be happy to welcome you!
Where to stay in Bohol
I've always dreamed to stay in a luxury beach resort – you know, those places with a long, white beach, stunning sunsets and palm trees all around. Bohol Beach Club was exactly the place of my dreams. The Philippines have plenty of amazing beaches – the beach at Bohol Beach Club (locally known as BBC) was the one we liked best during our month-long jaunt in the country.
Service was faultless. We were welcomed at Tagbilaran Pier and driven straight to the resort. After a quick check-in, we were offered a delicious welcome drink – pandan flavoured iced tea, just what we needed after a long and sweaty day in and out of tricyles and ferries.
Our room and the facilities at BBC were top-notch. We had a huge double room with two queen-sized beds and a lovely view over the garden. The resort has a restaurant with Filipino and Western food – the first night we had burgers and the second night we tried two Filipino favourites, kare-kare (a peanut-flavoured beef stew) and sinigang (a tamarind-scented prawn soup). And let's not even start talking about breakfast, I still dream of it every morning!
We also appreciated the fact that we were offered different entertainment each night during dinner – during our two night stay we enjoyed a Filipino dance show and a pop music concert.
The only issue we had during our stay is that it rained during our second afternoon in the resort. I had planned to spend the day sunbathing and lazying on the beachside hammock but alas, it wasn't to be.
However, storms do have one benefit… amazing sunsets. Just check this out.
What to eat in Bohol
If you're staying at the Bohol Beach Club, look no further than their restaurant! It's delicious and costs are not sky-high, despite the luxurious feel of the resort.
Not far from BBC there's also an excellent Italian restaurant, Villa Formosa. The chef and manager is actually Italian, so excellent quality is 100% guaranteed. After spending most of the last 6 months away from Italy, I almost cried when I tasted the homemade pasta with porcini mushrooms and pizza with Italian sausage!
Another place that is worth a visit is Bohol Coco Farm, an organic vegetable farm set back from the beach, offering backpacker style accommodation and freshly-cooked food at affordable prices. We especially enjoyed the pancit noodles, made with coconut flesh instead of actual noodles, laden with veggies and a delicious peppery sauce.
Another place that is often touted to have excellent food is the Bee Farm, still in Panglao. It's a restaurant/beach/souvenir shop, a place where you can walk around pretty gardens, see vegetables be processed into spreads and banana and cassava turned into chips. You can also rent some paddle boards and paddle around the pretty bay. It's a lovely place to spend an afternoon – but to be honest, we didn't think
How to Get to Bohol
Since Bohol is an island, there are really only two ways to get there – by plane or ferry.
If you're travelling by plane, your airport of choice to be close to all the many things to do in Bohol should be Bohol–Panglao International Airport (PAG), found on Panglao Island. It's the first eco airport in the Philippines! Several airlines including Cebu Pacific and Philippine Airlines connect this airport to Manila, Cebu and other islands in the Philippines.
Those reaching Bohol by ferry will reach the port in Tagbilaran City. From there, you can arrange a transfer with your accommodation or hop on a jeepney/tricycle or taxi to your final destination.
We travelled to Bohol from Dumaguete, and then on to Cebu. We travelled both directions by ferry – we recommend buying tickets online prior to your departure, especially if you're travelling during high season.
For ferries from Dumaguete to Bohol (or viceversa), book here
For ferries from Cebu to Bohol (or viceversa), book here
If you're travelling between El Nido/Palawan to Bohol, your best bet is flying – book here for direct flights!
Best Hotels in Bohol
Bohol Peacock Garden – perched atop a hill, this luxurious destination has a panoramic view of the sea, welcoming you to experience the charming Filipino hospitality along with superior services and facilities.
Rooms from €115 – BOOK NOW!
Ocean Suites Bohol Boutique Hotel – this hotel is conveniently located for Bohol's sights and offers spacious and comfortable rooms featuring floor-to-ceiling glass doors that open to a wide balcony with breathtaking sea views.
Rooms from €50 – BOOK NOW!
Bohol Bee Farm – For travellers who want to take in the sights and sounds of Bohol, Bohol Bee Farm Hotel is the perfect choice. A quirky property immersed in a lovely garden surrounded by nature.
Rooms from €40 – BOOK NOW!
Bohol Beach Club – Quite simply, THE BEST place to stay at in Bohol! This luxury resort is located on a white sand beach, offers top-notch amenities and a lovely patio restaurant. Entertainment and water sports available.
Rooms from €150- BOOK NOW!
Amorita Beach Resort – This international class resort, situated in Bohol, is located on top a beachside cliff. The resort offers pristine shores, coral reefs, and tropical jungles, in addition to private villas with gardens and personal plunge pools.
Rooms from €140 – BOOK NOW!
Alona Tropical Beach Resort – This property offers well-appointed guestrooms in a beautiful location on Alona Beach. Guests can dine in the relaxing ambience of the on-site restaurant that serves sumptuous dishes.
Rooms from €45 – BOOK NOW!
Pin it for later?