Welcome to my own personal carry on packing list for lazy girls! Yes, this is my own carry-on packing list, tried and tested, easy to put together, super light and valid for trips of ANY length – even forever! And guess what – I even manage to fit a drone!
Time for confessions here. I'm a lazy packer. I'm not one of those girls that downloads pretty packing lists on Pinterest, plans an outfit a day and arranges clothes and accessories in cute combinations to take those insta-perfect pics from above…. oh no, no, no. That's not me. My packing routine usually involves a good amount of procrastination, usually lasting until it's time to either go to sleep or head to the airport and a frantic 20 minutes of throwing a haphazard combo of clothes into a backpack. Not a suitcase. I hate suitcases and never owned one, so it's always a backpack for me.
Yet, even with this crazy routine, I manage to pack everything into a carry-on backpack. I've travelled with a carry-on for months and months at a time, even to freezing cold places like Helsinki in winter, enjoying trips as diverse as a river cruise through Russia and hiking Madagascar.
This is something that I learnt over years of travelling. We started out backpacking, setting off for a round the world journey in 2009-2010. I carried an 85-liter backpack (yes, 85!) that contained a full-size bathrobe, a hairdryer and a stack of 15 travel books and guidebooks. Then, I left my bathrobe in a hostel in Berlin, destroyed my hairdryer after it shorted near Iguazu Falls, and left one book after another as we made our way through India.
Yet, the defining moment of my journey to light packing was the Camino de Santiago in 2013. When you have to carry your belongings on you back the whole day – no, not just between the hotel and the train station, I mean THE WHOLE DAY, walking 30-40 km at a time – you learn the art of packing light quite fast. Ever since the Camino I stopped checking luggage in, and I travel with an average of 8-10 kilos.
I've already told you all about my long-distance hiking packing list, tried and tested during our 40-day hike around Finland and the Aland Islands this summer, so here's my very own carry-on packing list for lazy girls. Easy and quick to put together, light enough for you not to get tired.
Looking for more info on what to pack? Check out our new staycation packing list!
My Favourite Carry-On Backpack
I'm mildly obsessed with backpacks – I think I own about half a dozen, between large ones (that I rarely use nowadays), hiking ones and daypacks. Recently, I have found the perfect backpack for lazy girls that want to travel with carry-on – the CabinZero, a light and compact backpack that fits up to 44 litres of stuff!
I was using a 28 liter pack before discovering the CabinZero, and I was always struggling for space – with the CabinZero, this is not an issue.
I have the Classic 44L CabinZero in Camo colouring, and Nick has the Military 44L – they're both excellent packs, with a built in luggage tracker and 10 years guarantee (which can be prolonged to 25 if you like them on Facebook!)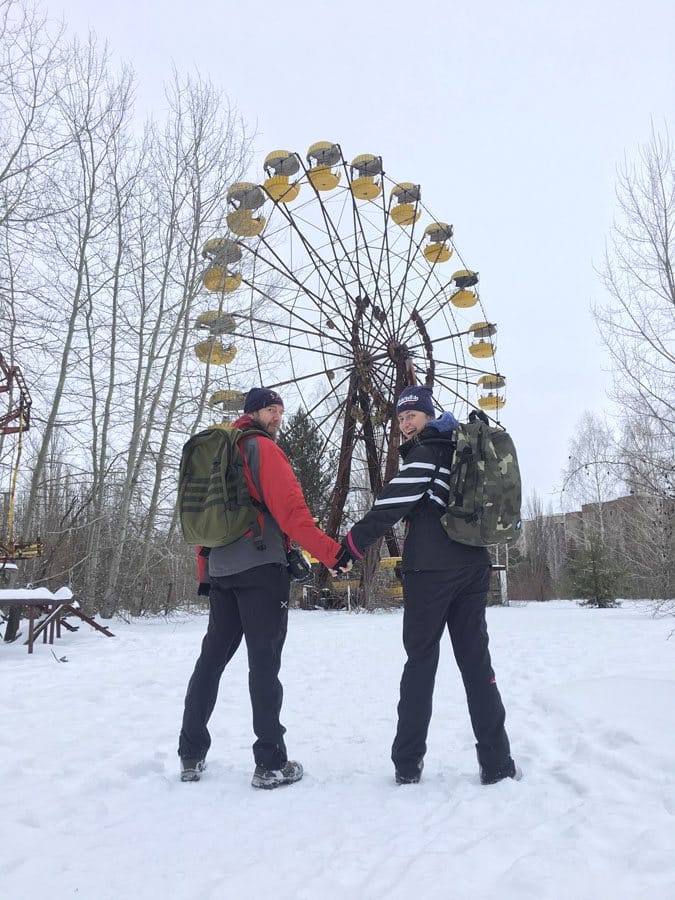 Clothes & Accessories for Lazy Girls (for all seasons!)
During the Camino, I learnt the 'three' rule – basically, pack three of everything! Naturally, when it comes to underwear I pack a bit more than three – but other than that, it's a good guideline.
So, here's my clothing packing list, that will fit snugly in your carry on.
1/2 microfiber t-shirts (to go hiking and running)
2 t-shirts or tops – I love Beyond the Backpack's tank tops, ethically made with a super-soft material that is 100% made from recycled plastic bottles! Use the code crowdedplanet10 to get 10% off on your order!
2 long-sleeved shirts
1 fleece
1 zipped hoodie
1 Goretex jacket – this really saved my life in Mykines, Faroe Islands!
Or a ski jacket if I'm heading somewhere cold
1 pair of leggings
1 pair of hiking trousers
2 pairs of light cotton trousers or 1 pair of trousers/1 long skirt
5 pairs of socks
7 underpants
3 sport bras
1 sarong that doubles as a head or shoulder covering, useful when we travelled independently to Iran!
1 bikini
Beanie, fleece-lined Buff and gloves if it's winter
Yep, that's it. Let's have a look at accessories now.
1 pair of Birkenstocks – or TEVA sandals if I'm planning lots of beach time like during our month in the Philippines
1 pair of mountain running shoes – also useful for light hiking
If I'm going somewhere warm, I pack a pair of Tropicfeel, wonderful lightweight, quick-drying shoes perfect for literally anything – to walk around cities, to go hiking (especially coastal/beach hiking as they dry in no time), and even running short distances!
Optional pair of hiking boots if we're going somewhere cold or planning some serious hiking
1 Fjallraven backpack to be used as a day bag
My Discovery Trekking travel towel
If you're heading somewhere cold, but still want to travel with carry-on, the secret is LAYERING. I normally wear the heaviest items on the plane, saving up bulky space – for instance, when we visited Chernobyl I wore a ski jacket and hiking boots on the plane. During our visit the temperature was -15, and I wore my hoodie and fleece under the ski jacket, and leggings under my hiking trousers.
Carry-On Packing List: Toiletries & Pharmaceuticals
Let's move on to toiletries. Here is where I learned to pack really, really light. I love Lush products because many of them are solid, allowing you to circumvent annoying rules for carrying liquids on board, and because they're eco-friendly and excellent quality.
1 Lush solid shampoo bar
1 Lush solid conditioner
A good bar of soap
Toothbrush and toothpaste
Face moisturizer
Sunscreen
Moisturizer for my body (such as coconut butter or Argan oil)
Lush solid deodorant
Nail clippers
A hairbrush
In terms of pharmaceuticals, I take with me:
Antihistamines
Paracetamol
I'm heading to remote places – I also take the following:
A wide-spectrum antibiotic
Imodium
Mosquito Repellent – my favourite is RID, but it's only available in Australia!
I don't have a favourite toiletries bag, I just use a normal zipped pouch. But if you prefer using something more specific, take a look at this post about the best toiletry bags for travel!
Carry-On Gadgets and Electronics
This makes up the bulk of my carry-on packing list when it comes to weight. And yes, if I can fit everything into my CabinZero, I'm sure you can, too!
One item I always carry with me is my Teppy by TepWireless, an excellent portable modem that works literally all over the world, connecting with the local operators and always offering the best coverage. You pay a daily flat fee and there are no hidden roaming charges – perfect for those like us that work on the go!
Macbook Air 13"
My Teppy TepWireless device, the perfect portable wifi for Europe!
My camera – I use a Nikon D700 but I'm planning to get a mirrorless soon! Here's an awesome article on the best mirrorless cameras for travel if you want to know more
A spare lens
My iPhone
Kindle Paperwhite – honestly, best purchase ever! Bye bye stack of books!
My DRONE – a Mavic, naturally! This is the most recent addition to my carry-on packing list!
A Scrubba Bag for washing on the go – it also doubles as a dry bag if I'm planning to go kayaking
ALL THE CHARGERS!
So there you have it – my carry-on packing list for lazy girls. It takes less than 20 minutes to put together and the total weight is between 8 and 10 kilos.
But… How do I look cute?
You'll probably notice that I removed the 'cute' element from my carry-on packing list. No makeup, no tweezers, no razors (but I have to admit, I buy those as needed), no heels and no cute clothes. Well, I tend to prefer practical to cute. If looking cute is really important to you, or if you need to looks smart for some specific reason, here's another tip – a nice top goes a long way. If it's winter, a cashmere jumper will do the trick and keep you warm at the same time! After all, it's easier for girls!
Do you have anything to add to this carry-on packing list for girls? Did I forget anything? Let me know!
Pin it for later?