Heading to Italy in May? Great choice, it's a wonderful month to visit! Let us share with you all the best places to visit, best events in Italy in May, and weather info!
Spring is a really wonderful time to visit Italy, where you'll find that sweet combination of great weather, lots of sunshine, plenty of daylight hours and not so many tourists.
Before high season kicks in during June, May is the month when shoulder season in Italy is in full swing. Visitors from Europe and beyond start travelling to Italy, usually on the same 'Grand Tour' including Florence, Venice and Rome, sometimes to the beaches and mountains.
Having said that, May is usually not busy, especially during the week. Weekends are a different story – don't forget Italians also love discovering their own country, and May is the perfect month to do so. Expect more people and higher prices during weekends, and consider visiting popular destinations on weekdays instead.
In beach destinations all over Italy, prices are still quite low as the season has just begun, but depending on the weather it might still be a bit cold to swim.
On the other hand, in the mountains, May is a very quiet month, possibly the quietest alongside October and November. The ski resorts have usually closed for the season, but it's still too early for hut-to-hut and high-altitude hiking, as paths are still covered in snow.
Here's all you need to know about visiting Italy in May – weather, where to go, plus festivals and events!
Weather in May in Italy
I always start this section with a warning – weather in Italy changes dramatically from north to south, and again changes depending on altitude.
Having said that, May is usually a great month to visit in terms of weather. It usually warms up considerably, with mini-heatwaves sometimes bringing the temperatures above 30°C, and it's normally quite sunny.
However, rainstorms do occur, and they can be quite heavy – especially when they come after a hot spell. If you are planning to go hiking, sailing, or any other adventure activity, make sure you watch the weather forecast closely and don't venture out if there's a rainstorm coming.
In northern Italy, maximum daytime temperatures are around 23-25°C, dipping around 15°C at night. In the south, you may expect the mercury to rise up to 28 or even 30°C during the day, and down to 18-20°C at night.
It's definitely warm enough to sit on the beach, and even get a nice tan, but the water may still be a little cold to swim at around 16/18°C. This is largely personal though – if you come from Germany or Scandinavia, it will probably be ok!
Together with June and July, May is the month with the highest number of daylight hours, with the sun rising between 5.30 and 6 am, and setting between 8.30 and 9 pm.
Who fancies a long sunset aperitivo? May in Italy is the perfect month for that!
Where to Go in May in Italy
1) Lake Garda
Lake Garda is one of my favourite places in Italy, and a great year-round destination – but May is just the perfect month to visit.
The entire Lake Garda area, but especially the northern part surrounding Riva del Garda, is a very popular destination for German and Austrian visitors, who usually visit in June and July. For this reason, May is a great month – weather is great, tourist numbers are still low, and accommodation is affordable.
Lake Garda is the perfect destination for adventure activities, with opportunities to go hiking, rock climbing, mountain biking, sailing, surfing and more. May is a wonderful month to do pretty much everything, as summer can be really hot.
Book your Lake Garda tours here!
2) Mantua
Mantua (Mantova in Italian) is a city on the southeastern tip of Lombardia, not far from Veneto and Emilia Romagna. The city rises on a promontory surrounded by three lakes, formed by the River Mincio as it slows it course before meeting the Po River.
Mantua is home to an outstanding artistic heritage, as well as lots of natural beauty. Palazzo Ducale (home to Mantegna's Camera degli Sposi), and Palazzo Te are the best-known attractions putting Mantua on the UNESCO heritage list, but there's lots more to explore – including a stunning cycle path connecting the city all the way to Lake Garda.
It is still a fairly offbeat destination, so it should also be fine to visit in summer, right? Well, not really – since it's surrounded by water, Mantua gets extremely hot and humid in summer. In May, the temperature is perfect both for sightseeing and to enjoy nature around the city!
Book your Mantua tours here!
3) Emilia-Romagna
The region of Emilia-Romagna is a kind of second home to me. My mum is from Modena (aka the home of Ferrari!) and throughout the years, I've been able to visit the region several times.
May is the perfect month to visit pretty much all of Emilia-Romagna. Cities like Bologna and Ravenna are not too hot and crowded, and it's just the right weather to go hiking in the Apennines – Dante's Way and the Via degli Abati are two long-distance hikes perfect for May. Just keep an eye out on the weather forecast for rain!
On top of that, the stretch of Adriatic coast surrounding Rimini is probably Italy's most popular seaside destination, getting extremely busy from June to September. May is a great time to visit, and it may even be warm enough to swim since the sea is quite shallow!
4) Tuscany
I like showcasing offbeat destinations in this series, so you may be wondering 'why Tuscany?' After all, the region needs no introduction?
Well, Tuscany is stunning, a wonderland of hills, vineyards and those quintessential Italian villages that everybody seems to love. Visit in summer, and between the heat, the crowds and lack of parking, places like Lucca and Siena become a nightmare – but in May, it's still pleasant to get around, spending one day in Florence or exploring beyond the main cities.
For more inspiration, we've put together a post about the best places in Tuscany to visit in Spring – all of these are great in May!
Book your Tuscany tours here!
5) Umbria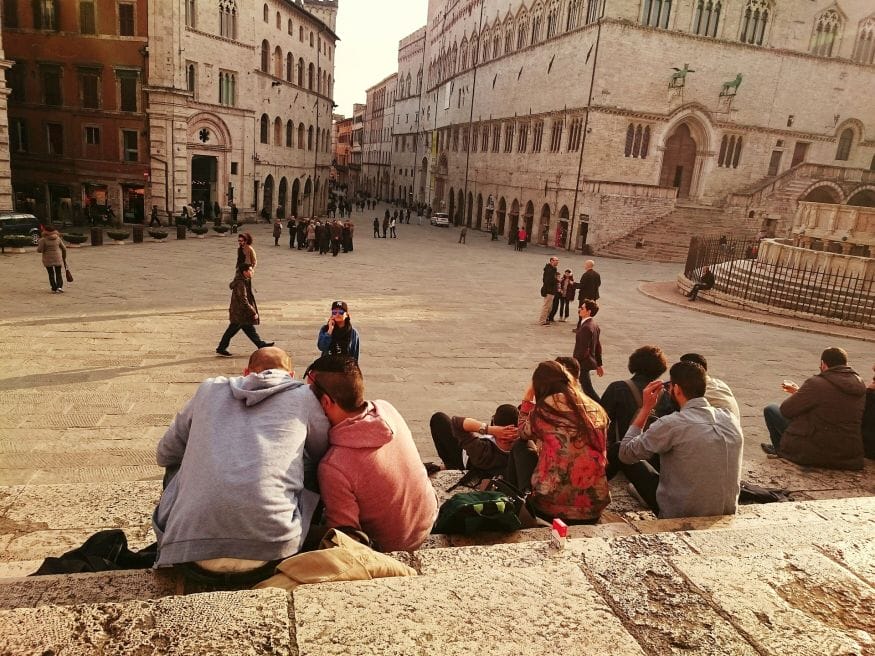 Right next door to Tuscany, the teardrop-shaped region of Umbria is another great place if you're looking for a villa holiday, or you want to experience hilltop villages and vineyards.
Umbria was once one of Italy's best kept secrets, but it now rivals Tuscany in terms of tourist arrivals. The month of May hits that sweet spot with low tourist arrivals, mild and sunny weather, and affordable accommodation – two great places to use as a base are Perugia (the largest city) and Castiglione del Lago, where Nick and I got married!
On top of that, May in Umbria is great as there are many cool festivals and events, like the Ceri di Gubbio – more info on the Events section below!
Book your Umbria tours here!
6) Sorrento
In our March post we spoke about the Amalfi Coast, which is also wonderful to visit in May. However, we also recommend heading to nearby Sorrento, a seaside town very easy to reach from Naples, where you can enjoy some terrific food, go hiking in the surrounding mountains (with Mount Vesuvius views!), relax on the beach and even swim if it's warm enough.
Sorrento is one of the prime beach destinations near Naples and from June onwards, it gets unbearably busy – May is just perfect, with much more affordable prices!
Book your Sorrento tours here!
7) Matera
Welcome to another of my favourite destinations! Matera is a spectacular town in Basilicata, not far from Puglia, already mentioned in our April post. Matera's best claim to fame are its Sassi, a network of cave homes dug from the calcareous rock, inhabited ever since the Palaeolithic.
There are two main Sassi districts in Matera, including cave homes, cave churches, palaces and more, connected by twisty backstreets and staircases, with wonderful views to boot.
Matera was European Culture Capital in 2019, and tourists have increased dramatically since then. On top of that, the historic centre is built out of pale stone, and in summer it gets unbearably hot as the buildings reflect the sunlight. May is the perfect month to visit Matera!
Book your Matera tours here!
May Events and Festivals in Italy
Primo Maggio (Labour Day)
May 1st is a public holiday in Italy – Primo Maggio/Labour Day, celebrating workers and the struggle for their rights.
Similarly to what we said about Resistance Day, many Italians take the opportunity to leave for short breaks and long weekends. So, expect transport and accommodation to be in shorter supply around May 1st, and plan accordingly.
On the day, public transportation around cities either doesn't operate at all, or operates at a limited capacity. There's also a big free concert in Piazza San Giovanni in Rome attracting big names in the world of Italian music, but it's always packed.
I Ceri di Gubbio
If you happen to be in Umbria in May, don't miss this festival, taking place in Gubbio on May 15th.
Three teams of young men carry octagonal-shaped wooden structures, dubbed 'ceri', on a race through the twisty backstreets of the village up to Sant'Ubaldo Church. It's a feat of strength and precision, as you need perfect coordination to manoeuvre these heavy structures around hairpin bends and steep hills, and a great occasion to enjoy the festive atmosphere in town.
As it's often the case during these festivals, it's a popular time to visit Gubbio, so make sure you book ahead!
Sant'Efisio
May 1st isn't just Labour Day – in Cagliari, the largest city in Sardinia, it's also the day of Sant'Efisio festival, one of the longest and most spectacular religious parades in Italy.
The parade starts on May 1st in Cagliari, and concludes three days later in Nora, where the saint was martyred, before returning to Cagliari. The saint's statue leaves Sant'Efisio church at 12 pm on an ox-drawn cart, followed by musicians and worshippers in traditional costume. Try to attend if you can!
Giro d'Italia
The 'Giro' is a three week-long cycle race all over the country, with the exact route changing every year, taking in different locations all over Italy.
You can't actually take part, as it's only for pro cyclists, but you can indeed witness the race as a spectator – it's a fun event especially when it crosses small towns in the Alps or Apennines, with people taking to the streets to cheer the cyclists as they ride by.
If this sounds like your thing, check the official website for the exact route!
1000 Miglia
Are you more into cars than bikes? If that's the case, you'll be pleased to know that Italy in May/June hosts the 1000 Miglia, a vintage car rally from Brescia to Rome and back, with intermediate stops along the way in Viareggio and Bologna.
Check out the official site for info if you wish to join – otherwise, just head to the departure/arrival point in Brescia to check out some seriously pretty vintage cars!
Looking for more month-by-month Italy guides? There you are!