How about having a stopover in Finland on the way to Asia? Or on your way back to Europe from the East? I bet you've never thought of that – Finnair offers excellent fares between Europe and Asia, and it allows you to stopover in Finland for up to 5 days, with no extra charge. The perfect time to get a taste of this wonderful country that has a special place in our hearts. 
Introducing Stopover Finland
There's only one thing better than a holiday – two holidays. Imagine having the chance to explore a whole new destination at no extra cost, breaking a long plane journey and discovering a whole new culture. That's what stopovers are for.
For far too long, we simply whizzed from one airplane to another when taking a connecting flight between Europe and Australia – places like Kuala Lumpur and Bangkok were just meaningless names on our boarding passes, places that we would visit someday. We would watch other passengers fill in their landing cards and head off to the passport queue – while we would just wait into the lounge, wondering what lay behind the airport doors.
Ever since we started giving ourselves more time to travel, we've decided to make the most of our stopovers – and unless we're really pressed for time, we always try to explore stopover cities for at least a few days.
Asian cities are very common stopover destinations, with several airlines and airports offering stopover programs even for just a few hours. However, this is often enough just to scratch the surface of large, complex cities like Singapore or Beijing, leaving you with the feeling of yearning for more. A stopover in a smaller city will give you the chance to make the most of your time, without the need to navigate complex public transport systems or running around like crazy trying to tick off all the sights.
If you're flying between Europe and Asia (or vice versa), Finnair allows you to stopover in Finland from 5 hours to 5 days, with no extra charge. Even a very short half-day stopover will allow you to explore some of the city centre – the airport and the city are only about 30 minutes apart, traffic is generally not an issue and there are plenty of transport choices, including the awesome Finnair City Bus (with free wi-fi!). If you want to rest, Helsinki is full of cool hotels!
With a day or two you'll be able to explore the city deeper, with no need to rush – and if you're lucky enough to have the full 5 days, you can either decide to head further north to Lapland, or visit other locations close to Helsinki.
Here are some ideas to make the most of your Stopover in Finland – whether you have one, two, or five days.
5 Hour Stopover in Helsinki
Helsinki for Beginners
As far as capitals go, Helsinki is tiny. Most main sights are packed in a relatively small area in the city centre, a short walk from the train station where buses and trains from the airport will drop you off. If you're on a 5 hour stopover, you'll have enough time to cover Helsinki's main sights.
Considering an hour to /from the airport, you'll have enough time to visit Tuomiokirkko (Helsinki Cathedral), the Kamppi Chapel of Silence, the Church of the Rock, and have a walk around Market Square or the Hakaniemi Market Hall to try some fresh Finnish produce.
If you're a fast walker, you could even make it all the way to the Sibelius Monument for a coffee and pulla (cinnamon bun) at Cafe Regatta. Finnish food is delicious! And do you want to know something amazing? Most of these sights are free!
Find out more in these posts:
1 Day Stopover in Helsinki
Urban Nature and Islands
With a full day in Helsinki you'll have the chance to explore some urban nature – a great option could be Suomenlinna, a UNESCO-heritage fortress island that offers a great combination of nature and historic sights.
There are frequent ferries running from Market Square to Suomenlinna, and in 2-3 hours you can have a walk around the island or perhaps visit one of the museums. Really, there are so many things to do that you could even spend the whole day – and you can even sleep there!
If Suomenlinna is a little too busy for you, no worries – there are plenty of other islands to choose from, over 300 in fact! If you're visiting in summer, Helsinki's long days and golden nights are the perfect time to explore the islands. I know, it's hard to choose between 300 islands – for this reason, we've put together a guide on Helsinki islands with plenty of ideas on how to make the most of nature in the city, even on a day-long stopover.
All islands included in the article can be visited in a day, but make sure you check ferry schedules, especially in winter! We especially recommend visiting Lonna and Vallissaari, two really special islands a short hop from Market Square.
Find out more in these posts:
Hipster Helsinki
If you've met us in real life, you know that we are not really fashion experts – but I (Margherita) do love the vibe of hipster/bohemian neighbourhoods, and Helsinki doesn't disappoint!
If you only have one day, your best bet would be exploring the Helsinki Design District. It stretches from Kamppi, west of the train station, to the Esplanade further south, including the lively Punavuori district. The Design District includes 25 streets and over 200 stores – from furniture to fashion, vintage and design shops, from Finnish classics like Iittala and Marimekko to young, up and coming designer boutiques.
The highest intensity of designer stores and cute cafés can be found on Fredrikinkatu – but if you're after a one-stop shop to while away the afternoon you can head a little further to Moko Market, a concept store selling designer household items, books, stationery and accessories. There is also a juice bar, and right next door you'll find amazing Kaffa Roastery, makers of the best coffee in Helsinki – for something out of the ordinary, try siphon coffee!
Another place worth a visit is Kissakahvila, Helsinki's cat cafe – you can meet this sweetie while having a delicious paw-shaped cake!
If you're in search of an edgier, more urban vibe, hop on the metro to Kalasatama and head over to Suvilahti, a former industrial district now housing designer shops, cafes and art galleries. A short walk from Suvilahti along the docks you'll find Sompasauna, an independent sauna that's free for anyone to use.
Lastly, if you're a Marimekko fan, don't miss the chance to visit the Marimekko headquarters in Herttoniemi, about 20 minutes east of the city centre by underground. You can snap some bargains at the outlet store, have lunch in the Marimekko cafe and if you're visiting at the right time it's also possible to join a factory tour, taking you behind the scenes of this iconic Finnish brand.
2 Day Stopover in Finland
Nuuksio National Park
With an extra day, you can venture out of the city. The easiest place to go to is Nuuksio National Park, where it's possible to hike and camp in summer, and enjoy winter activities including snowshoeing and cross country skiing in the coldest months. Nuuksio is about 35 km from the centre of Helsinki and can easily be reached in about 45 minutes by bus – even though some brave souls have cycled or even hiked to Nuuksio!
The bus will drop you off at Haltia Nature Centre, offering nature-themed exhibitions and information about all of Finland's national parks. Haltia is also the perfect place to plan outdoor activities around Nuuksio – they can even help you arrange spending a night in the forest in a tentsile, a tent that hangs between two trees.
Find out more in this post:
Porvoo
If the weather is not the greatest, or if you prefer small town charm to wild Finnish nature, then Porvoo is the place for you.
This small town can easily be reached from the airport or Helsinki train station in under an hour, and it looks out of a fairytale with its colourful wooden houses and riverside location. You can spend a day wandering between cobblestone streets, visit many independent shops and designer studios, have a picnic on the riverbank or enjoy the awesome food scene – Zum Beispiel is our favourite restaurant!
Porvoo offers its best in summer – you can grab a cute green bike and cycle to Sikosaari (Pig Island), explore the archipelago or even try your hand at stand-up paddleboarding on the river. The tourist office has bikes and paddleboards for rent.
Find out more in this post:
3-5 Day Stopover in Lapland
Well, I have just one word for you – LAPLAND! Even three days are enough to get a taste of the wild Finnish North, and with five days you'll be able to enjoy Helsinki AND Lapland, try some cool activities and if you're visiting at the right time and the weather is good, perhaps you'll be lucky enough to glimpse the Northern Lights.
Finnair has connections to several airports in Lapland, allowing you to make the most of your stopover and quickly transfer to your final destination at Helsinki airport. If you have a few hours to kill, consider visiting the Finnair lounges that include even a sauna, in true Finnish style!
Lapland is a very large region with endless stopover opportunities. In this article we'll focus on the places we visited ourselves – hopefully we'll be able to add to this list very very soon!
Kemi
Visit Kemi in winter, and you'll be able to enjoy two unique experiences – the first is a visit (or even a stay, if you're game) in the famous Snow Castle, built every year with frozen sea water and including a restaurant, a chapel, a couple of slippery slides and several ice sculptures that follow a yearly theme.
The second experience (something we highly recommend) is a ride on the icebreaker Sampo. A three-hour cruise will give includes a buffet meal, guided ship visit and a dip in the icy Baltic waters – fear not, you'll be wearing a dry suit! In winter there are three daily cruises, at sunrise (meaning 9.30 am!), in the afternoon to enjoy blue hour and at night, to look for the Northern lights. Kemi is also not far from Rovaniemi, if you want to go and say hello to Santa.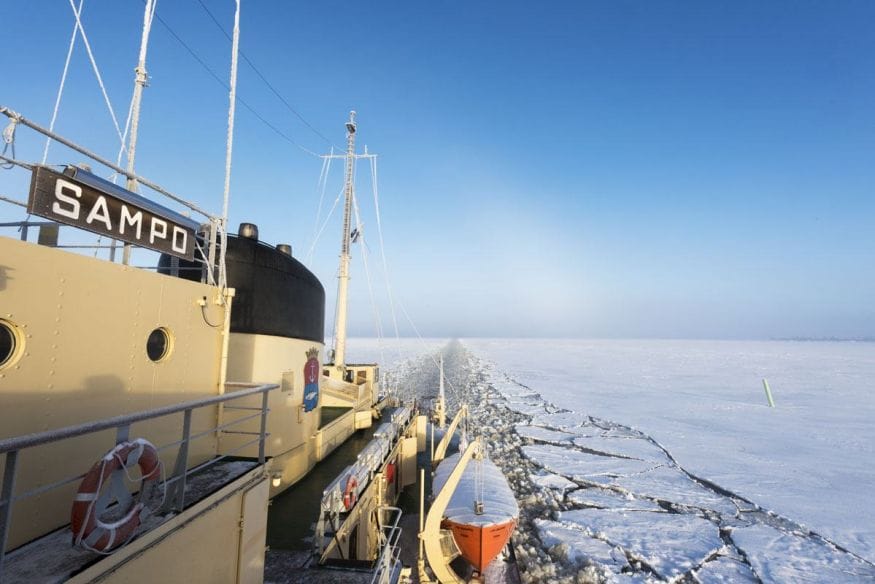 Fly to: Kemi/Tornio (KEM)
Find out more in this post:
Salla
Pretty much any location in Lapland will offer a wonderful choice of epic winter adventures – husky sledding, reindeer safari and snowmobile rides are just some, and if you're lucky enough to catch the Northern lights… well, you're in for the experience of a lifetime!
We loved our winter stay in Salla, not only because we had the chance to experience all of the above (minus the Northern lights, sadly) but also because we had the chance to go skiing – downhill AND cross-country! Salla is an excellent ski resort and if you want to hit the slopes on your stopover, it's a great option!
Fly to: Kuusamo (KAO)
Kuusamo
Lapland is usually considered a winter destination, but it's actually amazing in summer and autumn as well – especially in autumn, when the trees change colour and the Northern lights sometimes glimmer in the sky. Naturally, visiting Lapland in autumn or summer means no reindeer or husky safari – you may spot reindeers grazing on the roadside, but that's it.
However, even in summer and autumn you can have a truly special experience in Kuusamo – bear watching. A group of bears lives near the Russian border, and bear-watching trips are on offer between May and the end of September – you'll be watching the bears from the safety of a hide, so fear not. Here's our post about our experience in Kuusamo, Bear Watching in Finland – with lots more cute bear pictures!
Besides bear watching, there are plenty more activities available in Kuusamo – in summer and autumn you can go canoeing, stand-up paddleboarding, berry picking and you can even hike a section of the famous Karhunkierros trail. In winter, if you're a ski lover, you should head to Ruka, a ski resort amongst the best in Finland.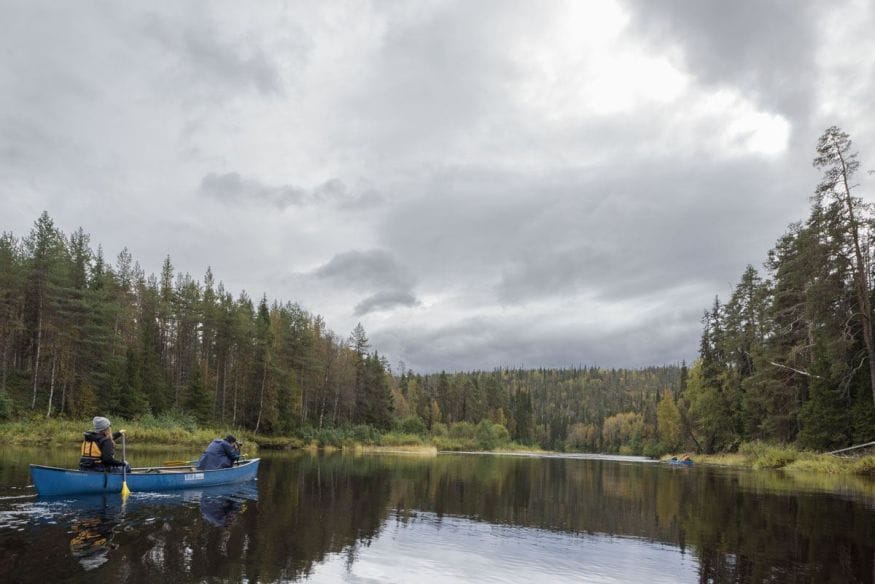 Fly to: Kuusamo (KAO)
Would you like to know more about a stopover in Finland? Let us know in the comments!
Where to Stay near Helsinki Airport
If you're on a Finland stopover, you're bound to be going through Helsinki airport at some stage. The airport isn't far from the city centre, and it can easily be reached by bus, train or taxi, but if you want something very, very close for an early morning or late night departure (and don't want to fork out for an expensive airport hotel) we recommend staying with Forenom! 
Forenom offers two properties near Helsinki airport – the most convenient is the Forenom Hostel, with compact studio apartments 13 minutes walking distance from the terminal buildings, which become two minutes if you take the free parking bus! If you don't mind a longer walk or paying a few euro for a taxi, you can head to the Forenom Suites Vantaa Airport, offering spacious and bright apartments less than 4 km from the airport.
We opted to stay at the Forenom Suites Vantaa Airport during our stopover on our way back between Japan and Croatia. We wanted a place where we could relax for a few hours, and the apartment we got was exactly what we were looking for – we had a great living room with a view on the autumn landscape around the airport, a super warm shower and great wifi, just what you need! You can also ask Forenom to deliver you breakfast for a totally hassle-free stay.
And guess what – there's no need to worry about late check-ins and early check-outs. The peculiarity of Forenom properties is that you get a code to enter the building and your apartment, meaning you can check in any time, and don't have to stress if your flight is late. When it's time to go, just close the door behind you and get ready to jet off to your next destination!
We would like to thank Finnair, Visit Finland and Nordic Bloggers Experience for having hosted us during this trip, making this article possible. 
Pin it for later?